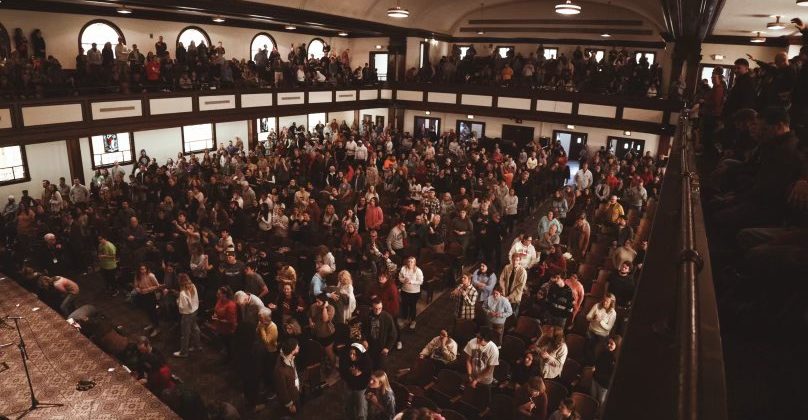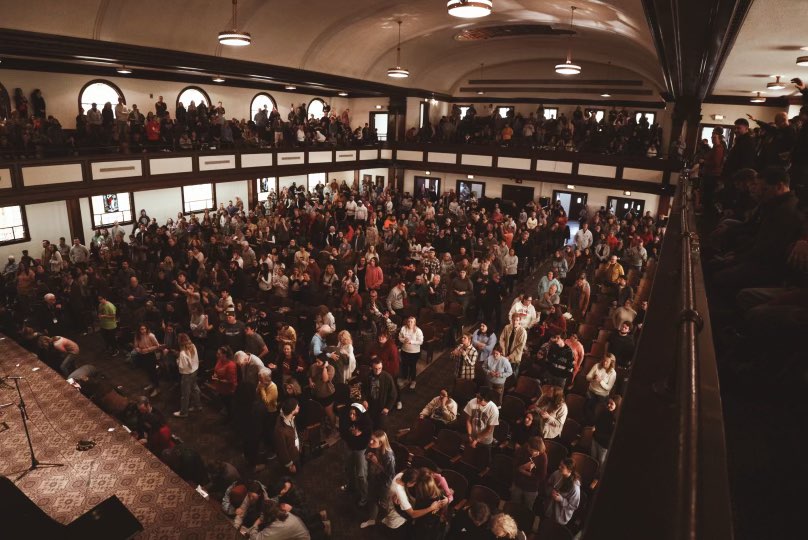 Read all of these posts , including the original post (covering Day 1 to Day 3 of the revival), here.
A visitor from Northern Ohio on FB:
We are from Northern Ohio. On Thursday we heard about "Revival at Asbury" It's been going on since Wednesday morning. I always hear about big events and wonder what it's like to be there in person. Life goes on and I never really know. Should we go? It's a 5 hour drive. —- Friday: The revival is still going on. Musicians are switching seamlessly from one to the next, it's going night and day, people are being saved. Should we drive down and be a part. Saturday morning get a haircut and return home, Karen says do you want to go it's only 3 hours, not 5. I turn around and our portable fridge is plugged in! You're planning to go!
So off we go. I've seen on Facebook that Stephanie wishes she could be there, so I give her a call and said guess where were on our way to. ASBURY! She says. That's right. Stephanie informs us that a group from Mount Vernon Nazarene College in Ohio loaded onto busses and headed down to Wilmore, Kentucky.
We expected to find heavier traffic and difficult parking but there were cars coming and going and though the lot seemed to be full at least half of the moving cars were leaving so there was space for the newcomers. There wasn't a crowd on the outside but there were enough people coming and going that we found our way quickly.
As we entered the chapel it appeared packed. As we made our way through the lobby and into the auditorium it was quite full, however, there were empty seats some with coats on them and some not. As we looked up the balcony seemed quite full. We found two empty seats more than halfway to the front and were seated.
There two guitarist, a pianist and a drummer providing appropriate music alternating between louder music and softer more worshipful music. There was not an overhead screen to read from but no matter what they sang it seemed with perfect timing there was perfect harmony surrounding us.
We recognized pastors and prayed for them. We recognized other church lay leaders and prayed for them.
There were several young ladies in front of us who; as it turned out were part of the group from Mount Vernon, Ohio that Stephanie had mentioned to us.
We really would have liked to stay, Communion was to be served at 7:00 pm, but we would not have returned in time to go to our own church on Sunday morning.
As we left there were families, couples and individuals coming and going. As we arrived at the parking lot again there was a parking lot staying full but cars were coming and going as if there was space needed and space provided. As we left a vehicle took our parking place.
Calm prevailed as we traveled home.
11:30pm:
Historian Thomas Kidd:
Kidd calls us to consult Jonathan Edwards:
Here's an interesting request from the Asbury Revival Facebook page:
Hello, I am looking for some information about this reported revival. Please, only responses from people with the facts. No opinion. I am seeking for relevant information about this revival, so if you are not there and do not know the facts related to my questions, please refrain from responding. Thank you.
1. I have been told that the students in this revival keep the biblical Sabbath Day (which would coincide with sunset Friday to sunset Saturday on modern calendars) and that they follow The Torah (which would include thing like keeping the Leviticus 11 food laws, celebrating the biblical Feast Days, etc.). Is this true?
2. If the response to the first question is not true, is there any indication that this revival is leading people to follow these aspects of Scripture outlined in The Torah? Has there been any leading of the students to pursue these areas of Torah-keeping within their faith practice?
More logistical issues from the Asbury Revival Facebook page: "Can anyone provide info for visiting guests to the revival? Is it open to the public? Can you come in to the auditorium at any time (since it's a continuous service) or are there actual service times scheduled? Where do you park? Any other info I need to know?"
And a response:
It's open to the public. We just drove around until we found a spot. (Had never been to the campus before). There are no service times. Just walk in and find a seat. They are keeping the bathrooms stocked with toilet paper. There are water bottles and some snacks available in the foyer. We got some snacks at the Dollar General a block away. Come and go as you need to. Enjoy every moment.
Oh no!
Another visiting participant on FB:
Jesus has jumped all over me tonight. I'm an apostolic Pentecostal and I've just witnessed something that I've never experienced before in my life….complete freedom in worship. It's nobody's fault but my own. Where the spirit of the Lord there is liberty and I've just experienced something that has changed me.
I'm used to 3 songs..2 testimonies…a sermon and we're out the door and at the Mexican restaurant before you can say…Hello Dolly and I don't mean that in a bad way but so many times as Christians we rush through our services and we miss out on no telling what. Tonight I sit in a revival at 10:30 at night and it's packed out AND there's no end insight. There are 3 chapels on this campus and they are packed out. The balconies and the front steps are packed out with people seeking God. The front lawn is packed. It's insane…..and people are still pouring in.
There are no professional singers or piano players. They told us that. If someone felt led…they got up and sang. There is complete peace and order to it all. People are singing to the top of their lungs. Good singers and bad singers…all are singing together without the fear of who can sing better. Everybody is singing. It is so beautiful.
People are bawling. People are hollering. People are clapping. People are jumping. People are down in the floor praying and seeking the face of God. There's no end to the praise and the repentance. I have never seen so many open bibles and so much sincerity in all of my life. I could feel a hunger that I've never felt before.
Theres no order to the service….it just keeps going and going. Nobody wants to leave. A man..a preacher kind of guy…and ex Jew he told he was….stood up and said to the congregation…WHAT IS HAPPENING??? It's Jesus…he said. There's no program. There's no one telling anyone what to do. People are literally just standing and feeling after the presence of God. It's goes from a hush to a roar.
I am utterly moved. I can't believe that I've ever walked into my church and that at times I've been too ashamed to raise my hands and praise God. There has been pride in my heart. After all that God has done for me and to know that I've had pride in my heart….that's awful. God help me do better.
There is complete freedom here. A woman standing beside me was singing to the top of her lungs…she was singing from her heart….it was so beautiful and all of the sudden she began to speak in other tongues. The hair stood up on me. I knew God had filled her with the Holy Ghost. She began to wail in the spirit.
The alter is open at all times. You can pray at anytime and somebody will pray with you. There is nothing rushed. They are waiting on the Lord. It's amazing.
Asbury said if you're here and you need a place to sleep they will find you a place to stay. There are literally 1000's of people and they are helping people with whatever they need.
I experienced the LOVE OF GOD tonight and it's powerful. It made me think about everything in my life.
Get in your car and come to the #asburyrevival. There are people from all walks of life….from every religion…dressed in all kinds of clothing….bawling and seeking God.
May God never ever let me be religious again and only seek after him and what's pleasing to him. May his presence fall like rain in these last days. The Bible says that in the last days God will pour out his spirit upon all flesh…and he did tonight. He's still doing right now……
I'm thankful for my religion. I'm thankful to be in the truth. I'm thankful for Acts 2:38. Tonight I experienced something that I never have before. It's made me ask myself all kinds of questions.
The line outside the door:
Overflow rooms have been established:
The Assembly of God is praying for the revival:
Today, I met with dozens of Supt's from the AG-USA gathering in San Antonio, Texas. We prayed for Asbury University. We prayed for revival and a multiplicity of themes related. We prayed for America. We prayed for our AG movement. We prayed for our networks.
I have strongly felt led to call us (KMN) to a special day of prayer ~ initially for this Thursday.
1. We've coordinated an opportunity for any KMN credentials holder who'd want to join together with others of our Ky AG network to worship, pray, and experience the Asbury revival, to meet there this Thursday afternoon, Feb. 16, at 3pm ET.
I am in TX all this week, so Asst Supt, Terry Crigger will be just outside the entrance steps to Asbury's Hughes Auditorium this Thursday at 3pm to meet any of you from across our fellowship who could arrange your schedule to attend. The group will wait about 15 minutes and then enter the chapel as a group together (to attempt to be seated close by or near one-another). The address of Asbury University's hallowed Hughes Auditorium (site of numerous previous Asbury revivals and the well-known 1970 outpouring) is: 1 Macklem Dr. Wilmore, Ky 40390.
2. If you cannot attend this KMN Asbury University gathering on Thursday, I invite you and all our network to join in prayer throughout the day on Thursday from wherever you are, as we believe for God's work in and among us (KMN).
Pastor Joe
Joseph S. Girdler, DMin
Superintendent, KMN
AG-USA
They keep coming:
Earlier this evening:
An LGBTQ Asbury Theological Seminary student:
Someone from the "Reformed world":
A blog devoted to the revival.
This guy compared the Asbury revival to the Michigan State shootings:
This is a better approach:
And a response to the above tweet:
Ouch:
A first-year Asbury faculty member is trying to make sense of things:
More Old Lightism. Which category does this belong?
A conservative evangelical historian of revival from Southern Baptist Theological Seminary in Louisville, Tim Beougher on FB:
I have had several people ask my thoughts about what is taking place at Asbury University right now. For those who don't know me, I have a bit of background with college revivals. I wrote my Th.M. Thesis on the 1970 Asbury Revival and how it impacted Southwestern Baptist Theological Seminary. I was one of two faculty members present for all the revival services at Wheaton College in 1995. I have written book chapters on what took place in 1970 and 1995 and another book chapter on Student Revivals throughout history. I have taught courses on Revival and Spiritual Awakening at Wheaton College, Gordon-Conwell Theological Seminary, and the Southern Baptist Theological Seminary. I have studied this subject for over four decades. Now none of that means my viewpoint is automatically correct, but I'm not a newcomer to discussions about revival.
For some background and interpretation of what is happening at Asbury, I direct you to Facebook posts from four men whom I respect: Lawson Stone, Denny Burk, Bill Elliff, and Kenny Rager (you can find all these men on Facebook – those who are more tech savvy can perhaps give links to their postings in the comment section below).
I spent the afternoon today (Monday, Feb. 13) in Hughes Auditorium, followed by a delightful dinner and conversation with Dr. Robert Coleman. Dr. Coleman was a student at Asbury during the 1950 revival and was a professor there during the 1970 revival.
I'm not going to repeat all the helpful observations/insights posted by Stone, Burk, Elliff, and Rager – you can read those for yourself. Here are a few random thoughts from my time there today.
1. The manifest presence of God filled Hughes Auditorium. I experienced that same overwhelming sense of God's presence each day/night during the 1995 Wheaton Revival. Joseph Tson came one night during the Wheaton Revival and told me the manifest presence of God there was exactly what he had experienced in Romania.
2. The leadership there did a magnificent job of balancing "freedom" and "order." As one of four faculty/staff at Wheaton College who bore that responsibility for 5 days in 1995, I know the incredible challenges of trying to maintain that balance. Pray for those in leadership that they will continue to steward well this divine moment.
3. How do we know if what we think might be a revival is a genuine work of God? One unmistakable sign will be repentance. J. Edwin Orr, the great historian of revival, once remarked that we really don't understand what we are praying for when we pray for revival – we think we are praying for ecstasy, and yes, joy is a by-product of revival. But true revival doesn't begin in ecstasy, it begins with agony. It doesn't begin with laughter but with tears. The Bible teaching this afternoon and several of the testimonies focused on repentance – not just feeling sorry for our sin but with the Lord's help seeking to remove it as far as we can from our lives.
4. Related to a deeper work of the Spirit, I mentioned to my church recently that I haven't heard much talk among evangelicals in recent years about "dying to self." As a new believer in the 1970s, that spiritual discipline was thrust before me on a regular basis, but I don't hear much about it anymore. This afternoon there was teaching on dying to self that was followed by a directed prayer time asking God to help us do just that. The focus was clear: die to self and live for Christ and others. I do think that is biblical.
5. The worship leaders did what worship leaders should do – they were not performers but led us to the throne of grace in worship. Within the crowd there was a mixture of times of quiet deep reverence and loud vocal celebration. I'm not a shouter – either by temperament or by tribe – but some of our brothers and sisters are – and they worshipped Christ with exuberance.
6. A word of exhortation to all who journey to Wilmore. In Luke 7 we read the account of a woman washing Jesus' feet with her tears and anointing them with perfume. The Pharisee who was there was indignant at what he saw as a waste of valuable perfume – in his eyes, Jesus wasn't worth such extravagant worship. This passage reminds us that in every worship setting there will be three groups: the one being worshipped (the Lord); the worshippers; and spectators. How can you tell if you are a spectator and not a worshipper? Because you will be critical of how other people are worshipping, without realizing you aren't worshipping at all! For years my prayer when I enter a sanctuary has been, "Lord, help me today to be a worshipper and not a spectator." I whispered that prayer as I entered Hughes Auditorium this afternoon, and God graciously answered. I had sweet fellowship with my Savior, surrounded by hundreds of others doing the same.
I could share other observations, but the four men mentioned above have captured many more elements in their posts, and I encourage you to read what they have written.
One final caution – throughout the history of revivals, critics have pointed to some type of "excess" accompanying a revival and tried to argue that "excess" discredited the entire revival moment and meant it wasn't truly a work of God. Jonathan Edwards answered that criticism during the First Great Awakening by using a helpful phrase: "in the main." What is at the heart of the movement? What is happening "in the main?" There will always be "excess" on the fringe, due to overly excited and not yet completely sanctified human beings and/or to Satanic opposition, but what is taking place "in the main?" That is a helpful grid as we evaluate movements like that taking place now at Asbury.
What every believer should be doing right now, regardless of what you think about the early reports out of Asbury, is praying. Who would deny that we need revival in our churches and spiritual awakening in our land? God has visited this nation with powerful awakenings before – we study those great movements of revival in church history classes. Is Asbury the spark of another awakening? I don't know – but I'm praying – and you should be too!
More Old Lightism. "I hate to be a skeptic":
Calvinist Old Lightism:
The New Apostolic Reformation/Seven Mountain Dominionist Victory Channel catches wind of the revival:
It can't be a real revival because Asbury University believed in the ordination of women:
Interesting observation. Asbury IS a college:
Cedarville:
The fire marshals have stepped-in:
Three venues:
Someone finally makes the Mike Pence connection to Asbury:
A potential transgender attendee asks a good question:
Two Donald Trump court evangelicals on the revival. Steve Strang and Jim Garlow connect the revival to Christian nationalism. Garlow takes a shot at evangelical colleges going "woke" and then moves to Kevin McCarthy: