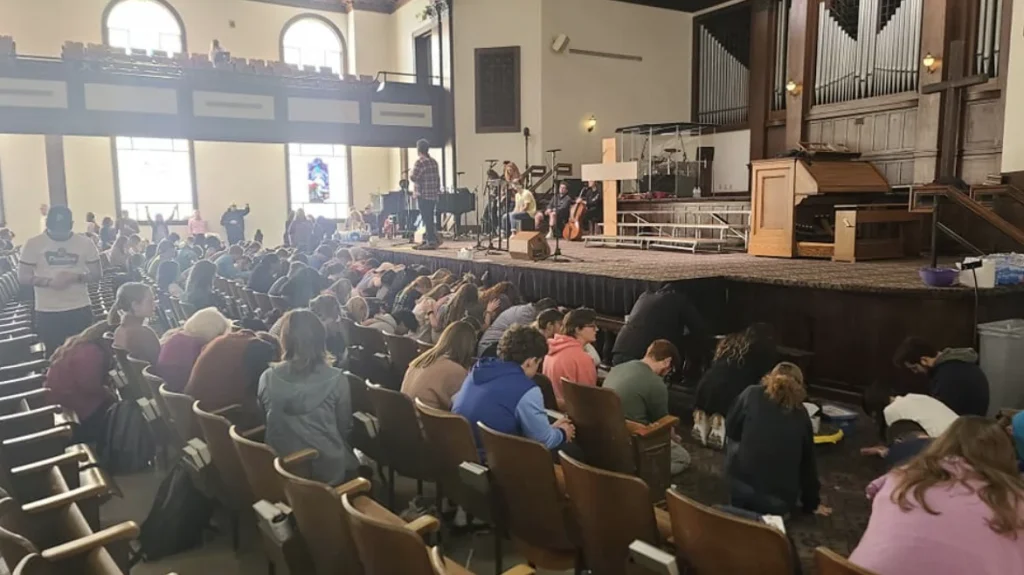 Read all of these posts , including the original post (covering Day 1 to Day 3 of the revival), here.
A megachurch pastor from Minnesota is on his way to Wilmore:
100 hours and counting…
Last Wednesday morning at 10am, chapel was held Asbury University in Kentucky. This is a normal occasion on Christian campuses. What isn't normal is that this service didn't stop. Students kept praying, worshipping, repenting. THEY DIDN'T LEAVE. 100 hours later… the service is still going. And people have now travelled from across America to come and see what's unfolding.
As I write this, I'm on a plane from Minnesota… because I feel a deep stirring to be wherever God is moving. I feel like I've been praying for this moment for 22 years, since my freshman year of college… when God invaded my life, I met the Holy Spirit in new ways, and have had an insatiable hunger since. I've studied every revival and cried out to God for an outpouring of the Spirit in our day. Because we need it… we are due… and Jesus is the only answer to the problems of our day.
Not politics. Not education. Not police reform. While all of these are INCREDIBLY IMPORTANT, without a heart change, nothing changes.
Revivals cannot be planned or manufactured, but are historically marked by some key markers.
1) United prayer, often marked by fasting and worship.
2) Repentance of known or hidden sins, not repenting for "others" but for me. It's an encounter with God that leads us to total change from the inside out.
3) Reconciliation and healing of relationships, leading to wrongs being made right, acts of generosity and more.
4) Holy Spirit power leading to mission after the lost and broken.
Revival always starts at home before it moves into the neighborhood… because more than God wants the White House, or any other house, he wants you!!!
So is this revival? Only time will tell.
What I can say is that students have been praying 100 hours nonstop… and it's stirring people to cancel plans to get there. Simultaneously, we are in the middle of a secular university tour with @pulse.movement and seen the largest percentage response of the Gospel in our history…. Upwards of 2,000 students and counting have repented of sin and responded to the Gospel. Clearly this is not business as usual.
Come Lord Jesus. We wait for you. Do it again.
People in France are noticing:
This is interesting. See my entry above about Todd Bentley. Some don't want him there:
More from Israel Wayne. He identified himself on Facebook as an "author" and "conference speaker" "To clear up an internet rumor…false prophet Todd Bentley was NOT invited to speak at the Asbury awakening. But he does plan to try bring his disgraceful three-ring circus act to the event. Pray he will not be able to be disruptive to the genuine work of God there while attempting to bring glory to himself.
More concern about Bentley.
"Andie" sounds like Jonathan Edwards arguing with Charles Chauncy in 1742:
Here is another Old Lighter– someone with the Facebook handle "Deidra for Truth":
I'm going to say this about this #asbury#asburyrevival and add to my previous video and quite frankly this will be the only time I speak on this… I'm choosing to speak on this because I see it starting to make its rounds on the news and here on social media more so now….so After researching a little further into this, I see where it has went wrong. I have came to see that the "theological Baptist minister" is the one that didn't have the backbone or the discernment at the end of the day to actually help guide that gathering that was starting to take place.
Let me explain..so first we need to actually even understand what "revival even is according to scripture. It's when souls are SAVED folks…its not from false spiritual manifestations (like the Lakeland and previous nar revivals) or having big crowds. The definition of a real revival is souls being SAVED by the gospel. So is this revival going on? It could have been, but not now. What we see now is a false movement of satan starting to amp up(trust me this isn't new) next you probably will start seeing false signs and wonders and false prophets take the stage. This is part of Satan's cheap knock off tour. hes been parading this joke around for years in these false movements. They come and go folks. Unfortunately it does spiritually ship wreck many "sincere" people. Some never even recover. So in the book of acts there was even a standard. you see souls we're being added to the kingdom during that time. By the preaching of the GOSPEL.. So did this movement even start out right? I think so. Sincere kids came together hungry for the word of God. They got together and read the book of Romans and worshipped God together.
However reading a bit further into the article about this, I see what happened and why its now falling into the hands of the looney non discerning NAR folks like Todd Bentley..it's because no one was there or stood up to guide them and protect them from the wolves that are constantly looking for things like this. However this shouldn't shock us because after reading even further about the background of this place, I came to see that it's not even rooted in sound Christianity, but rather from the "church of holiness " according to google. Which later developed into some very off-based doctrinal issues that spread through the Pentecostal church from what little I have researched about it.. I will say this there are some small Pentecostal places I may not agree with everything but at least they understand what decency and in order means. I do believe there are some saved people mixed up in this stuff that later, end up falling into the crowd of the charismatics. That's what happens when you depart from sound scripture. You get tossed to and fro by every wind of doctrine, and ever learning but never able to come to the truth… I however still didn't hold that against it because God can and will use anything to bring people to the His truth of the gospel. It does though give me a better perspective when trying to see what has happened and the history of this place.
So now I've seen that Todd Bentley and other gullible so called christians, are referring to the "Bob Jones Superbowl prophecy" that Mr Jones made many years ago. , I would almost guarantee these are the same types of people that go into Chinese restaurants and open up fortune cookies and think that's a sign from God too! It's because they DO NOT know the word of God for themselves! They have no discernment and this is why this is now in the hands of false teachers and wolves. They fall for anything! they are lead by their emotions so it's not shocking to see what is going on. they base truth off their emotions and that's what Satan wants them to do. Here's how even more loony it gets, so the Chiefs have won the super bowel, but because this is coincidentally happening the same month, they start trying to add numerology and omen reading aswell to connect the dots. Lol you do know that a dead clock is right at some point aswell?.. in fact I could make up some prophecy about the future and I can guarantee you it probably could come true at some point in the years to come. is it the stars aligning perfectly for God's divine intervention? Ummm no.lol it's called omen reading and boy do they love it! Especially when they're false teachers predicted something and it comes to pass.. what's interesting is where's the gospel in all this madness? Where's the spiritual edification? Where's the truth? It's because they have no true growth or spiritual understanding, so they look to those outside things to try to validate their current spiritual state. It gets them away from having to study the word of God for themselves and it being the final say. that's satan's goal.
So now here comes the repetitive hypnotic music and the emotionalism and the cherry picking of God's word by so called Prophets etc.. and when you combine that what do you get?? You guessed it! A demonic NAR movement of a mess!. All scripture is given by inspiration of God(2 tim3:16 KJV) and it is our standard by which we are to hold too for faith and practice. It is there to teach us how to discern all things. So when you declare that, they don't like that. Whether people like it or not we have a standard to go by to judge and warn about all things. it's written!. The spirit will never go against his word but Satan tricks these people into thinking the opposite. I just wanted to share this because this is exactly what needs to be talked about and exposed, but again there have been men and women that have sounded the alarm just like I have and they get pushed aside shut down and mocked ..It's because the people love it that way. So God will let them have it. and these false movements continues on year after year.
Prayer requests: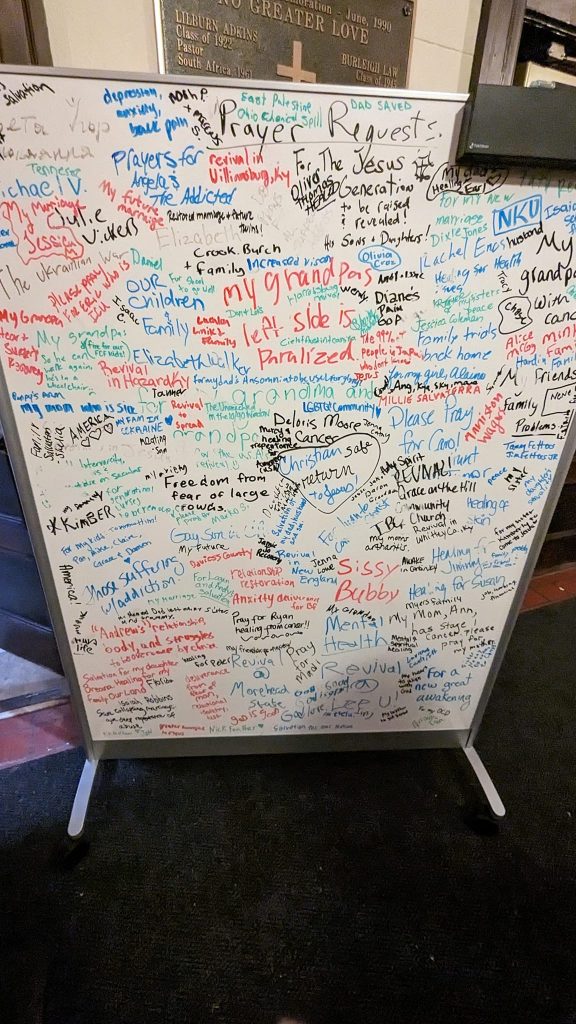 Another first-hand account from a Christian influencer:
More LGBTQ Old Lightism:
Charisma Magazine, the mouthpiece of the New Apostolic Reformation and MAGA evangelicalism, is covering the revival.
A classic academic approach from a sympathetic scholar:
An Asbury Seminary professor on Facebook:
Hour 121 of the Asbury revival. The Spirit is here – so sweet, so peaceful, so joyous. People have come from so many places seeking to be in His Presence, this special manifestation of His Presence, even if just to touch the hem of His garment. There are so many thousands of people who have prayed for revival to come to this campus, and, as my friend said today as we are among those who have praying for years, "that God would allow us to witness and be part of this incredible answer to prayer…" We both teared up. Friends, I know some of you don't understand this, some of you don't believe this, some of you are critical; if this is you, come and see for yourself what the Lord is doing. Don't take our word for it. Come and see that the Lord is good.
Does the revival need "gifted expositors"?:
Lance Wallnau, the New Apostolic Reformation, MAGA evangelical has discovered the revival:
Wallnau has also apparently received the prophetic word about the Kansas City Chiefs:
More Lance:
A connection between Damar Hamlin and Asbury:
This is a good question. Yes, people said they were living in a "revival" in both the first and second great awakenings (see historian Frank Lambert on the 1st GA), although some very good scholars have noted that "revival" was a later construction (See Jon Butler's landmark essay "Enthusiasm Described and Decried":
A claim that the revival seems to be spreading:
Revival glory is breaking out all over North America! Asbury Seminary in Kentucky, The Gate Charlotte North Carolina, KingsWay in Birmingham Alabama, Kingdom Life in Waterville Maine and now Bethel Austin Texas. Just got this from one of our partners: Revival hit Bethel Austin this weekend, whole leadership team on the floor not able to get up, worship team on the floor singing from the floor, glory, healing, repentance broke out no one able to preach… amazing presence unlike anything I've seen here so far!
Christianity Today has a testimonial from Thomas McCall, a theology professor at Asbury Theological Seminary.
Some Anglicans are on board. This from a priest:
Someone connects the revival to Damar Hamlin:
This is reportedly the chapel service that started the revival. Looks like the worship was led by a Black gospel choir.
Here is the sermon:
Jonathan Edwards is invoked:
A warning against branding:
More race-based Old Lightism:
Megyn Kelly should know about this:
There is subtweeting. This comes from a student at John MacArthur's The Masters Seminary:
Smelling pride:
Language issues. Where is he getting this distinction from?:
Interesting comparison by a Pentecostal theologian:
Lee University outside of Chattanooga:
An Asbury student?:
Brazil:
A student testimony: