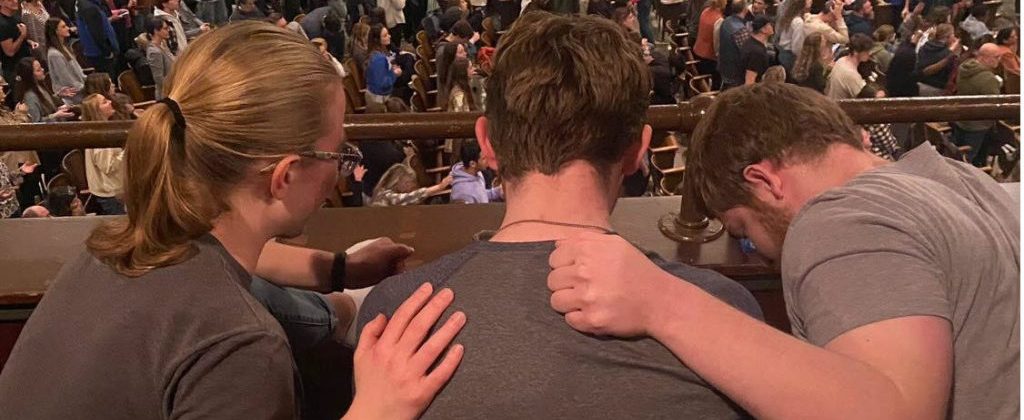 Read all of these posts , including the original post (covering Day 1 to Day 3 of the revival), here.
The revival does not appear to have slowed down during the Super Bowl:
Shane Claiborne talks to some of the participants:
Dwight McKissic, a Southern Baptist minister:
Not many hotel rooms in Wilmore:
I'm seeing some of this:
A charismatic prophet is on his way to Wilmore. Why this may not bode well for the revival:
Another Facebook testimonial of a participant/witness:
My full report after being at the Asbury revival: What was it like being at Asbury revival?? You didn't feel like you were at a conference or a normal church service. There was such an unbelievable freedom to worship Jesus. The entire atmosphere was utter freedom. You felt like you were at the Throne in heaven and everyone was around Him. God was in the midst. At times the instruments would go silent and it was like a holy hush. There was NO upbeat or high intensity music. It was ALL Holy Hollies worship type music. Nobody was in charge. There was no known leader. There was no known worship team. There was several different people who spoke and you could tell they weren't in charge. They rotated the singers and musicians every two hours or so. There was a guitar, piano, and beat box. That was it. They asked if you need to talk to someone to please take it into the lobby or outside. No fancy lighting. Wood seats without cushion. Stained glass windows. The floor was concrete. There was NO words on a screen to sing from. No offerings. I saw puddles of tears on the concrete. It was a wave of the Spirit that hit certain people at different times. The altar was full non stop with people weeping and also worshiping at it too. The Spirit of God was making the altar call. When Christ is in the midst you couldn't stay comfortable if there was any sin in your life. Because there was so many different denominations represented, the chapel team did an amazing job keeping everyone on the same page, and from getting out of order. There was worship, prayer, repentance, public confessions, and testimonies. I have never experienced anything like this in 26 years of being born again corporately!!
The Lord spoke loudly I believe….He doesn't need any fancy things or big name preachers. God was there to get all the glory….HE was comfortable! I honestly believe God is speaking to the church this very thing!! The American church is depending on too many gadgets and personalities. When the lights don't turn off for four days there's NO doubt God is tremendously moving. After 6 hour's I didn't want to leave, and you could tell it was the same for everyone there. I believe each day the revival is gaining more intensity. I have studied old time revivals for 26 years. It was surreal because I was now experiencing what I have read for so many years. One of the leaders said "We aren't stepping into something unusual but something normal!! He also also said "Imagine if every church on every street corner was like this" The leaders did make calls to die to self I pray this will spread all over the nation!!
The Asbury revival may or may not last long. All I know He was there My wife and I will never forget it. It made an eternal impact on us. Honestly it's going to take days to process everything.
The new Old Lights:
A sugar rush?:
These things happen at revivals:
A conversation with some participants:
Is Samford next? Ken Blackwell is the assistant to the Samford University president:
News of the revival reached an Anglican church in Florida:
Well put:
Interesting comment:
Another participant/witness (Facebook):
The contrast was striking. We saw dignified men in suits and ties and tattooed guys in ball caps and t-shirts. A huge percentage of the crowd was young adults, but there were young families with toddlers in tow and very elderly couples with white hair and slow steps.
We personally met people from Lexington, Georgetown, Florence, and West Virginia. College students and others have driven from hours away to join in. People have slept in their cars so they could stay close by, and they've brought in snacks and water for those who didn't want to leave even to eat.
We didn't do a poll of denominations, but we've heard of Methodists, Baptists, Presbyterians, Pentecostals, Charismatics, Anglicans, Christian Church and non-denominational Christians present, worshipping and praying together in unity, regardless of their differences.
We joined hands and prayed with total strangers. We didn't ask each other's church denominations, and we didn't stop to go through a checklist of doctrinal beliefs to make sure we agreed on enough things before we prayed. We didn't analyze each other's appearance, or demand certain formulas for prayer.
We just prayed, along with scores of other groups like ours in the crowd of 1500+. We saw no showboating and no emotional excesses… just a unified desire to be in God's presence, and it seemed no one wanted to leave. Even when the service was "dismissed" for supper, only maybe a quarter of the people there actually left the building, which only made more room for the people standing in the foyer. Others seemed to have no intention of leaving, and the singing began again as if the service was never dismissed at all.
What will the lasting impact be? I guess that remains to be seen. But people want to be a part of it, it blessed our little family, and I pray it continues at Asbury and spreads beyond…