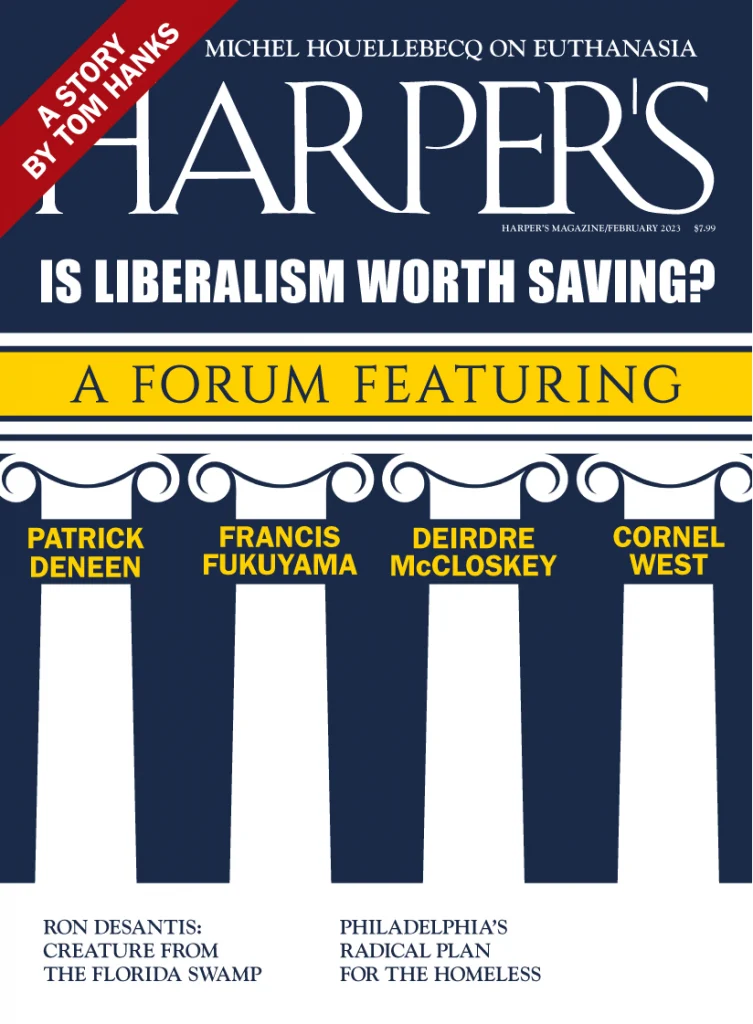 I finally finished the Harper's forum, "Is Liberalism Worth Saving?" The forum featured Patrick Deneen, Francis Fukuyama, Deirdre McCloskey, and Cornel West. Here are a few things I highlighted:
Deneen on populism:
The other form of populism that liberalism fears is a kind of right wing populism, which we're seeing more of today. This is the demos that's conservative, that's traditional, that wants to continue its way of life. It seems to me that we have a constant fluctuation of the threat that the demos poses to liberalism. But from the outset of liberalism, the demos had to be sufficiently constrained. Sometimes by forms of government, such as judicial mechanisms in the United States. John Stuart Mill argued that people with more education should be given more votes. In the United States, only people with property were given the vote. There always had to be a mechanism to constrain the threat that the demos posed to liberalism. And to be clear, I'm on the side of the demos, in both its left and right forms.
McCloskey on how a capitalist society produces better people:
There's a lot of evidence that society of equal permissions and increasing equality makes for better people. Neither the left nor the right seems to understand this. The Marxists and the Chicago school are in complete agreement that markets are amoral, that the only virtue capitalism rewards is prudence–understood as ruthless, self-interest. I come from the Chicago school, but I broke with this foolishness. Prudence is not the only virtue in the marketplace. Hope and faith and justice and courage: these are all fostered by bourgeois capitalism.
West on capitalist "values":
The danger here is that if we talk too much about values we're going to end up again with an atomistic conception of individuals who are choosing goods out of context, not in relation to traditions… [Virtues are] about something that's embedded in dynamic traditions that shape and mold people. Civic virtue has to go hand in hand with any kind of democratic prayer.
Deneen on the left's understanding of "solidarity":
In response to the ravages of economic individualism, it calls for forms of solidarity, and it looks, for example, to the trade unions or to somewhere like Sweden as an exemplar of the kind of social solidarity that's necessary to restrain the utilitarian tendencies of markets. But the social libertarianism of the progressive left undermines the very basis for this kind of solidarity. The effort to liberate yourself from family, from religion, from community, to make yourself into a free actor in the social realm, actually hollows out the kinds of spaces that develop a strong sense of solidarity.
McCloskey on what Deneen said in the above paragraph:
I disagree. I don't think that markets, which after all are just people buying and selling stuff, going to work and finding a job, have this corrosive effect. We've exchanged commodities since the beginning of humanity, and markets have co-existed with ethical development.
West on the McCloskey-Deneen exchange above:
You can't just say, my dear sister Deidre, that markets are just about buying and selling. No. They manipulate, they dominate. You'd got advertising industries in place to convince people to consume. The markets that Adam Smith was talking about are qualitatively different from the twenty-first century markets.
West on greed:
Personally, I believe that greed and hatred and envy are hounds of hell. They are ideologically and politically promiscuous. They will lay down with any system–feudalism, capitalism, socialism, whatever….
McCloskey on her libertarianism:
I really believe that if we're going to get along we can't have people imposing ultimate ends on us.
Deneen on individualism:
We're flourishing in terms of autonomy, disconnection, the sense of being liberated from one another. But it turns out that the more free, autonomous, and disconnected we are, the more miserable we become. We've overshot the mark.
Fukuyama on the Christian roots of democracy:
Democracy itself has Christian roots, I think. But you don't need actually observant Christians to keep that tradition alive. It's a matter of public policy. Any society is free to dignify labor by implementing policies like that.
Deneen on Christopher Lasch and populism:
We're seeing the advance of right-wing populism in Italy, and elsewhere in Europe. We've certainly seen it in parts of Eastern Europe. It's not a uniquely American phenomenon. As Lasch described it, we have a managerial class that sees itself as detached from and no longer bearing responsibilities to those who have not been successful –because it's there fault, they didn't work hard enough.
West on the "professional managerial class" and multiculturalism:
Part of our problem, especially in this country, is that we've got some very precious fellow citizens who are thoroughly convinced that the professional-managerial class is dominated by greed and arrogance and condescension and haughtiness and has given up on respecting them as human beings. All the talk about plurality and diversity and equity and all these bureaucratic categories trying to deal with difference–when it really comes down to it, this class doesn't respect ordinary people. So this multiculturalism within the professional-managerial class, what does it do? It just makes the empire more colorful. And yet the damage is done–people still feel as if they're pushed to the margins, as if their dignity is being crushed.
Fukuyama on the positive impact of liberalism:
Two things have been going on. You have a liberal idea that says that all people have rights and should be treated equally under the law. But then you also have a very restricted understanding of who is a rights-bearing human being. So the big social change has been an expansion of who that is. Men without property were added in the 1820s. The Fourteenth Amendment theoretically extends this to African Americans, but then it's taken away for another century. Women don't get it until the Nineteenth Amendment. And so forth. That has a counterpart in foreign policy, where this big change comes about because, thanks to Hitler and the defeat of fascism, it become impossible for any liberal in Europe or the United States to say, "Yes, we have a right to rule over these non-white people due to their race.'" If all men are created equal, how can you possibly justify, for example, keeping the Philippines as a colonial possession? You can't. So, it is true that liberal societies engaged in essentially racist colonialism. Non-liberal societies did that also. But if you didn't have the liberal idea of human equality, you couldn't have dismantled colonialism. Liberalism at least planted the seed by stating the aspiration that all people should have equal rights.
Read the entire forum here.