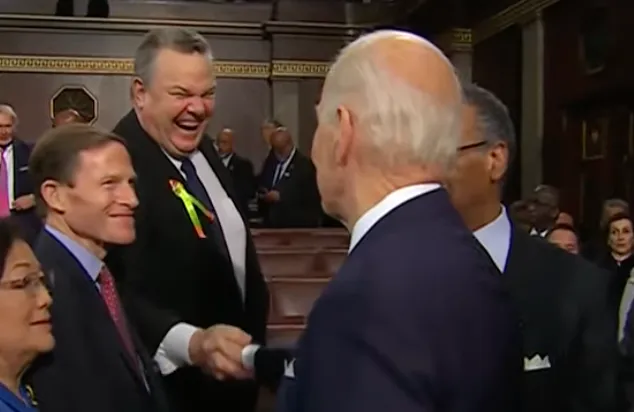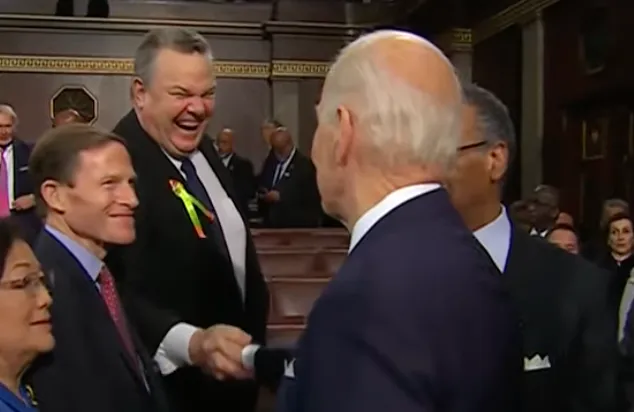 I love this. (And not only because my brother always greets me by saying, "Hey Big John").
Here is Jennifer Bendery at HuffPost, "The Best Part Of Joe Biden's SOTU Address Happened After It Was Over":
On Tuesday night, millions of people tuned in to watch President Joe Biden deliver his State of the Union address to the nation.
But the best part of the night happened right after Biden's speech was over, when most (but not all) networks weren't airing his comments anymore and he made his way through the crowd. It was here, where the president could actually talk to all the dignitaries, members of Congress and other people in the room, that he was truly in his element.
After formally addressing the country for about an hour and 10 minutes, Biden spent another 20 minutes cracking jokes with Supreme Court justices, telling stories, taking countless selfies, talking to people's kids on cell phones, listening to Democratic and Republican lawmakers' requests for help, and offering comfort to people who needed it.
"Hey, big Jon!" Biden shouted at Sen. Jon Tester (D-Mont.), hand outstretched, barely a minute after he'd stepped down from the dais. Immediately surrounded by about a dozen senators and House members eager to shake his hand, the president took the time to talk to all of them before drifting over to Gen. Mark Milley, chairman of the Joint Chiefs of Staff, who solemnly stood nearby with some other high-ranking military leaders.
Motioning to his own shoulders, Biden jokingly called out to a four-star general in uniform, "Aren't those stars heavy?"
When Supreme Court Justices Elena Kagan and John Roberts passed by, the president stopped them to apologize for making them listen to his speech.
"Sorry. Sorry you guys had to sit there," he said, as Kagan looked briefly confused and started laughing. "I apologize."
It was like watching a pinball bounce around the game board. Biden jumped from one group of people to the next, to the next, to the next, in absolutely no rush to leave and seemingly energized by every minute of being able to engage with real live people. And here he was back in the building he'd spent decades of his life working in ― a second home of sorts. Why ever leave?
Read the rest here.