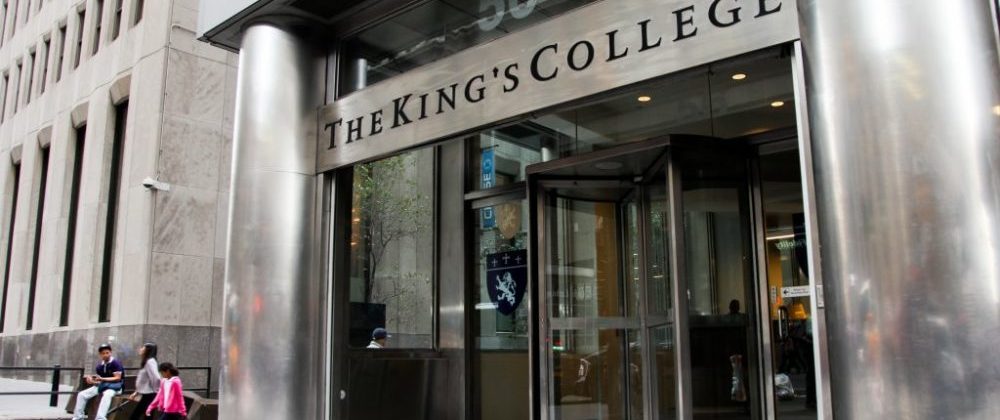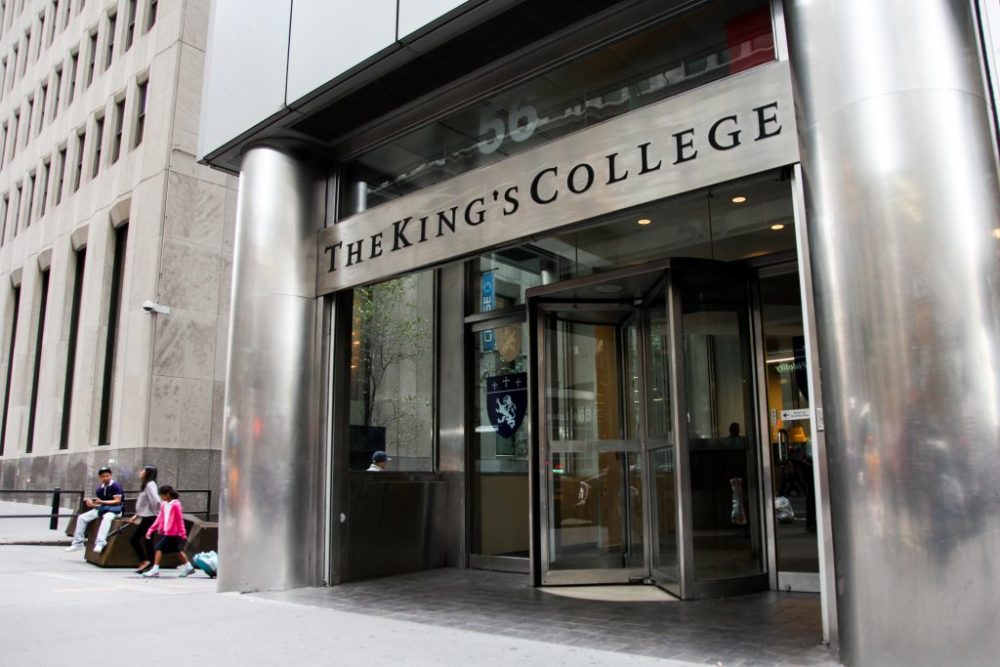 The Kings College is in serious financial trouble.
Back in 2008,, when I was blogging at Paul Harvey's Religion in American History, I wrote a piece on what I called "Manhattan Evangelicalism." The Kings College featured prominently in that post. Here it is:
Today's Washington Post has an interesting article about The King's College, an evangelical college that occupies three floors in the Empire State Building. The article presents Kings as a sort of urban Patrick Henry College, the Virginia school that got a lot of attention last year thanks to Hannah Rosin's God's Harvard. Kings recently hired Marvin Olasky as its provost. Olasky, the editor of World Magazine and a journalism professor at Texas-Austin, is the man behind the term "compassionate conservatism."
I have no reason to doubt that The Kings College is positioning itself as an institution at the intersection of evangelicalism and political conservatism, but this is not The Kings College I remember as a North Jersey teenager who for a time lived within its evangelical orbit.
For much of the 1950s, 60s and 70s Kings was at the center of New York metropolitan area evangelicalism. It was founded by Percy Crawford, a youth evangelist who was an unofficial mentor of Billy Graham. The college would have ties to "Youth for Christ," the evangelistic ministry that Graham helped to found. In 1955, the college moved from the Jersey shore (where it was founded in Belmar in 1938) to Briarcliff Manor, New York, a posh Westchester County village. It attracted evangelical and fundamentalist students from throughout the metropolitan area. (I remember hearing stories about its competition for students and fierce rivalries on the soccer field and basketball court with neighboring Nyack College, the Christian Missionary Alliance school located just across the Hudson River). King's president Dr. Robert Cook became one of the region's most popular evangelicals. His daily radio broadcast, "The Kings Hour," was a staple on Christian radio. (I remember my parents listening to it in the 1980s. Cook ended every broadcast with the phrase, "Walk with the King today and be a blessing.") This was the kind of warm, pietistic, evangelistic, subcultural, and apolitical fundamentalism that Joel Carpenter writes about in his book Revive Us Again.
Financial hardship forced Kings to close its doors in 1994. Five years later it reopened in the Empire State Building with a more pronounced culture war agenda. The Washington Post piece today reminded me of just how much the goals and values of American evangelicalism–and some of their colleges–have changed in the last few decades.
Since I wrote this in 2008, I did a few more pieces on The Kings College at The Way of Improvement Leads Home blog:
And now, it appears, The Kings College needs new financial supporters to stay afloat. Here is a letter to the alumni from Stockwell Day, the interim president:
Dear Alumni,
Now, more than ever, The King's College needs you. This year, we have been caught in the perfect storm of a slow, post-COVID-19 recovery, an economic decline, and rising interest rates which have complicated the sale of our DeVos building.
And yet today, at this moment of our greatest need, we are at the cusp of our greatest potential. I'm excited to let you know that our admissions numbers for next fall are up, and we have seen considerable growth in our donor base.
And here's our greatest opportunity: a significant Christian university is considering a partnership with us that would carry us into the future and would get us out of the historic cycle of financial ups and downs faced by many small colleges like ours.
This potential new partner completely agrees with us that in any new relationship, we would not change our academic pedigree, our courses, our degrees, our Christ-centered focus, or our biblical mandate to influence the world around us, especially in New York. As a matter of fact, it is this unique "Kingsian" DNA that has attracted them to us.
However, these discussions will take time, and that is a luxury we do not have. As a result, we need to raise $2.6 million to complete the next four months while we work to bring this successful partnership to fruition.
I am asking you to stand in the gap as never before. I am reaching out to all of our alumni because you are a core component of our King's family. Whether you met your King's family through your House or on the lawns of Briarcliff Manor, you understand the beautiful community that we've built together. You remember a favorite professor, a formative conversation that made a positive impact on your life, and coursework that prepared you for your career.
Can I ask you to do two things right now?
First, please pause and thank God for His grace and provision for The King's College. He has sustained us through hard times in the past, and we are asking you to join us in praying that He provides for us in our current season.
Second, please prayerfully consider making a one-time donation to help us meet this immediate need. I want you to be able to look back years from now and know that you were one of the champions that ensured the future of King's. Your gift will make a significant impact on our current funding priorities:
$2,500 – could underwrite a portion of our faculty salaries for a month
$1,000 – could fund part of the IT expenses of running our classrooms for a month
$500 – could fund a portion of our student support services for a week
$250 – could support a student worker for two weeks
I want you to know that our Board of Trustees, faculty, and staff are fully committed to serving our students and preparing them to fulfill our mission. But we need the help of our extended family at this critical time so that together we can ensure a thriving future for our college.
Thank you for being an important part of our community.
A similar letter has also been sent to parents.
We will keep on this story to see how it unfolds. Does anyone know which Christian university King's hopes to partner with?