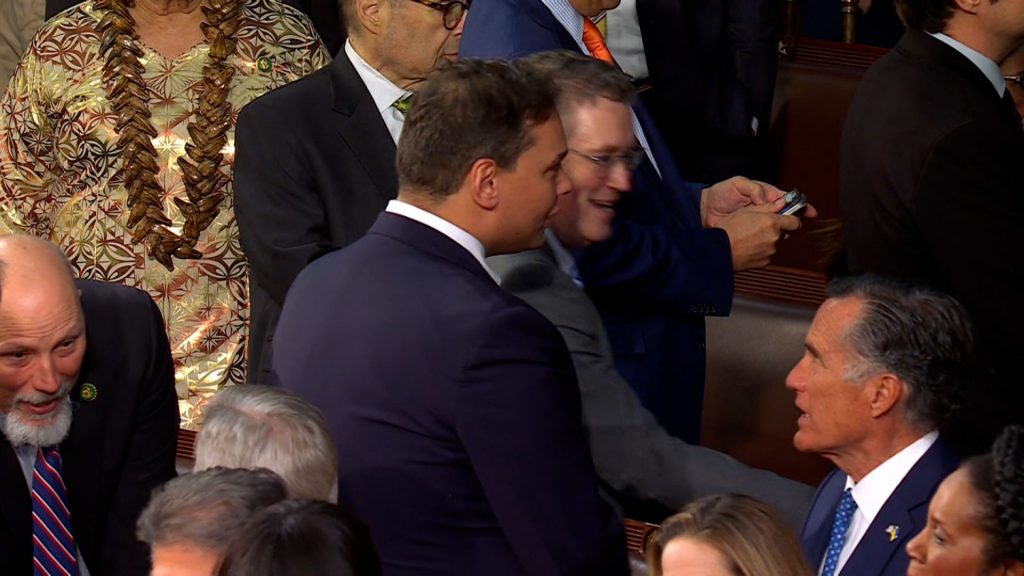 The Huffington Post is reporting on the Mitt Romney-George Santos confrontation at last night's State of the Union Address. Watch:
Here is a taste of Igor Bobic's piece:
Sen. Mitt Romney (R-Utah) told Rep. George Santos (R-N.Y.) to take a hike during a heated confrontation ahead of President Joe Biden's State of the Union address on Tuesday.
Santos, the truth-challenged congressman from New York, had positioned himself on the center aisle of the House chamber, where lawmakers often stand on such occasions in order to shake hands with the president.
As members of the Senate walked into the chamber and made their way down the aisle, Romney spotted Santos and told the congressman that he didn't belong in the chamber.
"Look, he's a sick puppy. He shouldn't have been there," Romney told reporters after the speech. "Given the fact that he's under an ethics investigation, he should be sitting in the back row and being quiet instead of parading in front of the president. You certainly shouldn't be in the aisle trying to shake the hand of the President of the United States and dignitaries coming in. It's an embarrassment."
Santos, meanwhile, appeared to mouth to a colleague "what an asshole," according to an ABC News producer. He later tweeted at Romney, telling the senator "just a reminder that you will NEVER be PRESIDENT!"
Read the rest here.