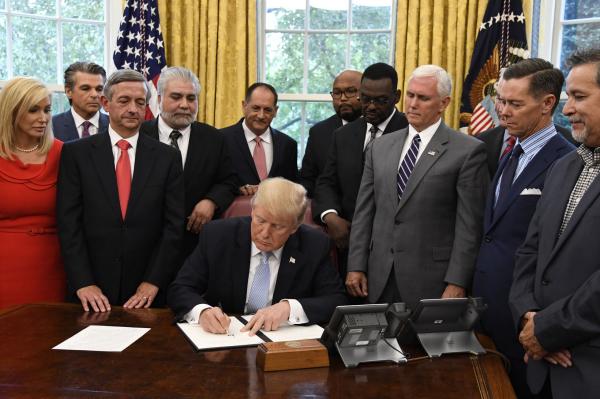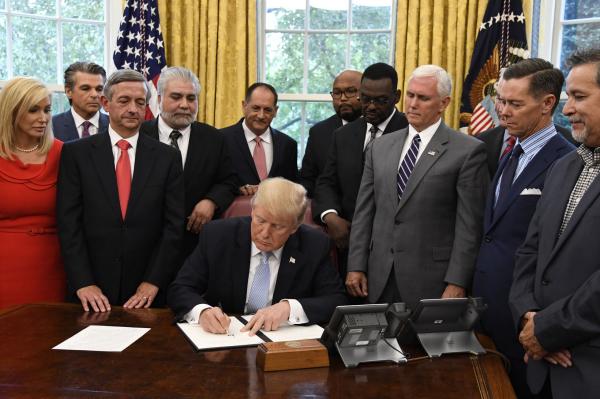 When Donald Trump was president he said very little about gay marriage and other LGBTQ issues. But when he did speak about the LGBTQ community it was usually positive. In April 2016, The New York Times published a piece by Maggie Haberman titled, "Donald Trump's More Accepting Views on Gay Issues Set Him Apart in G.O.P." Here is a a short taste of that piece:
But Mr. Trump is far more accepting of sexual minorities than his party's leaders have been. On Thursday, he startled some Republicans by saying on NBC's "Today" show that he opposed a recently passed North Carolina law that prohibits people from using public bathrooms that do not correspond to the gender they were born with, striking down a Charlotte ordinance.
Transgender people should "use the bathroom they feel is appropriate," Mr. Trump said, putting him at odds with a majority of Republicans in North Carolina.
And this:
But it is his views on gay rights and gay people that most distinguish Mr. Trump from previous Republican standard-bearers. He has nurtured long friendships with gay people, employed gay workers in prominent positions, and moved with ease in industries where gays have long exerted influence, like entertainment.
"He will be the most gay-friendly Republican nominee for president ever," said Gregory T. Angelo, the president of the Log Cabin Republicans, a group that supports gay rights.
As MNBC's Steve Benen reminds us, Trump said in 2016 that he would be a "better friend" of the "LBGT [sic] community than Hillary Clinton. Benen also notes that in the immediate wake of the Pulse nightclub shooting in Orlando Trump said, "Thank you to the LGBT community! I will fight for you." Now Trump has changed his tune.
Here is more from Benen's piece:
As NBC News reported, Trump's latest video focused on part of his vision for a culture war.
The former president, as part of the same video, told the public, "I will sign a new executive order instructing every federal agency to cease all programs that promote the concept of sex and gender transition at any age. I will then ask Congress to permanently stop federal taxpayer dollars from being used to promote or pay for these procedures and pass a law prohibiting child sexual mutilation in all 50 states."
After threatening to defund public schools if a teacher says something about gender identity that he disagrees with, the Republican added, "I will declare that any hospital or health care provider that participates in the chemical or physical mutilation of minor youth will no longer meet federal health and safety standards for Medicaid and Medicare and will be terminated from the program immediately."
Some of you recall that in 2016 Trump had a contractual relationship with conservative evangelicals. The evangelicals would sell their souls to Trump and in exchange the president would give them conservative Supreme Court justices, move the U.S. embassy in Israel to Jerusalem, rescind the Johnson Amendment (it never happened), and fight for their "religious liberty." Politically speaking, it was a good deal for both parties.
In 2024, Trump needs evangelicals to win. He can't do it without them. And while evangelicals are thrilled that Roe v. Wade was overturned and the embassy was moved to Jerusalem, the chance to strike a blow at the LGBTQ community under a second Trump presidency will be tempting. Remember, the Christian Right thrives on culture wars. Its members will always find an issue to crusade against because they need these crusades to survive–to pay their salaries, to attract money from donors, to hold power., to pay for their media outlets. LGBTQ issues in America may be the next mountain they want to climb.
Trump is betting on the possibility that the Christian Right is ready to enter into another contract with him. It's the art of the deal.