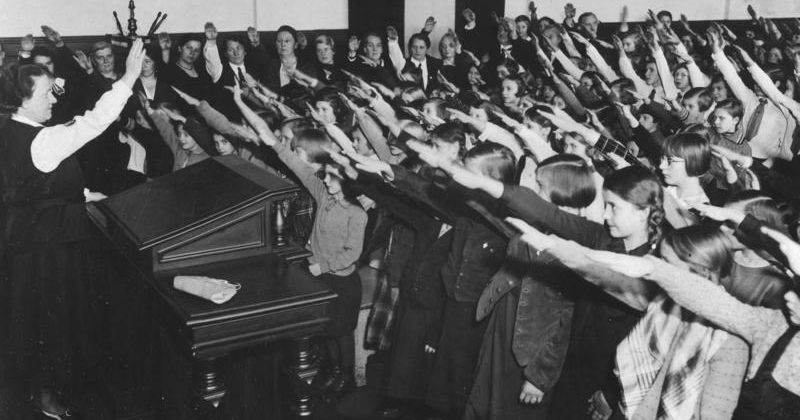 In December 2022, one of the biggest international news stories was the conviction of a 97-year-old German woman for being accessory to murder during the Holocaust. She was a teenager at the time of her crimes, 1943-1945, but she was also the head secretary to the SS commander of a concentration camp. Irmgard Furchner may not have been a guard or have personally murdered anyone, but she was aware of what was happening and her work as a secretary facilitated it. She was tried as fairly as possible and she was found guilty.
The term we often associate with cases like that of Irmard Furchner is "complicity." Merriam-Webster defines complicity primarily as "association or participation in or as if in a wrongful act." Legally it includes helping or encouraging someone to commit a crime. The notion of participation makes it seem as though it means very serious involvement, but the connotations of complicity are different. Very often when we talk about someone being "complicit" we are talking about involvement that feels peripheral.
Complicity leads us to ponder conscience because complicity is often connected to crimes that we don't consider to be our own or even think of as crimes. You "don't know what happens" after the transaction or behind the closed door. It seems possible to claim that things would have happened with or without you. It may be easy to say that you aren't personally doing anything wrong. Complicity seems to relate to the kind of actions that are thought of as just looking the other way.
How do we get to where the conscience seems so cold? An excellent book, relevant to the Furchner case and complicity, is Between Dignity and Despair: Jewish Life in Nazi Germany by Marion Kaplan. Kaplan's book chronicles Jewish life during the Third Reich but it also examines what made such extreme treatment of German Jews possible. The book shows how the well-documented "social death" not only preceded but helped make possible the physical death of Jewish Germans. In 1933, many Jewish people lived in the same neighborhoods, attended the same schools, and were members of the same organizations as their non-Jewish neighbors. Over time, they were pushed out of non-Jewish social life, alienated, and ostracized: at school, at work, in professional organizations, in shops, and in public spaces. The government even worked to break up marriages between Jewish and non-Jewish Germans.
As Jewish Germans became more isolated from their neighbors, very few people said anything. Some were antisemitic, others just did not want to get involved. The longer things went on, the easier it was to look the other way. Jewish-Germans had lost their neighbors, their co-workers, their classmates, their fellow citizens, and their friends. When their mistreatment became more extreme, they had few advocates, in part, because they had few associates. For those who were not outright antisemitic, passivity in the face of Jewish persecution slid into complicity.
The best way to avoid complicity is through care. Merriam-Webster defines care (as a verb) as "1. a. to feel trouble or anxiety b. to feel interest or concern 2. to give care." Many of us have people we care about, but when it comes to caring about people, we can struggle. The catch is, to be caring members of our society, we have to put ourselves in closer proximity to others who are somewhat other. To feel anxiety or concern for others, we need to know something about their circumstances. To give care, we probably need to know someone somewhat closely. Closeness may sometime make for contempt, but it is also the context in which care thrives.
Unfortunately, for many of us there are big distances between ourselves and many other members of our society. We look at others across cultural divides. We consider generations to sometimes be warring. We are from "red states" and "blue states." We are happy to accept assumptions about others. We get outraged about things we hear from third parties about people we don't know. All this distance between us and others makes it easy to be uncaring. We may even be complicit in some of the negative outcomes experienced by other people without our consciences being stirred.
None of us wants to be part of a culture where teenagers are complicit in war crimes. But will we foster an environment in which complicity is more challenging? Will we put ourselves in a position to care about others? The choice is ours.