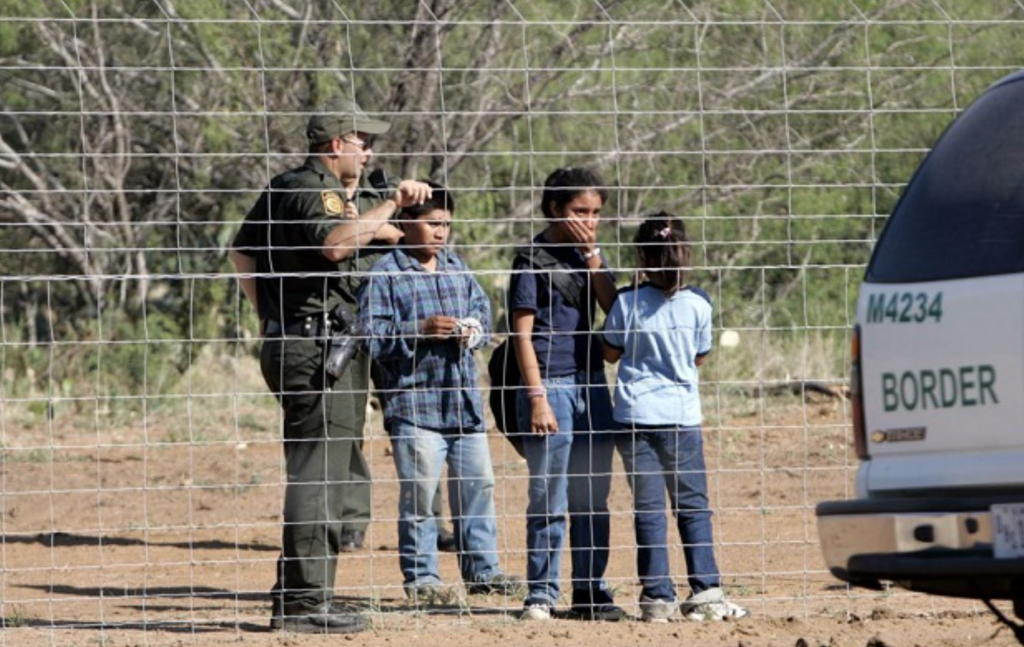 When an immigrant becomes a neighbor, a truer story comes into view—and a truer hope
I remember crossing the Mexico-U.S. border as a child. Growing up an expatriate "missionary kid" in Mexico, I rode with my family across the bridge at Laredo, Texas more times than I can count. It was always a dramatic moment of contrast, like split channels on some life-sized TV screen. On one side of the screen were those crowded streets—alive with festive splashes of color, but also rimmed with unpaved roads, shanties, slums of grim cinderblock, and the sweltering, semi-desert beyond. On the other side, across the international bridge, a more affluent silence reigned: spacious lawns where crickets chirped at night, and broad interstate highways, where silent cars whizzed past and the arches of McDonalds beckoned.
It bears mentioning, of course, that I saw these border towns as a passenger—from the relative comfort of an old Plymouth Valiant. Gloria Anzaldua, in her semi-autobiographical Borderlands/La Frontera (1987), would later provide a much grittier and prophetic metaphor—one to which I must give due deference, since she knew that place as an actual resident. She described the border as an "open wound," the place "where the Third World grates against the first and bleeds." Anzaldua's prophetic image prefigured both the suffering that would come to plague the region (concentrated, it goes without saying, on the Mexican side), as well as the "teeming masses" who are now not just from Mexico but also from other nations of the "Global South." Cities like Laredo and El Paso are the new Ellis Islands, strung like lanterns from the Gulf of Mexico to the Pacific Ocean along a jagged 2000-mile stretch.
A third metaphor—to go alongside the split TV screen and the open wound—is less vivid but more functional. It comes from U.S. representative Henry Cuellar, a centrist Texas Democrat who represents the Laredo district. In a recent appearance on Face the Nation, Cuellar pictures the Mexico-U.S. border as the walls of a building whose guests are climbing through the windows and back door. Reflecting on Biden's recent visit to the border, another observer likens the U.S. to a "club" whose owner (in this case, President Biden) has just shown up on the scene, "closing windows everyone's been climbing through, cutting the padlock off the door and giving the bouncer a queue quota."
When I think about the border today, I keep all three images in mind; no single one suffices. The image of a walled house or building is helpful in thinking through the logistical nightmare the area has become. But it is, in and of itself, too clinical and abstract; it misses the countless traumas and sufferings that have driven people to that location. Anzaldua's image of a wound is the flip side of that coin: While it cries out with the blood of the victims, it offers little to no ground for picturing a solution.
My own metaphor of the spilt TV screen also has limitations. In the decades since I made those trips across the border, the lines on that big screen have blurred. The arches of McDonalds can now be found all over Mexico, along with English-speaking enclaves teeming with American tourists and retirees. And in Oklahoma, where I now live, a day's drive north of the border, Hispanic communities have more than doubled in size, bringing with them that border-town vibe.
One of these Juarez refugees is my friend Moises.
Moises' childhood in Juarez was shattered by the arrival of street gangs, the feuding Juarez and Sinaloa drug cartels, and a heinous string of unsolved murders whose victims were young women from the maquiladora factories. On one occasion Moises saw blood in the streets after a vicious gang-related execution. Sometime later a coworker of his was arrested and tortured in an effort to extract a confession to one of those notorious crimes (which, one has to assume, were the work of some wealthier and unaccountable sociopath). Moises could tell you all you need to know about the border being an "open wound." It was an act of desperation that led him (along with his wife and young daughter) to slip through one of the Border Patrol's unguarded "windows" and head north to Oklahoma. The three of them crossed the same Southern Plains that Coronado explored in 1540 and the vast expanses that (as it happens) had once belonged to Mexico.
I'm sure I would have done the same thing.
Life on this side of the border has been better for them, but not without its own set of traumas. In a cruel twist of fate, the daughter they brought with them died in a car accident in 2013. There was no crime or violence involved, but the accident might have been avoided had Moises not feared (on account of his undocumented status) being the parental chauffeur.
On the other hand, there's been hard-won success: A second daughter, born after their arrival here, is an honors student. Moises and his wife are model workers and parents and have, after years of waiting and paperwork, managed to legalize their status. A curious paradox accompanies them, as it does the millions who have made their same trek: They've chosen an "illegal" path to get here because they want, above all, to live as law-abiding workers in a place where the rule of law prevails.
I go into all this detail about Moises for a couple of reasons. It's not just that his experience encapsulates so well the kaleidoscopic realities of the border region; it's also the template through which I view the more recent waves of migration. As the violence in Juarez has waned, the same storm-clouds of cartel-fueled violence have moved much further south, to countries like Honduras, El Salvador, and Venezuela. And people are heading north for the same set of reasons: grim economic prospects compounded by the terrifying tyrannies of gangs, cartels, and abusive officials.
There is no perfect fix for a border like ours. But a healthier set of policies has been on the table for years, and it used to have substantial bipartisan support. Comprehensive Immigration Reform, as it's been dubbed, proposes to open the "padlocked doors" of our national edifice (expanding legal pathways to enter and work in the US, reviving a guest worker programs that used to match Mexican workers to U.S. labor needs) and close all of those "windows," integrating the millions of law-abiding but undocumented workers into mainstream American life.
Compared to this long-term package of policies, Biden's recent agreements with Mexico's President Lopez Obrador are at best a piecemeal, short-term fix. It remains a fact that Biden's plan relies on the extension of Trump's Title 42, which still has an expiration date.
So, to conclude, I will ask my readers to indulge me as I spin out one last metaphor. In addition to being a split TV screen, an open wound, and the outer walls of a building, our southern border is also an ailing, injured patient. Joe Biden has shown up on the scene as a late-arriving medic and has managed, it seems, to apply a tourniquet. What we need, though, is a surgeon, a politician with the surgical skill to implement truly comprehensive immigration reform. Maybe such a surgeon needs a less polarized political climate in which to operate. For that, I continue to hope.
Mark Griffin is Professor of Spanish at Oklahoma City University. He was born and raised in Mexico, where his parents served as career missionaries. He is co-author of Living on the Borders: What the Church Can Learn from Ethnic Immigrant Cultures (Brazos Press, 2004) and has written articles on modern Latin American and Spanish literature.