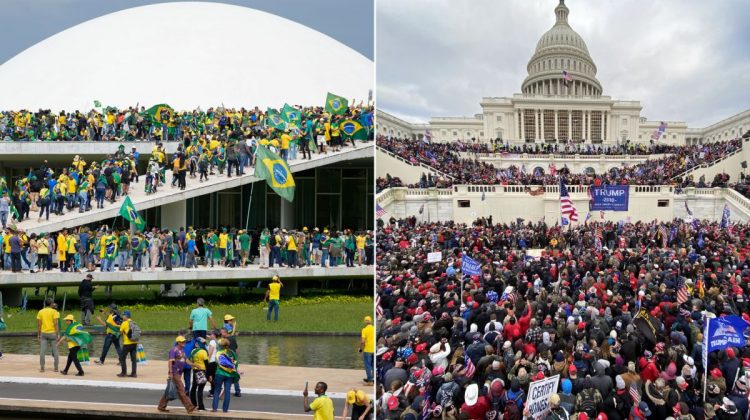 The United States loves to export its political ideals and practices to the rest of the world. The latest export seems to be antidemocratic insurrections.
Here is a taste of Anne Applebaum's Atlantic piece: "What the Rioters in Brazil Learned From Americans":
Still, I suspect that the real influence of the American experience in Brazil comes not from the preening likes of Bannon, the former Trump adviser Jason Miller, or any of the minor figures who have excitedly, and perhaps lucratively, been promoting #StoptheSteal in Brazil, but—as in the 18th century—through the power of example. Note the pattern here: After he lost November's election, Bolsonaro refused to attend the inauguration of his successor. Instead, he went (of all places) to Florida. He and his followers have been pursuing fictional claims in lawsuits in the Brazilian courts. They then chose January 8, almost exactly two years after the assault on the American capital, to stage their attack—a strange date in some ways, because the sitting president of Brazil, Luiz Inácio Lula da Silva, has already been inaugurated, and the chaotic assault on Congress will not block him from exercising power. Today's riot makes more sense if the point was to create a visual echo of what happened in Washington.
But the power of example works in other ways too. If Americans want to help Brazil defend its democracy and avoid sinking into chaos, and if we want to avoid #StoptheSteal movements proliferating in other democracies, then the path forward is clear. We need to prove conclusively both that these movements will fail—after all, the American version already did—and that their instigators, from the very top to the very bottom, pay a high price for that failure. The January 6 committee has just made a clear recommendation to the Justice Department, asking for a criminal case to be brought against Trump. The events in Brasília today should remind us that the department's response to this demand will shape politics not only in the United States, but around the world.
Read the entire piece here.