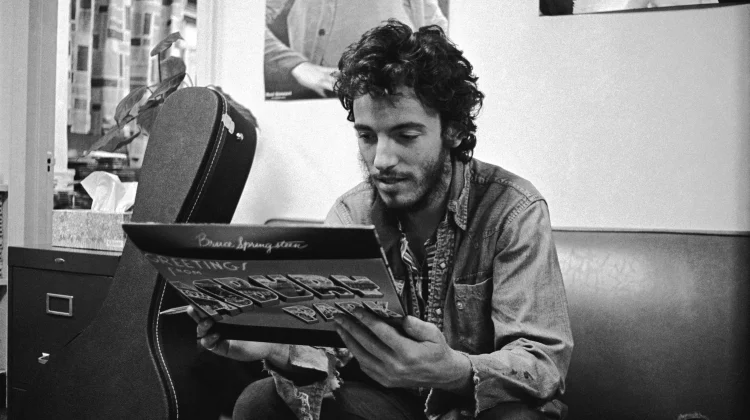 Columbia Records released Greetings from Asbury Park on January 5, 1973. Jim Cullen, the dean of Springsteen scholars, reflects at The Washington Post:
Fifty years ago this week, a scruffy young artist from New Jersey released his first album. In the aftermath, it wasn't clear if the up-and-comer — Bruce Springsteen — was going to make it.
Springsteen had obvious talent, impressing legendary talent scout John Hammond, who had discovered Bob Dylan and Aretha Franklin, among other acts, and Columbia Records President Clive Davis, who nurtured the careers of stars ranging from Janis Joplin to Whitney Houston. But despite this talent, Springsteen's first two albums, released within a year of one another, sold poorly. This left his career hanging in the balance, as Columbia executives grew impatient — even though Springsteen's already epic live shows had won over influential fans and generated buzz.
Ironically, today the live show, not the record, is how pop music acts typically earn a living. Financially speaking, what was once the means has become the end. But that wasn't the case in 1973.
Initially, label executives faced the question of how to package Springsteen as an artist. On some level, it seemed simple: Market him as a singer-songwriter, like James Taylor, Jackson Browne and Joni Mitchell — all then thriving.
Clearly, Springsteen could write appealing songs. There was the playfully Dylanesque "Blinded by the Light," for example. And "Growin' Up," which channeled the earthy metaphysics of Walt Whitman ("I found the key to the universe in the engine of an old parked car").
When Davis told Springsteen he needed a single for his forthcoming album, he came up with another winner called "Spirit in the Night." Things were looking good when Springsteen's debut, "Greetings From Asbury Park, N.J.," was released on Jan. 5, 1973.
Then the album flopped.
Though it was impossible to know why for sure, Springsteen himself had a strong supposition: "Greetings" wasn't truly him. Hammond and Davis had envisioned the album as a solo record with a few session musicians.
Read the rest here.