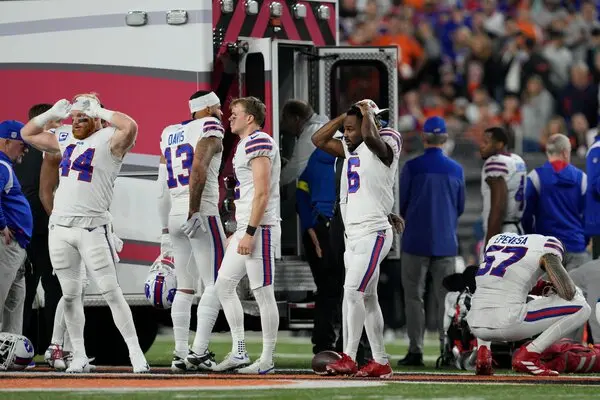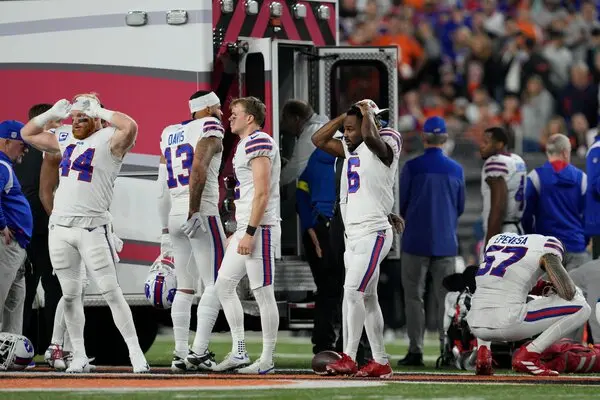 The nation was shocked when Buffalo Bills safety Damar Hamlin collapsed during a recent Monday night football game. For several days the Hamlin story shared top billing in the American news cycle with Kevin McCarthy's bid for Speaker of the House. Evangelicals were quick to note how NFL players prayed for Hamlin on the field following the incident:
And they rejoiced when Hamlin's condition started to improve:
But, as sports historian Paul Putz recently asked in a piece at Christianity Today, "what's next?"
It's a good question. What happens now that prayers have been answered? Does the NFL go back to business as usual? Do all the evangelicals who called for prayer now just go ahead and enjoy this weekend's playoff games? I can't help but compare this to the conservative evangelical approach to gun violence: pray for the victims but do nothing to support responsible gun control.
Here is Putz:
While we rejoice in Hamlin's ongoing recovery, we should heed the words of Scripture that remind us that faith without works is dead (James 2:17). Immediately following the Lord's Prayer in Matthew 6, too, we are called to do something—to forgive other people—a reminder that our prayers and actions are bound together.
Theologian and civil rights leader Howard Thurman makes a similar point. "The efficacy of the prayer," he wrote, "is often measured by the degree to which the individual is willing to become involved in actually working in the world to meet these needs."
Thurman had in mind the disconnect between a Christian who "may share in his prayer his concern for peace in the world" and yet be "unwilling to change his private attitude of antagonism or prejudice toward his fellows." He had in mind, in other words, the connection between individual formation and social transformation, between prayer and action.
For those of us who have prayed for Hamlin's recovery and healing, we ought to consider what work or change in perspective our prayers might call us to. In particular, we should sit in the tension of praying for a body to be healed while at the same time cheering on a violent sport that so often breaks bodies down…
For Christians who love football and the players who make the game happen, what if our prayers for Hamlin lead us to work for better long-term care for athletes?
Writer Neil Forgrave has some similar thoughts at Plough:
We talk about finding a solution to the player safety problems that plague football, but we don't really want a solution. Because the only real solution is to stop playing football.
And that's the last thing we want.
Football's violence is not a bug of the game; it's a central feature, the reason we watch. It is the sport our nation has long called on to turn boys into men, and what better way to create a red-blooded American man than by teaching boys to conquer their fear of grievous bodily injury and to endure physical pain? Sure, we love nothing more than the acrobatic catch by a wide receiver that shows athletic feats we cannot comprehend, like the catch-of-the-century Justin Jefferson made earlier this season against Hamlin's Buffalo Bills. What makes football's athleticism so breathtaking, though, is that we know the potential for body-wrecking violence is always right around the corner. Jefferson may have caught that ball, but a defender like Hamlin – he was a few steps away from Jefferson on that catch – may have punished him a millisecond later with a bone-crunching, brain-rattling hit. Aaron Judge hitting a towering home run is a stunning thing to watch, but it's not as if someone is trying to knock him off his feet as he swings...
Over the past week, as I've heard the outpouring of feelings about how we must care for Damar Hamlin as a human being, not just as a football player, I of course agreed. How could you not feel the depths of sorrow for this young man, his family, his teammates?
I also thought that we, the football-watching public, are a bunch of hypocrites.
We say we care about players' humanity, then we complain about them not helping our fantasy football teams. We believe the NFL when it says the health and welfare of players is paramount, then we hear the announcers Monday night tell us players had five minutes to warm up before continuing play after Hamlin was taken away in an ambulance. (The game ended up being postponed and later cancelled.) We say we care about our children's well-being more than anything, then we put helmets and pads on elementary-aged kids and send them onto the field, despite increasing evidence that it's not the big concussions that are most problematic to the brain – it's prolonged exposure to hundreds of smaller subconcussive hits over years or decades that most likely leads to CTE.
Read the entire piece here.