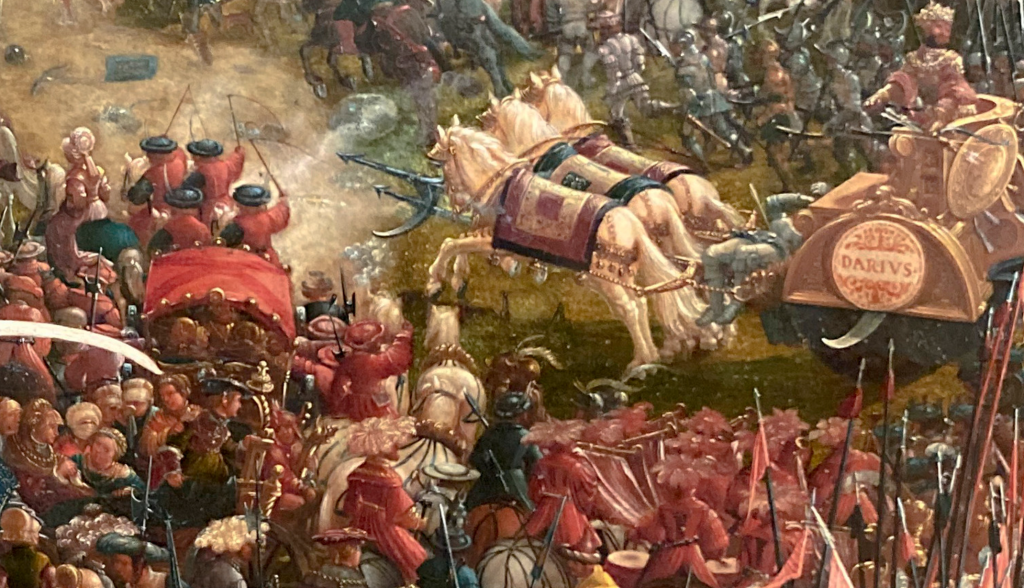 What if religion is not responsible for religious wars?
Religious Peace, Then and Now by Wayne P. Te Brake. Cascade Books, 2022. 173 pp., $26.00
Te Brake, emeritus at SUNY Purchase, has written and taught extensively on the intersection of religion and conflict in European history. In this short volume, he distills the lessons he's developed from those labors into a form that is accessible to non-academic readers and also addresses current events.
Inspired in part by the parallels suggested in the early 1990s, when war in former Yugoslavia made the religious wars of early modern Europe relevant again, and in part by the rising tide of religious violence billowing in many forms through the first decades of the twenty-first century, Te Brake realized it was easy to become fixated on the seeming inevitability of religious conflict through history. Perhaps, though, the more interesting questions revolved around the possibilities for peace.
He cannot be accused of underestimating the complexity of the topic. His examples and case studies range across time and continents, from colonial New York to the Low Countries in the sixteenth century, to Syria, Nigeria, Sri Lanka, and Myanmar, among others.
Along the way, Te Brake adds his insights to those of Karen Armstrong and William Cavanaugh to undermine—if not explode—the idea that there is something particularly violent about religion, that religion is the cause of the vast majority of wars, or that we will never eliminate war until we evolve beyond religion. He recognizes that actually teasing out religion's role in many wars is quite difficult. Who counts as the voice of religion? Harry Truman thanked God for the atom bomb and prayed that God would guide us to use it "in His ways and for His purposes." Is that a co-opting of religion by a canny politician or a sincere expression of popular faith? Whichever we decide, most Christian theologians would find Truman's easy assumption that God wants us annihilating cities full of civilians appalling, just as most Muslim theologians were appalled at Osama bin Laden's defenses of killing women and children. Nevertheless, Te Brake writes, "religious war constituted only a small and generally declining percentage of all wars in the last millennium," while religious peace has been a far more constant feature of human existence.
The history of Europe since 1500 offers numerous examples of both religious war and religious peace, and these come in phases. We also see the emergence of religious violence in the Middle East and Africa more recently, and we can have hope that these will be phases too—that religious peace in these realms will similarly be, at least in part, the creation of intentional peace-makers. Te Brake stresses how "messy" and often unsatisfying such accommodations are in the moment: They "invariably involve compromises that satisfied none of the parties completely." Indeed, such compromises were sometimes offensive to "the strict religious norms of the competitive religious communities" involved and realized no one's expectations perfectly.
Chapter eight, titled "Making Good Trouble," is the heart of the book. As the quote from civil rights activist John Lewis that gives the chapter its title implies, peacemaking is seen, by someone at least, as "making trouble." Who could that be? Who could possibly hear Jesus saying "blessed are the peacemakers" and conclude "that guy's a trouble-maker"?
The nation-state, most obviously. Following Mark Kurlansky, Te Brake warns that states that build militaries will use them on someone. When that happens, practitioners of non-violence appear to the state as enemies, and once a religious community and a nation-state become aligned, the religion's non-violent teachings get de-emphasized to the point of near elimination.
Te Brake's response sounds inspiring: "We should engage responsibly and make good trouble whenever we see political actors invoking religious identities and/or enacting exclusionary religious policies in pursuit of political agendas . . . disrupting the dynamics and systems that fuel religious discrimination, injustice, and exclusion." The last two decades have seen no shortage of those dynamics, but from where I sit, they've been running the table in the United States. Christians have their hands full just trying to get their own house in order.
"If only you had known the things that make for peace," Jesus cried over Jerusalem. Te Brake concludes his volume by insisting that "'the things that make for peace' are indeed knowable," and what's more, practical. He assumes that history is useful for equipping believers in the work of peacemaking. I certainly agree it can be. I'm not certain how much it will be, at least not in any empirically obvious way. The owl of Minerva flies at twilight, after all, and the most crucial lessons of history are appreciated only after they're needed, when the matter, whatever it is, is settled, and a certain disappointment is felt. If that sounds like an ironic observation, I am guilty as charged.
Te Brake was going to end his book on an optimistic note, but soon after he submitted his manuscript in the summer of 2021 the American endgame in Afghanistan began unfolding, and he adds a coda to address it. He is aware of the diversity that lies just beneath the seeming Islamic homogeneity of Afghanistan—with sectarian, ethnic, political and cultural-aspirational differences cutting across the nation's population in myriad ways—and how that complexity is compounded by numerous foreign actors keen to use the nation for their own purposes. He recognizes that a positive peace in Afghanistan (durable coexistence) is harder to imagine than mere negative peace (absence of large-scale armed conflict). He assumes that, if it comes, genuine peace will be the result of the modest, cumulative labors of ordinary people, and not something imposed from on high by political rulers.
That sounds reasonable, and I suspect one of the most effective things we in the United States can do to bring peace to Afghanistan is pray for precisely that.
But what about the (admittedly) negative peace between the U.S. and the Taliban? That's an achievement. Wars like that aren't easy to end. It required that America sour on George W. Bush's commitment to "ending tyranny in our world" (in part because it tired of his "God-drenched" moralism). It took Barack Obama's Niebuhrian recognition that the fight against evil can become an engine of evil itself. And it took a president who expressed the most blatant hostility toward Muslims to actually sign an agreement with radical Islamists. Irony abounds.
"I think we can rationally and optimistically imagine and work for a more peaceful future," Te Brake proclaims. I want to conserve the "imagine and work for" part of Te Brake's vision, but sever it from "rationally and optimistically." We are called to hope, no matter how hopeless things may seem, because God is not limited by what we can see. From within that hope, we work, whether we can see a light emerging on the horizon or not. As our Advent readings remind us, "The light shines in the darkness, and the darkness has not overcome it." It's a startlingly modest claim that John makes. All that can be said for the light is it hasn't been extinguished. Christians need to make their peace with that, lest they be tempted to try to force a victory that may not reflect God's ways or purposes.
John H. Haas teaches U.S. history at Bethel University in Indiana.