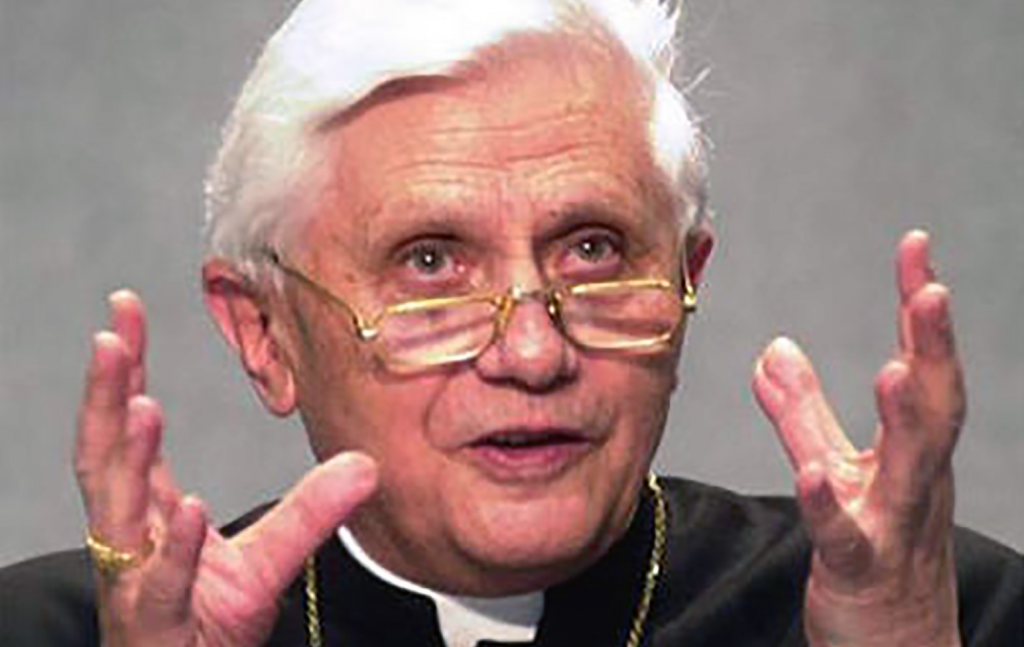 Joseph Ratzinger, always a scholar, transcended academe
Joseph Ratzinger was an academic who agreed to spend a few of his retirement years on the chair of St Peter. His significant contributions to theology and his influential professorships would have warranted major obituary assessments even if he had never been elected Bishop of Rome.
The first vocation Ratzinger discerned—and one from which he never wavered—was to be a priest. At the age of five he announced his ambition to be a cardinal. And this was his Christmas wish list at seven: a missal, a picture of the sacred heart, and green vestments. Ratzinger trod the narrow way to the sacrament of ordination without turning to the right or left. He was an altar boy, he entered the minor seminary at the age of twelve, and so the journey goes. Nevertheless, the love of learning for its own sake was also there in boyhood: "The Greek and Latin classics filled me with enthusiasm, and mathematics too."
His father and social world were viscerally anti-Hitler. When the SS came to pressure boys his age to "volunteer" to join the army, he recalled that "With a few others I had the good fortune of being able to say that I intended to become a Catholic priest. We were sent out with mockery and verbal abuse." As the demand for soldiers became ever greater, however, his conscription became unavoidable. Towards the end of the war Ratzinger deserted. In a bombed out, defeated country in disarray—with basic resources often unavailable—it is telling that Ratzinger's way of driving home this reality is to focus upon being deprived of scholarly publications: "No books could be bought in a Germany that lay desolate and in total economic shambles."
To become a professor in a German university involves the completion of a habilitation—a second thesis after one's doctorate. Ratzinger was such an academic that the declared intention of a member of his thesis committee to fail Ratzinger's habilitation was the greatest crisis of his entire life, making both World War II and Vatican II pale in comparison in recollections. In his memoir Milestones there is only one chapter title with any emotional tone: "The Drama of My Habilitation and the Freising Years." In Last Testament (based on interviews with Peter Seewald), Ratzinger is able to redeem this scarring experience as part of his spiritual formation. His doctorate had been a precocious achievement. Therefore, without this setback, "there would have been an imbalance in my self-confidence. . . . I needed a mortification."
It is always those who created obstacles in the way of his academic ambitions who were the hardest for him to respond to with the saintly approach of forgiving and forgetting. His habilitation foe was partially motivated by the self-absorbed pettiness of university life: "It was unthinkable to him that I could have worked on a medieval theme without entrusting myself to his direction." A couple years on, when the Archbishop of Munich would not initially grant him permission to take up a professorial chair at the University of Bonn, Ratzinger made no concession in his reminiscences along the lines that he needed to learn submission or otherwise grow spiritually. Rather, over half a century later, he still wanted to vent about how unfair the archbishop had been.
By contrast, just a few years before Last Testament was published, Pope Benedict XVI had endured the criminal betrayal of his personal butler, an attack and exposé that rocked and embarrassed the entire Vatican. Some even wondered if this devastating scandal was what prompted his largely unprecedented decision to retire. Nevertheless, Benedict seems genuinely not to have taken it personally, let alone to still have an open wound: "One has to reckon with such things in human beings." If an academic is bleeding profusely, it is never the butler who did it.
As with so many theology professors, Ratzinger was a progressive during the first part of his career, and thereafter became increasingly committed to guarding the ancient landmarks the fathers had set. He was not entirely convincing when he intimated that it was the progressive movement that changed and not him. Nevertheless, Benedict was candid about his disposition as a young theologian: He was "modern," "critical," "progressive," "fearless," "forward-thinking." He disliked not only neoscholasticism (the conservative wing) but even admits to being dismissive of the writings of Aquinas himself. Some thought that Ratzinger represented "a dangerous modernism": "It was rumoured that I had expressed something heretical." He went to the Second Vatican Council as a modernizer whose goal was to weaken the influence of "the current Magisterium."
When his "conservative streak" eventually emerged, his personal relationships needed to be realigned accordingly. Henri de Lubac and Josef Pieper—who also made the transformation from progressives to conservatives—became close allies, while Hans Küng and Karl Rahner—who continued to go further down the progressive path—resented his defection. Benedict's own view is that he and others of his ilk wanted reform at Vatican II but naively unleashed an unruly revolution instead: "The whole thing unraveled . . . We handled things correctly, even if we certainly did not correctly assess the political consequences and the actual repercussions."
Pope Paul VI decided that Ratzinger should serve as Archbishop of Munich and as a cardinal. The professor therefore needed to adjust his own sense of vocation: "I knew I was called to the scholar's life and never considered anything else." Next, John Paul II drew him in as one of his closest advisors and appointed him Prefect of the Congregation for the Doctrine of the Faith. As no one of his advanced age had been elected pope in centuries, Ratzinger seemed genuinely to have not expected that final, supreme elevation, reasoning to himself, "If the bishops stop at seventy-five, you cannot hoist a seventy-eight-year-old onto the chair of Peter."
One of his nicknames became "Professor Pope." Like so many academics, Benedict was an introvert. This meant that he had to retrain the Vatican staff to undo the patterns set by his exuberant predecessor: "I am not capable of plunging into meetings right at the beginning of the day. I simply need that quiet." As much as he admired his former boss whose canonization process he would begin, Benedict knew that John Paul II's papacy was not a transferable example for him. He quipped, "I had a different sort of charisma, or rather a non-charisma." Or a more reflective assessment: "Although being a professor is certainly not an ideal occupation for the episcopal or papal chair, it is not an impossibility either." And how like an academic it was for Benedict to come up with the title of "Pope Emeritus" for the unusual situation he created for himself.
Not all professors are models of humility, but Benedict's scholarly bent seems to have served him better in this regard than many other Churchmen. He was at pains to deny Seewald's hagiographic hints that his spiritual experience was deeper or more profound than that of the myriads of the faithful: "I am an entirely average Christian." And he had the charming ability to make scenes seem magical by the very fact of being so quotidian. Benedict credited the man who was about to become Pope Francis for his thoughtfulness in trying to reach out to him personally before the election was announced: "He wanted to call me by telephone, although unfortunately he did not reach me, as we were watching the television." At the time of the interviews, Benedict had already been forced to admit to himself that his faculties had deteriorated to such an extent that he must no longer even attempt to write for publication. Nevertheless, he was keeping his scholarly mind active by composing a weekly sermon to deliver to the four servants in his household.
Confirming that Benedict XVI was a true Professor Pope, Seewald pronounced without hedging that "The foremost event of your pontificate was the publication of your three-volume work about Jesus Christ." Indeed, this substantial scholarly work from a working pope has been translated into twenty languages and has sold millions of copies. When asked how one goes about such a project, the dutiful scholar—without so much as a hint of a twinkle in his eye—replied: "First, you have to read everything and think about it afresh." And was this not the right priority for the Supreme Pontiff of the Universal Church? On that score Benedict had no doubts: "If we no longer know Jesus, the Church is finished."
Seewald did not probe failures with persistence. In Last Testament, his criticism was so tepid as to have the unintended effect of making the reader want to start playing devil's advocate: "Benedict XVI did not do everything right. Without doubt his papacy did not completely realize its full potential." Still, one particularly extravagant piece of praise somehow does not prompt an urge to contradict: Joseph Ratzinger was "the modern world's Doctor of the Church."
Timothy Larsen teaches at Wheaton College and is an Honorary Fellow at Edinburgh University. He is the author of John Stuart Mill: A Secular Life and the editor of The Oxford Handbook of Christmas. He is currently working on a book about military chaplains who served in World War I.