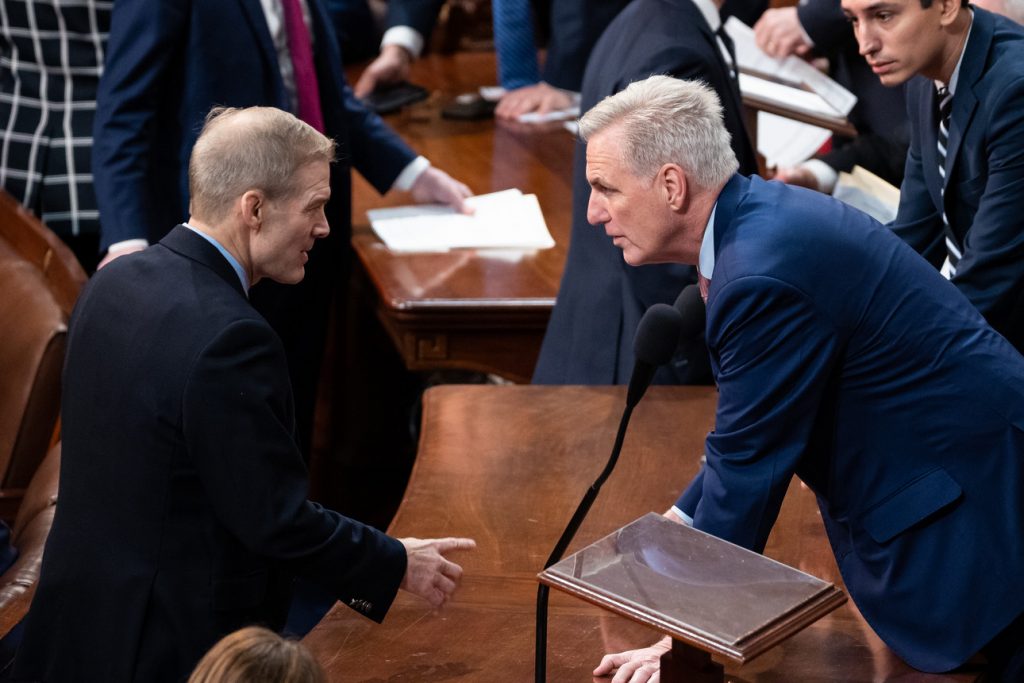 If you haven't followed this today, get up to speed here.
If the GOP members of the House can't pick a Speaker, how will they advance their agenda? How will they investigate Hunter Biden's laptop? How will they impeach Joe Biden? 😉
One of the players today, of course, was Kevin McCarthy. This is his third quest for the speakership. He is a man of great ambition and few ideas. This essentially means that he has played the political game for sixteen years, jumped through the right hoops, promised the right things to the right people, and schmoozed with enough GOP donors. This morning, in a speech berating his opponents in the caucus, he told his fellow House Republicans that he has "earned" the speakership. During that meeting a leading McCarthy supporter said that anyone who did not support McCarthy would lose committee seats. This plan seems to have backfired.
McCarthy empowered the election deniers and insurrectionist-defenders. After January 6th he traveled to Mar-a-Lago and kissed Trump's ring. He was even willing to significantly reduce his power as speaker by supporting a procedure that would allow five representatives to bring a motion to the House floor to remove him from office. He wants to be Speaker of the House that bad.
Here is former representative Adam Kinzinger:
McCarthy is a pathetic figure. And now, after three ballots and no path to victory, he refuses to remove his name from consideration. I hate to admit it, but Florida representative Matt Gaetz was right today when he said that McCarthy "sold shares of himself for more than a decade." Watch:
If McCarthy is motivated by raw political ambition and power, most of his opponents are motivated by right-wing, Christian nationalist ideology and a sense of grievance (as well as raw political ambition and power). Some are calling them the MAGA-wing of the party, but this is incorrect. Why? Because most GOP members of the House are part of the MAGA movement. Remember, most of the outspoken anti-Trump conservatives–Liz Cheney, Jamie Herrera, Kinzinger, Peter Meijer, etc.– are gone. We are now left with a GOP fighting over the definition of MAGA purity. And Donald Trump is responsible for this mess. He empowered Matt Gaetz, Lauren Boebert, Paul Gosar, and the rest of the anti-McCarthy crowd. He soiled the fabric of democratic discourse in this country and in the process elevated these voices. (Ironically, the former president supports McCarthy's bid for the speakership. So does MAGA champion Marjorie Taylor Greene).
And then there is Jim Jordan, the Ohio congressman with a sketchy past. The anti-McCarthy group is coalescing around him for Speaker despite the fact that he doesn't want the job. (You can't make this stuff up!) He even gave an impassioned speech today in support of McCarthy's nomination:
He quoted 2 Timothy 4:7 and applied it to McCarthy's candidacy. What would a GOP event be without the manipulation of a Bible verse for political purposes?
Let's remember that Jordan spoke to Donald Trump on January 6, 2021, promoted the idea that the 2020 election was stolen, and refused to cooperate with the House January 6th committee.
Yes folks, this is your Republican Party–McCarthy, Gaetz, Boebert, Gosar, Jordan, and all the enablers. And once they decide who their speaker will be, expect them to spend most of their time going after Hunter and Joe Biden.
What an embarrassment.