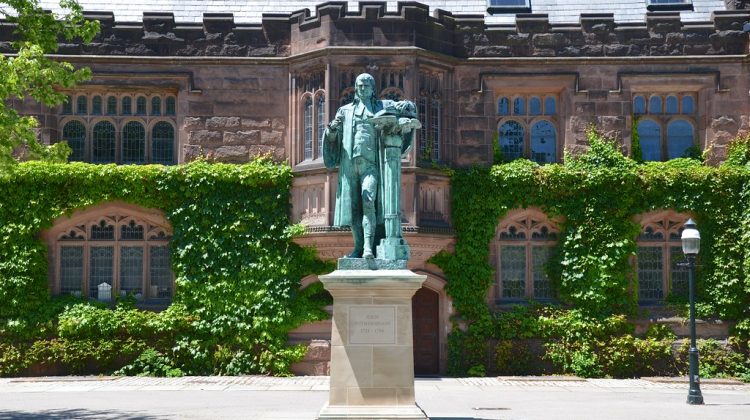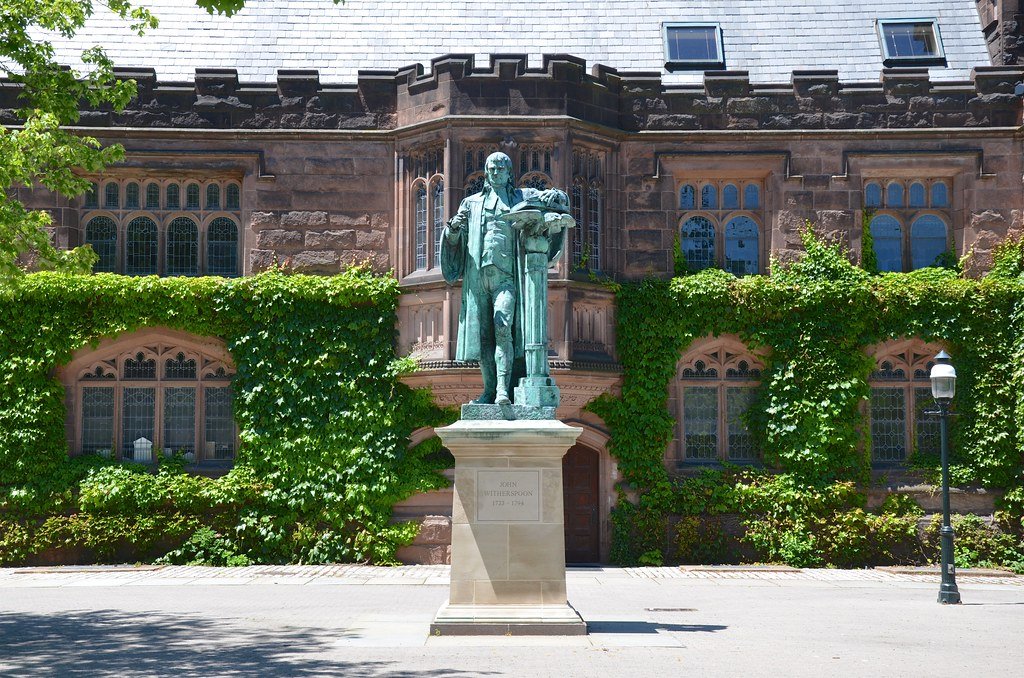 I've spent a little time studying Princeton University's history over the years. My first book was on a Witherspoon student who studied at Princeton (then the College of New Jersey) between 1770 and 1772. My second book covered Witherspoon's role in the American founding. As many of you know, John Witherspoon was the only clergyman to sign the Declaration of Independence. I have also spent seven summers at Princeton University teaching a week-long Gilder Lehrman Institute of American History seminar on colonial America to K-12 teachers from throughout the United States. During that time I took students on tours of the Princeton campus.
So I was obviously interested to learn about the petition to remove a statue of Witherspoon standing near Princeton's Firestone Library. Here is the content of the petition:
We believe that the prominent place on campus of the John Witherspoon statue is inappropriate, and that the University should remove it from its pedestal in Firestone Plaza. We believe that its place should be taken by an informational plaque which details both the positive and negative aspects of Witherspoon's legacy.

The argument that leads us to believe in the importance of this significant change is straightforward. We believe, first, that the statue pays great honor to Witherspoon, and encourages members of the University community to honor Witherspoon. Second, we believe that paying such honor to someone who participated actively in the enslavement of human beings, and used his scholarly gifts to defend the practice, is today a distraction from the University's mission. Unless the statue is removed, this distraction will remain, and indeed may only continue to grow, going forward.

That the statue's presence constitutes a significant honor to Witherspoon is clear from both the details of the statue itself, and its prominent location. The statue, by virtue of its pose, countenance, and symbolism, undeniably presents Witherspoon as a benevolent and wise founding father. Moreover, the size of the statue makes it impossible to ignore. A tall bronze figure on a pedestal already as tall as most visitors to Firestone Plaza, it looms over everyone who travels between East Pyne and Firestone Library, or between Murray-Dodge and the University Chapel, and is easily visible from far away. Such a magnificent statue cannot avoid honoring the one it depicts, nor indeed holding them up as a model for emulation.

Why is this honoring of Witherspoon a source of distraction? Because the fact that so recently in our cultural past some groups saw themselves as racially superior and fit to enslave, and others as inferior and fit to be enslaved, is a shocking and upsetting one. Awareness of this fact, and of Witherspoon's active participation in such a way of life, stands at odds with the natural instinct to give honor to such a statue. Regardless of our evaluation of Witherspoon's moral standing given his time and context, the issue of the race-based enslavement of human beings presents a rupture between us and John Witherspoon. Everyone has a right to feel uncomfortable, to feel less at home, in a place where such honor is being done to someone who stands on the far side of that rupture.

Where, we ask, should the Princeton community feel at home, if not in Firestone Plaza? In such a hub of University life, where people eat, study, socialize, and commute on a daily basis, should students, staff, and faculty not be free from the elevated gaze of someone who held beliefs, and engaged in and defended practices, which we all find so repulsive? Particularly for community members descended from enslaved peoples, the homage the statue does to Witherspoon can be a jarring experience. Furthermore, for all community members, such a statue can dull or disturb the sense that the University has a mission in the service of all of humanity. We believe that the University should do what it can to prevent the daily experience of these forms of discomfort, and thus strengthen among community members the sense of shared mission.

Of course, there are other forms of discomfort which are often productive, including the humbling experience of explicitly acknowledging the shortcomings of those who built a beloved institution. This is why we believe that a plaque acknowledging Witherspoon's connections to slavery, to match what the University has done on its website, would be a valuable addition to Firestone Plaza. But is the present statue, given its size, its posture, its elevation, and its location, particularly well-suited to serve as part of this sort of uncomfortable reminder? We think it is not. By reason of the physical details already described above, we believe that the tacit honorific message of the statue will tend to overwhelm any critical reminders of Witherspoon's failings, so long as these reminders are kept at a reasonable size. Indeed, many of the daily visitors to the University will simply see the statue from afar without ever stopping to read the fine print. We believe that, for the message of a historical plaque to shine forth clearly, the statue itself should be removed.
What is good in John Witherspoon's legacy, in particular the care he took for the growth of the University, will remain with us whether or not he has a statue. We are confident that the University wishes to remember its history rightly and with an eye to its future mission, and it is in this spirit that we recommend that the statue of Witherspoon be removed from Firestone Plaza and an informational plaque be put in its place.
I have lectured many times in front of this statue. I tell school teachers and students about the role Witherspoon played in the history of the university and the history of the nation. Thanks to the work of the Princeton & Slavery Project, I also mention that Witherspoon was a slaveholder.
So what should be done with the statue? I have been writing regularly about statues of slaveholders at this blog. My position is this: If the individual is associated only with or mostly with slavery or white supremacy the monument should come down. This is why I have supported the removal of Confederate monuments. But if the slaveholder, despite serious moral flaws, has made significant contributions to the United States then statues and monuments honoring him should stay in place and context added should be added. Unlike most Confederate monuments, the Witherspoon statue was not erected to celebrate slavery, white supremacy or a nation that should be defined by these things.
As Pulitzer Prize-winning historian Annette Gordon-Reed said in 2017 in the midst of the debates over Thomas Jefferson monuments: "we can distinguish between people who wanted to build the United States of America and people who wanted to destroy it…It's possible to recognize people's contributions at the same time as recognizing their flaws."
I've said it before: There is an important difference between helping to create the United States and trying to destroy it. Both Washington and Jefferson were critical to the formation of the country and to the shaping of it in its early years. They are both excellent candidates for the kind of contextualization you alluded to. The Confederate statues were put up when they were put up [not just after the war but largely during periods of Civil Rights tension in the 20th century], to send a message about white supremacy, and to sentimentalize people who had actively fought to preserve the system of slavery. No one puts a monument up to Washington or Jefferson to promote slavery. The monuments go up because, without Washington, there likely would not have been an American nation. They put up monuments to T.J. because of the Declaration of Independence, which every group has used to make their place in American society. Or they go up because of T.J.'s views on separation of church and state and other values that we hold dear. I think on these two, Washington and Jefferson, in particular, you take the bitter with sweet. The main duty is not to hide the bitter parts.
And here is Manisha Sinha, a historian of the abolitionist movement:
I think it is important not to go from one extreme to the other. And while it is true that many of the Virginian Founding Fathers – Washington, Jefferson, Madison – all owned slaves, we put up their statues not to commemorate their slave holding but for different reasons. So these statues, I think, need to be contextualized historically. We shouldn't shy from the fact that many of these men were slave owners, but we should also be able to judge each case individually. The Confederate statues have no redeeming qualities to them, but other statues certainly do.
Here is a piece I wrote back in 2020 on the University of Pennsylvania's decision to remove a statue of revivalist George Whitefield.
My view: Keep the Witherspoon statue and contextualize it.