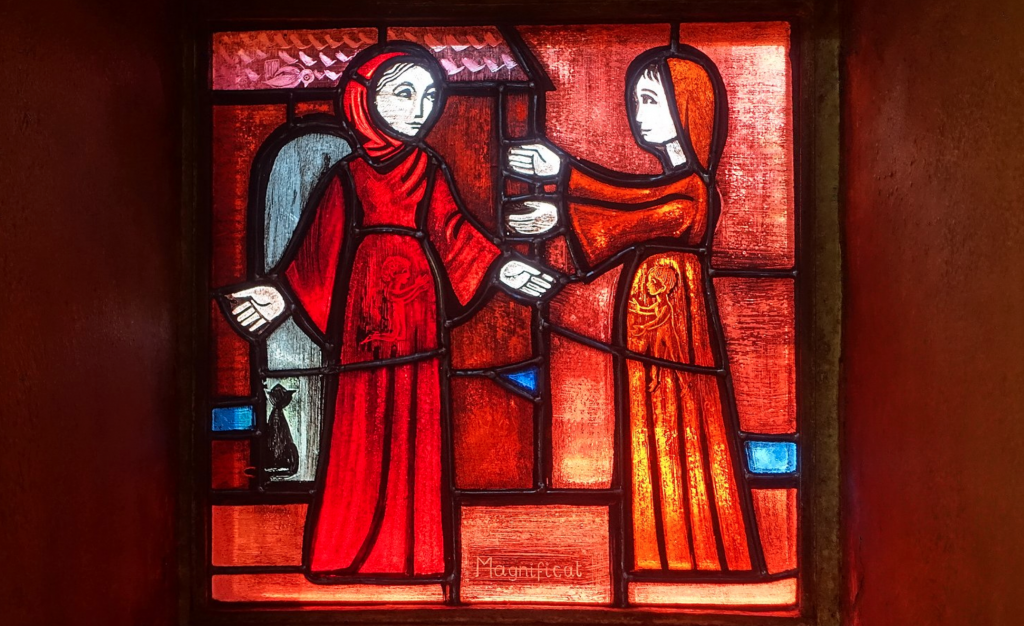 May the Magnificat's vision haunt us through the season
I asked a theologian friend how to interpret that line in the Magnificat where Mary says God "has filled the hungry with good things and the rich he has sent empty away," and she said it should be taken spiritually. I think that means something like it's more blessed to give than receive. Or that everything is grace.
Other interpretations exist. Liberation theology might highlight God's care for the poor. Those verses could anticipate an overturning of the order of the age, another way of saying what Mary's hymn expresses earlier, that God casts down the mighty and lifts up the low. People attracted to the radical message of a radical Jesus who seeks out the least and the lost might discover Jesus learning the poor-will-be-rich gospel at his mother's knee.
Neither of these explanations satisfies altogether, whether "good things" are taken as metaphor for spiritual realities or power. There should be some room to take "good things" literally. Part of what makes the poor poor is material lack. And it is good things they receive to fill hunger, not only grace or blessing. The verse could not possibly be mostly about God sending abundance just to those impoverished in spirit, many of whom might be ranked among the one percent.
An unscientific survey of devotional blogs and sermons yields roughly the same range. Moderate commentators fold this verse into general advice from Jesus on wealth: how hard it is for the rich to inherit the kingdom of God; Zaccheus giving back fourfold; the fool who held a conversation with his soul and decided—bad timing!—to build more storage on the very last night of his life. Jesus also tells the parable of Dives and Lazarus, the former a rich man who feasted sumptuously while the latter starved at his doorstep. Dives ends up in torment while Lazarus goes to rest comfortably in the bosom of Abraham.
Matthew T. Eggemeier and Joseph Fritz borrow this story to wield Catholic Social Thought (CST) against evils wrought by neoliberalism. In a book titled stunningly Send Lazarus, they demand a "politics of mercy" to redress mass incarceration and deportation, slums and environmental disaster. CST teaches the "universal destination of goods," the fact that God gives good things of earthly life to all to be used in common. In the definition of the Catechism of the Catholic Church, universal destination means that, "[t]hose who hold goods for use and consumption should use them with moderation, reserving the better part for guests, for the sick and the poor." Caring for the poor is not only essential for the poor. In the parable, Dives asks that Lazarus be sent to warn his brothers. The rich man's chief concern is not to allay the suffering of the beggar but to help his brothers avoid a similar fate. The life you save may be your own.
We could read the Magnificat as a Robin Hood proclamation, the rich going empty because their stuff has been taken to bestow on the poor. But the verse doesn't quite say that. Mary describes something she sees. So it seems worthy at least to try to envision people and things, hunger and feeding. Imagine what her vision looks like. See one hand holding out an empty bowl that gets filled fragrantly up. Then see that over the plate held by the rich hand, the ladle stops. With emphasis on literal hunger and feeding, the verse is rendered this way in a version our Lutheran chapel uses, from the With One Voice hymnal: "the hungry filled with all good things, the rich sent off unfed."
Unfed! It's an eye-opening answer to the problem of what to get for the person who has everything. Now is the season when merchants do their best to answer that question for you. Dallas retailer Nieman-Marcus is famous for its annual efforts to solve the problem for everyone on your list. The 2022 catalog proposes a toy Mercedes encrusted with Swarovski crystal for the kiddies and a Barbie-pink Maserati for mom. For dad, one-on-one polo lessons in Aspen. New York's Bergdorf-Goodman, purveyor of designer goods and of holiday décor costing a month's rent, is "a place where shoppers are rarely, as a matter of store policy, ever told 'no.'" Other luxury providers stock lists with gold and jewels, watches and motorcycles, electronics that help explain you to yourself.
Luxury holiday wish lists are helpfully visual. The Magnificat is helpfully visual too. We could use it this season not only as a hymn but as an imaginative exercise. See a Christmas when the poor are filled with good things and the rich are not given anything. Instead of the Barbie Maserati, nothing. Instead of the superfluous watch, nothing. It's not revolution, per se, just that those already full get nothing else on top, get sent empty away. Why empty? Because there is nothing else they need? Because what they already have vitiates delight in whatever "good things" that are filling the hungry?
Counterarguments leap up to pop that thought bubble. If the rich didn't get gifts for Christmas, people would lose jobs making all that stuff. Most of us are ourselves rich according to many global-historical standards. The abundance of the Incarnation extends to everyone, even if the last shall be first.
Even so, those who celebrate Christmas can do something to place themselves within the Magnificat's vision. Pope Francis advises as much, suggesting that we have a "humble Christmas" this year. He was thinking particularly of the people of Ukraine ("There's a lot of suffering. They're hungry. They're cold."), though there are many others with needs to be met through our moderated consumption. We might let the vision haunt us this this season. It's a better dream than sugarplums: the hungry filled with all good things and rich shoppers sometimes told no.
Agnes R. Howard teaches in Christ College, the honors college at Valparaiso University, and is author of Showing: What Pregnancy Tells Us about Being Human.