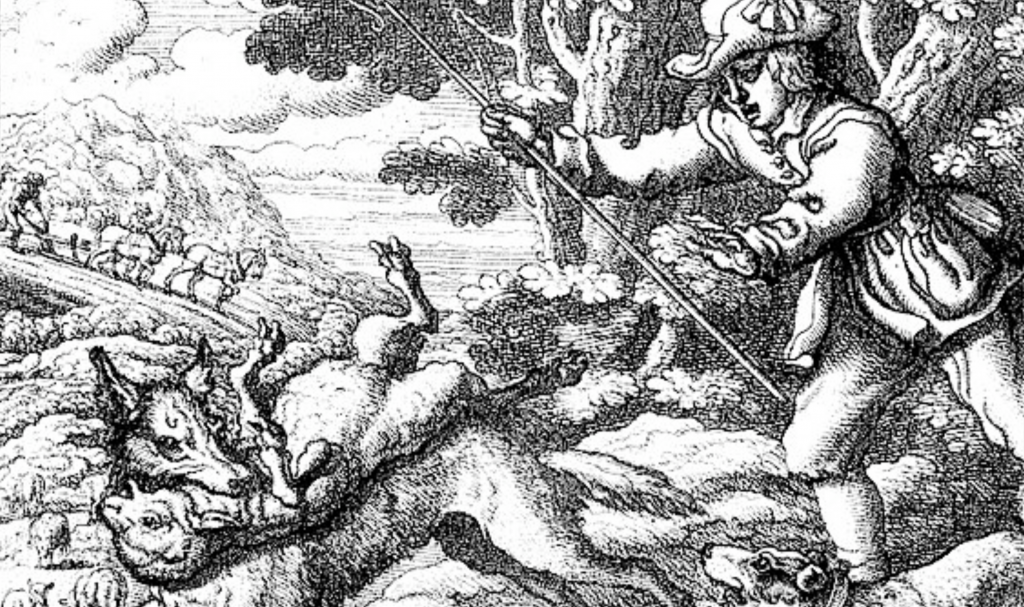 Sometimes little boys cry wolf. Sometimes they become wolves, too.
"Once upon a time there was a shepherd boy who watched a flock of sheep."
Do you know this story? It's an Aesop fable called "The Boy Who Cried Wolf" or "The Shepherd Boy and the Wolf," depending on the version. It goes like this: A boy tricks his neighbors by crying "Wolf!" three times, and each time they come running. Then one day the wolf shows up. When the boy calls the final time, no one comes.
I hated this fable when I was a child. My parents would begin, "Once upon a time," and I would shout, fingers in my ears, pleading for them to stop. I was terrified at the idea that help wouldn't come when it was needed most and that one's failings could prevent deliverance.
Of course I was most afraid of the wolf. And there he was, story to story, prowling across seven Grimms' fairy tales and twenty-six Aesop's fables, standing at the edge of the frame behind Peter, Little Red Riding Hood, and the Three Little Pigs. Other tales became part of one big story about a wolf.
"He came inside? How long was he here?"
Back then we had a loved one, a family member, who was no longer welcome in our home because my parents wanted to keep us away from a life careening out of control. One day when my parents weren't home he knocked at our door and asked if he could come in. I still remember his smile. When Little Red Riding Hood draws back the curtains, she finds her loved one there, but transformed. "Oh! But Grandmother! What a terrible big mouth you have!"
It was a time and place unprepared for addiction. I didn't know then that a chemical craving can feel like love itself and that wolfish need doesn't recognize collateral damage. I didn't know that parents can watch their children grow, all the while looking for signs of a hunger that runs in the family, because the kids might turn into wolves too.
"But no one paid any heed to his cries, nor rendered any assistance."
Thinking about that family member now, decades later, I don't imagine him as the wolf at the door. Instead, he's the little boy in the story—as much prey for the wolf as those of us who loved him. And Aesop's fable terrifies for a different reason. Terror comes from knowing that as the shepherd boy's family went about their lives after he was gone, travelling the fields where he walked, seeing his things, replaying final conversations, they never forgot those last cries for help.
Robert Erle Barham is Associate Professor of English at Covenant College in Lookout Mountain, GA. He is also Associate Editor for Current.