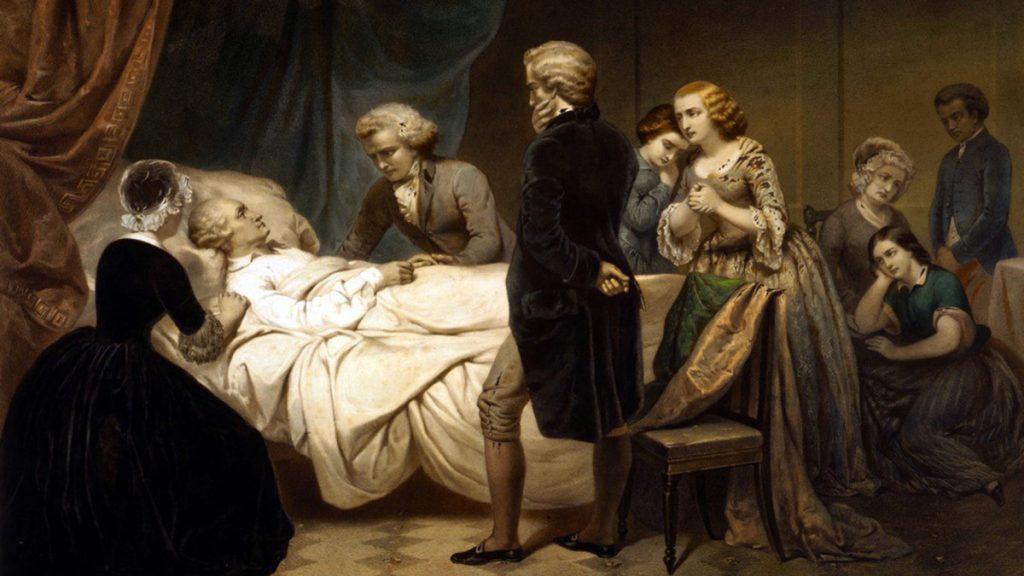 I saw this tweet today from presidential historian Michael Beschloss:
So I looked it up.
Here is a taste of the entry on Washington's death from the Digital Encyclopedia of George Washington, published by The Fred W. Smith National Library for the Study of George Washington at Mount Vernon:
At five in the afternoon, George Washington sat up from bed, dressed, and walked over to his chair. He returned to bed within thirty minutes. Craik went to him and Washington said, "Doctor, I die hard; but I am not afraid to go; I believed from my first attack that I should not survive it; my breath can not last long." Soon afterward, Washington thanked all three doctors for their service. Craik remained in the room. At eight at night more blisters and cataplasms were applied, this time to Washington's feet and legs. At ten at night, George Washington spoke, requesting to be "decently buried" and to "not let my body be put into the Vault in less than three days after I am dead."
Between ten and eleven at night on December 14, 1799, George Washington passed away. He was surrounded by people who were close to him including his wife who sat at the foot of the bed, his friends Dr. Craik and Tobias Lear, enslaved housemaids Caroline, Molly, and Charlotte, and his enslaved valet Christopher Sheels who stood in the room throughout the day. According to his wishes, Washington was not buried for three days. During that time his body lay in a mahogany casket in the New Room. On December 18, 1799 a solemn funeral was held at Mount Vernon.
Read the entire entry here.