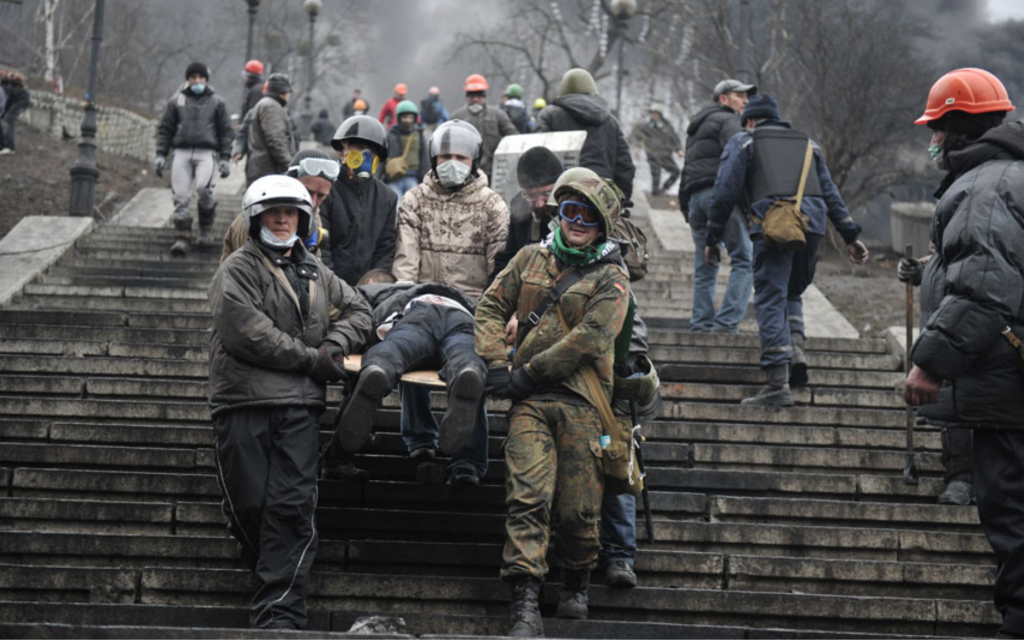 Only a heart properly broken can bear the weight of a world at war
The Death of a Soldier Told by His Sister by Olesya Khromeychuk. Monoray, 2022. 224 pp.; £12.99
Who'll rock that cradle? Who'll sing that song?
Who'll rock that cradle when I'm gone?
For weeks, I've been singing these words as I lug my school bag into my car, as I walk from place to place, as I wash dishes at home. They are from an old bluegrass song, but I'm haunted by them because of a Ukrainian historian who wrote a book about the 2017 death of her brother on the front line in eastern Ukraine.
Olesya Khromeychuk, Director of the Ukrainian Institute of London, wrote and published The Death of a Soldier Told by His Sister before Russia's full-scale invasion of Ukraine this past February. Since then the book has been republished and has found a wider audience.
Since then it found me, sitting on a plane to Florida, trapped with time. I'd purchased the bright yellow book and placed it on the top corner of our piano in plain sight so I'd not be able to forget it, but I avoided it like a little landmine. It's hard to find the time to read something you know will break your heart.
Khromeychuk's account is rending because she brings us close to her experience. Volodya died in 2017, two years after enlisting to defend Ukraine in the war that started in 2014. Her account addresses by turns the macro and the micro, from frustration at a world that's been expressing "deep concern" for years to the unresolved pain of a sibling relationship cut short. Khromeychuk is a scholar, and as such she brings an insight that is inseparable from her very personal story. She is able to frame the war in Ukraine with the rich particularity of human experience. It's the account only she could write.
"Who'll rock that cradle?" is stuck in my head because of Khromeychuk's chapter, "Theatre of War," which, along with much of her book, she first wrote and staged as a play. She explains that when the actor who played her brother needed to be replaced, she decided to use actual videos that her brother, an artist, had taken on his phone at the front line. In the middle of the play, when those scenes would come up, she would kneel on the floor in front of a sheet held by two cast members and project the videos with a small hand-held device.
This choice, to face her own brother in the middle of her play, took courage. But there was a healing power in facing him within the bounds of art, shared and performed with friends. Her mother came every night. It became a way to watch some of his last recorded words in community when they could no longer bear to watch them at home.
In one of these videos, the last one he took before he was killed, Volodya is singing, "I ain't got no sugar baby now" from the song, "Red Rocking Chair." The lyrics continue, "Who'll rock that cradle when I'm gone?"
Volodya appears to be all alone, a war-time tour guide of the frontline. He sings, he curses, he breathes hard as he pans over the location of the enemy, his trench, and his protective gear. Then he focuses his camera on the branches of a bush growing just outside his trench. "But the most interesting thing here are these kapelki . . . these drops of rain on the branches. See these droplets? That is the most interesting thing here."
The beauty of his noticing is piercing.
* * *
Obsessed with Khromeychuk's work, I found a video of her doing a reading from December 2021, as the Russian military surrounded Ukraine along its northern and eastern borders.
I was struck by her stage presence. Of course, she's a professor, a singer, an actor, but it was something else that struck me. There was an upbeat energy, a wild sort of hospitality. Welcome. Come on in. I'm going to tell you a story about the love and death that dug its furrows through my life. The death of this soldier was told by his sister, and though he was dead, there was something living that called out for protection, for advocacy, for the stage.
She sat where her play was performed a few years ago, only this time she was alone, her moderator unable to come because of the pandemic. This event felt so different without a team of actors surrounding her, supporting her, or speaking for her. She read the "Theatre of War" chapter, standing alone to deliver what had been the opening line of the play, "I don't like to talk about what happened."
As the chapter concluded she sat back down to read about the last video her brother ever made, with the droplets and the song. It ended with a pledge. "I'll rock that cradle. I'll sing that song." She pitched forward, head down, to get through the final words. "I'll rock that cradle when you're gone."
In that moment sister, playwright, and author converged. We can hear the subtext like a harmonic tone ringing in the air: I'll carry your story, Volodya. I'll make sure they know some small part of you—of us—so that they can't just distance themselves from this war.
* * *
I have wrestled with this distance. I lived in Ukraine from 2000 to 2010, from my mid-twenties to my mid-thirties, the first real decade of my adult life. Much of who I am today was formed by the intense interpersonal and cross-cultural encounters of that time. But by 2014 when the war really began, I was comfortably resettled in Pennsylvania, and my closest friends from the Ukraine years had moved to new places all over the world.
That year I watched hours of the protests at the Maidan, the central square in Kyiv, live on YouTube. I watched the public funeral for the "Heavenly Hundred" who were shot as the protest reached its culmination. I watched the world express concern over the annexation of Crimea. And then I watched the Winter Olympics in Sochi, amazed that we were just going to keep treating Russia like a decent country while their forces were wreaking havoc in the East and South of Ukraine. But I could not sustain that level of attention for long. It came and went, and as reality got increasingly complex, I detached.
Life, especially the political life of my own country, was distressing enough.
There were times when I couldn't believe no one mentioned the war in Ukraine. And then I became the one not mentioning it.
When Russia launched its full-scale invasion, it all came back. I'd been dreading it, hoping and praying it wouldn't come. Again, I kept watch. Then on the evening of February 23, a friend texted: "War started." The bombs woke any Ukrainians who managed to be sleeping that night.
At last, at long last, Ukraine caught the world's attention, and the weight of reality was overwhelming. I walked into the classrooms where I teach and leaned on the front table or on the front wall. It became difficult to stand. It was the weight of grief. Shock, too, but definitely grief—and perhaps even guilt.
I hadn't been paying enough attention.
* * *
As the shock wears off and the war goes on and on, I am coming to recognize that we must pay attention, but our attention needs a frame.
We need sense-making in forms that slow down and unflatten reality. The rhetoric of political coercion reduces the complexity of life, flattens it for manipulative ends. Instead, we need deep attentiveness, intense appreciation, serious lament—the insight that comes through the plumbing depths of real art. Good storytelling personalizes and contextualizes. It offers a workable frame for the realities that are too much for us. It composes us.
But as it does, we may need to be ready to lose our composure. Only a heart properly broken can carry—and share—this terrible weight.
In storytelling, the devil's in the details. Some of the most moving moments in Khromeychuk's book are, in themselves, mundane: She hardly recognizes her brother in his "war hero" obituary. It is demeaning and difficult to deal with the records office. The woman who meets her at the airport to help her make funeral arrangements is efficient and kind. She searches for boots online to outfit her brother—who isn't properly outfitted by his own government—and then cleans them off after his death to send them back into battle. She is invited to give her expertise but is usually given just a few minutes to explain Ukraine to listeners who have only just learned about its existence.
Khromeychuk describes a woman who cares for the grave of someone she doesn't even know, an act of devotion to express gratitude and sorrow in the midst of an ongoing war. When I allow myself to sink deeply into stories about Ukraine, I feel like that woman visiting the grave.
Sinking into those stories is an act of devotion, a way of pulling diffuse distress into order. It teaches me how I can feel about it. It personalizes—putting a face to tragedy, identifying what nobility looks like in normal, complicated, fraught lives—and it contextualizes, offering a depth that restores three-dimensionality to what can otherwise be a flattened onslaught of information.
* * *
Who'll rock that cradle? Who'll sing that song?
These words haunt me, comfort me, and challenge me. Who will pledge to protect what's worth protecting? Who will cultivate those things that sustain life?
I began reading The Death of a Soldier Told by His Sister on a plane from Pittsburgh to Orlando. A day or two after starting the book, a friend in Ukraine sent me a documentary to watch, the story of Yahidne, where over 300 civilians were imprisoned in a school basement at the beginning of Russia's renewed war. I watched it the next day on my phone, with my headphones on, surrounded by the bustle of a busy airport waiting area. And then I got on the plane and kept reading that yellow book, with a diving—falling?—bird on its cover.
I arrived home with the story on my mind, and the next day watched a video of the reading event in London. Then I let myself finish the book and found and watched the play on YouTube.
I plunged myself in, and somehow, I am finding my heart again. It hurts. It weighs more, and carrying it is harder, but I feel more whole.
Khromeychuk's brother pointed the camera from the trench to the branches and said, "But the most interesting thing here are these drops of water."
We need artists who care to point the camera at beauty. Who struggle to use the best words to tell the story. Who open their lives up to be read by the world. And we need the courage to pay attention.
Who'll rock that cradle? Who'll sing that song?
I will. Will you?
Julie Durbin is an adjunct professor teaching Humanities and English at Geneva College. She served with Free Methodist World Missions for ten years in Ukraine and did dissertation research on worship in Ukrainian simple churches.