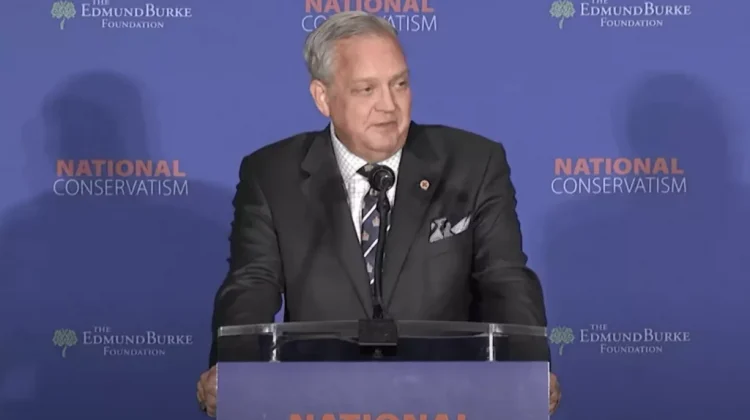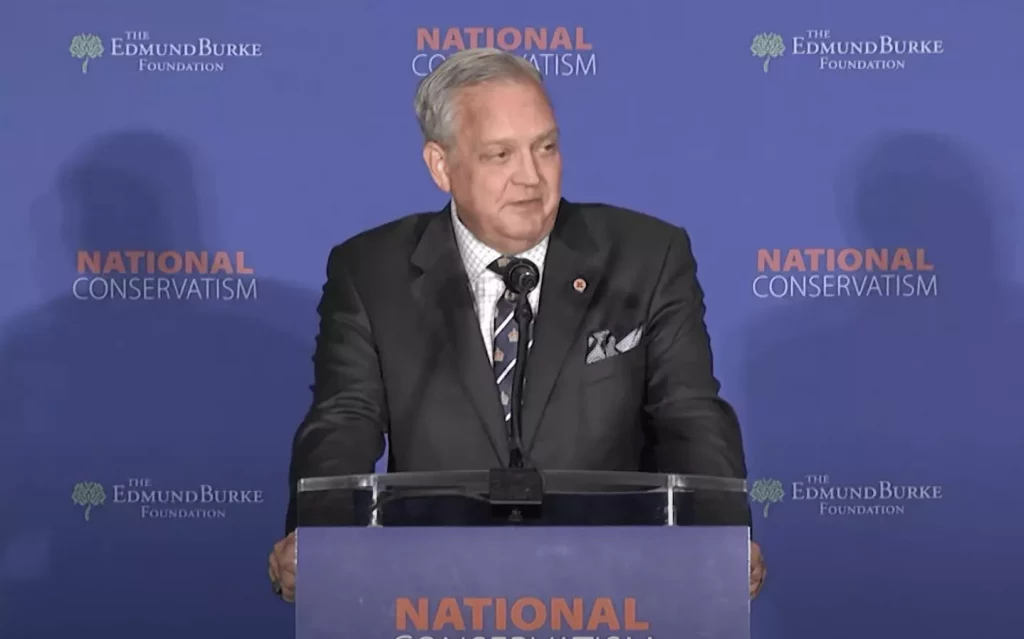 Over at The Bulwark, historian Joshua Tait writes, "Christianity's emphasis on forgiveness, suffering, the meek and poor runs totally counter to the tendencies of the New Right and National Conservatism. Here is a taste of his piece:
Within National Conservative circles, there are two competing narratives about the status of religion—even state-sponsored religion. To hear conservative Christians at the National Conservatism III convention earlier this year, they represent the vanguard of nationalist politics. If "conservatism as a movement has a future, it is a future that is going to be increasingly tied to explicit theological claims and confession—or there will be nothing left to conserve," declared one keynote speaker, Al Mohler, president of the Southern Baptist Convention's flagship university. Fr. Benedict Kiely claimed "conservatives are social conservatives or they are not conservative." William Wolfe, a Trump administration official, wraps Trumpism in Protestant garb and claims Christians should "demand" an America First agenda. Meanwhile, claiming that secular types "are a small minority" among the NatCons, R.R. Reno, the editor of First Things, told the Dispatch that "it's the religious people that are the forefront of actually speaking out" against the progressive left. Rev. Uri Brito, a biblical theocrat and cleric associated with the convention, noted he wouldn't "want to be a part of a movement where atheists are guiding that movement."
And this:
Mohler, in his NatCon III remarks, spoke at length about the danger of the secular state. As religious beings, he said, we are drawn to systems of belief to order ourselves around. Mohler tells a very familiar conservative story, that the progressive secularist and liberationist project did not free humanity. It created space for new religions, and worship of the state. In assuming all conservatives are as serious about their faith as he is, Mohler doesn't seem to realize that this critique also applies to the right. The right's new religions might include America First, MAGA, and a burgeoning cult of the state. And if Mohler thinks the "liberal secular state" can't philosophically support the liberties and human rights it proclaims, he'd better believe this is also true for the burgeoning secular right.
Where is this heading? The most likely outcome is not a breakdown of the New Right coalition that has formed over the last few years but rather its transformation into an America First nationalism garbed in superficial Christian symbolism. As a political outlook, illiberalism searches for post-post-modern commitments to ground its attacks on liberalism. In America, it makes sense that one of these commitments would be cultural Christianity—faith in faith—rather than a specific confession.
In practice, this will mean a near-obsessive focus on demonizing progressives and identifying "woke" extremism. Perhaps the "trad" and "none" alliance will come together in the face of progressive overreach. Yet fighting "wokeism," a ubiquitous term in NatCon speeches, is a thin gruel. It offers symbolic enemies to fight, but little realistic policy for rejuvenation. This has been a recurring problem for the conservative movement. But compare NatCon intellectuals with men like Richard John Neuhaus and Michael Gerson. Whatever their shortcomings, each made genuine policy contributions informed by their faith.
In this muddle-through arrangement, the Christian right will be the losers. The tragedy of social conservatives is that maintaining or restoring norms that are already out the door is virtually impossible. And so, as has so often been the case, voters motivated by social issues will primarily end up carrying water for other policy aims. Reaganism was once summed up as "Fight Communism; cut taxes; the pieties"—and pieties was a far distant third. The caveat to this, of course, is Roe v. Wade. Its overturning is a victory for Christian conservatives, the culmination of fifty years of organization and work.
Read the entire piece here.