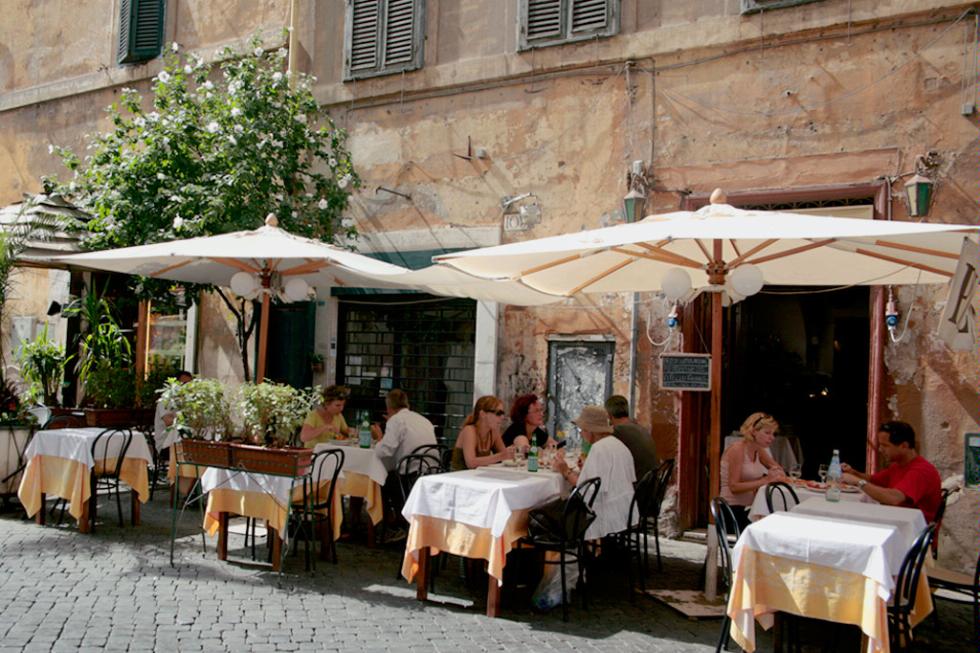 Over at Boston Review, Jonathan Levy writes; "Lunchtime in Italy is not only about what to eat for lunch. It is also about time." The lunchtime tradition, he adds, "allows private and public life to meet, maintaining a baseline of solidarity in civic life." Here is a taste of his piece:
Thomas Aquinas was born in 1125 just outside Aquino, an area in the center of Italy that produces a genuinely sublime mozzarella. It is also the site of one of the deadliest battles of the Italian campaign during World War II, before the Allies bombed a German position at Mount Cassino, destroying a hilltop abbey that dated back to 539. It was Aquinas who said that God, and only God, can see the past, present, and future in a single vision. That is the one truly sublime perspective, which has no business informing our shared, public life, according to Rorty.
We cannot see the past, present, and future all at once, so we live torn among them.
One of Freud's most powerful insights was that, in practice, psychic integration cannot help but to revolve around rituals of repetition. Regarding politics, in particular, we might wonder about the degree to which repetitions veer toward pathology—both individually and collectively. Are we suffering in private, scrolling Twitter a thousand times a day and calling it politics? Or are we taking private pleasure in the daily enjoyment of communal practices, while at the same time engaging in the repetitive tasks of building social movements for greater justice?
Morally speaking, Rorty was correct that one of political liberalism's great strengths is that it treats the public and private as realms that do not need to be unified into the same metaphysical whole, yet he was wrong to picture public and private ideally as "split," because they do require practical, working integration in the spaces of our individual and collective psyche. If all liberal democracies must face the problem of where to draw the line between public and private, then a no less important task is to integrate them, while somehow still holding them distant. For this to happen, there must be practices through which the temporalities of private and public life, keeping their margins, nonetheless meet in communal life.
Even if just as an aspiration, lunchtime in Italy does this. It is a private matter, distant enough from politics. But the rituals of its practice, from the rhythms of its pacing to the standard recipes that one does not meddle with, are shared public goods inherited from the past, as tangible as the country's architectural patrimony. They maintain a minimal, baseline solidarity in civic life.
Society holds. One marks time with friends, family, strangers, and comrades, waiting for the next political opening—to build a better future for all. We cannot know when, but the moment will come around in Italy, and it will come around in the United States, too. Let us hope that it will be soon.
Read the entire piece here.