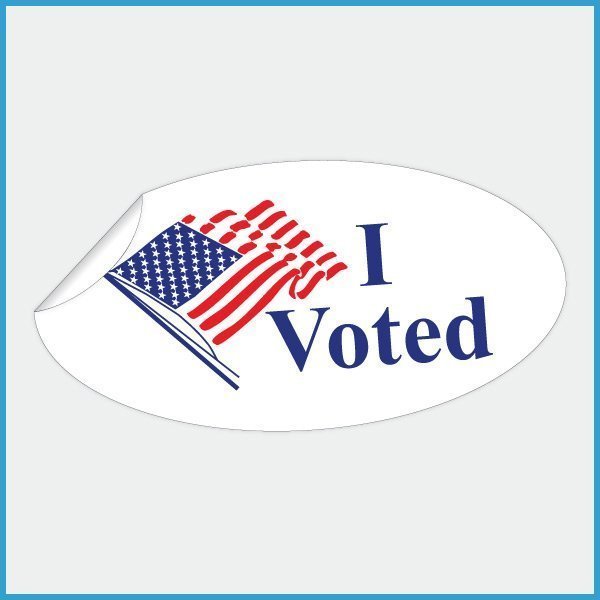 Are you wearing one today?
Here is Rhea Nayyar at HyperAllergic:
It's unclear where the first voting sticker debuted as they've been regionally available through local businesses and organizations post-World War II. The Miami Herald mentions the distribution of an "I Have Voted" sticker at Miami polls as early as 1950 to remind others of their civic duty, and another article from 1982 notes small businesses offering Election Day discounts and freebies for those donning the sticker in Fort Lauderdale. On the other side of the country, the Phoenix Board of Realtors claimed that they designed and distributed the first "I Voted Today" sticker for poll visitors in 1985 in an effort to get better acquainted with the community and promote voter turnout in favor of a freeway expansion query that was on the ballot that year.
The rippling flag sticker design was developed in 1987 by Janet Boudreau, election supply vendor Independent Tabulation's (InTab) former president, in acknowledgment of the lack of public awareness of Election Day. Boudreau had the design copyrighted, and by late 1988, the stickers were available in all 50 states.
"I wanted them to see people with an 'I Voted' sticker and think, 'Oh, I should do that,'" Boudreau told Time Magazine in 2016. "In terms of civil rights and people protesting against the Vietnam War, we could see populism having a huge effect. Who you'd get in office to pass or kill legislation could mean life or death for some people."
I was expecting a much longer history of "I Voted" paraphernalia before the dawn of the oval sticker, so I consulted with Claire Jerry, a political history curator at the Smithsonian Institute's National Museum of American History (NMAH) in Washington, DC, home to a collection of voting paraphernalia from the 20th century.
"The oldest Election day paraphernalia we have is from 1920, during the women's suffrage movement," Jerry told Hyperallergic. "We have a button with a ribbon extending down that says 'I cast my first vote on November 2nd, 1920.' It's the first time women would've been voting nationally in the presidential election, but it mentions specifically the Republican party for which they voted because that was the party that supported suffrage."
Boy, how times have changed …
Read the entire piece here.