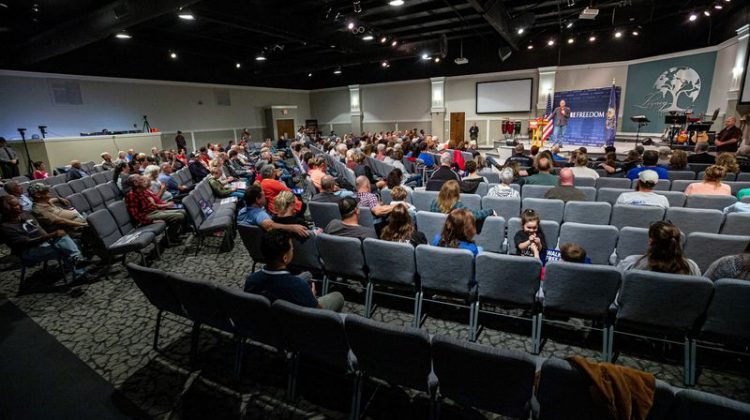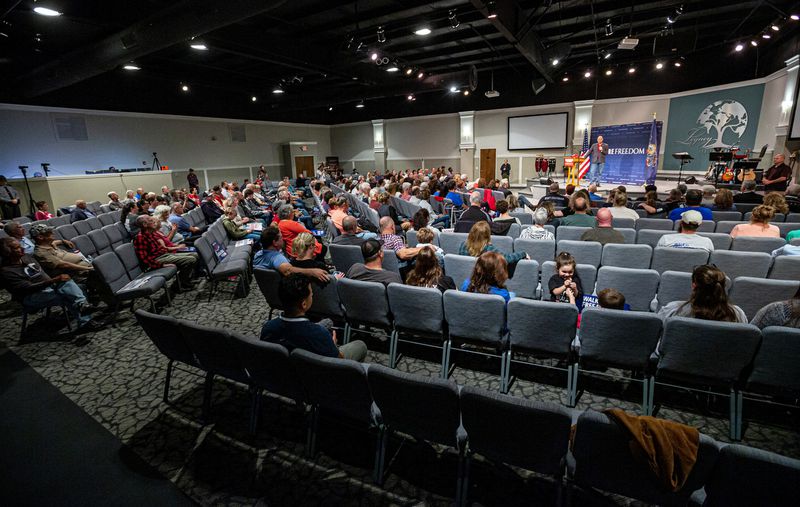 Pennsylvania gubernatorial candidate Doug Mastriano loves to talk about the Battle of Gettysburg. Well, last night at Legacy Faith Church in Harrisburg, before a lot of empty seats, he made his Pickett's Charge.
As some of you know, Pickett's Charge was the final Confederate assault on the Union line at Gettysburg. On July 3, 1863, Robert E. Lee sent his troops on a near suicide march across a field with the goal of driving the Union from high ground on Cemetery Ridge. It was an act of desperation and it cost the Confederacy 1000s of lives. It was the climactic moment of a battle that forced the Confederacy into retreat and changed the entire course of the war in favor of the Union.
Election day 2022 is Tuesday and Mastriano is trailing Democrat Josh Shapiro. The devout conservative evangelical got personal last night, unleashing a reckless verbal assault against Shapiro in a desperate attempt to win voters.
Here is Charlie Thompson at the Harrisburg Patriot News/Penn Live:
A fiesty, fiery Doug Mastriano emptied his rhetorical guns at a Harrisburg church Friday night, opening the last weekend of his unorthodox run for governor of Pennsylvania with a take-no-prisoners speech made remarkable by new levels of spite aimed at his opponent, Democrat Josh Shapiro.
In a rally at the Legacy Faith Church just north of the city, the Republican nominee blasted Shapiro's record on crime-fighting as the state's Attorney General, accused him of failing Pennsylvanians when he had a chance to join the fight against Gov. Tom Wolf's coronavirus mitigation strategies, and faulted him for ducking debates.
Then, it got personal.
Pushing back angrily against accusations from Shapiro's campaign that Mastriano's been coddling people with anti-Semitic views throughout his campaign, Mastriano argued by the same logic, it can be said Shapiro is a racist and a bigot because of his inaction on spikes in gun crime in Philadelphia.
Shapiro's campaign and supporters have aggressively attacked Mastriano for seeking supporters on Gab, a social media platform that bills itself as a safe haven for free speech on the Internet, but whose critics say it has also become a safe haven for hate speech.
Of particular concern in this race, where the Democratic nominee is Jewish, is that the man who killed 11 people at a Jewish synagogue in Pittsburgh four years ago had used the site to post an extremely anti-Jewish diatribe in the hours before he attacked.
Mastriano, a 58-year-old retired Army colonel who won election to the Pennsylvania state Senate in 2019, closed his account on Gab this summer and condemned anti-Semitism after Shapiro's initial criticism, but the episode has been featured in heavy rotation on Shapiro's television ads.
"'Josh Shapiro says you're an anti-Semite,'" Mastriano said he gets asked by the media. "Are you freaking kidding me? What do you base that upon? His assertion? Then I'll call him a racist and bigot, and let me back it up….
"The African-Americans and Latinos in Philadelphia are dying because he's not doing his job," Mastriano continued. "Does he hate the minorities in Philadelphia? I think he does. I have more substantiation for my assertion than he does for his.
"I know this is a hard talk here, but I'm tired of the media covering for their boy," Mastriano said.
As for Mastriano's argument?
Shapiro's office is neither the front-line law enforcement agency or prosecutors' office in Philadelphia: Those would be the Philadelphia Police Department and the Philadelphia District Attorney's office, respectively.
Shapiro's office has highlighted its work with a state-funded Gun Violence Task Force, in which AG's agents working with city police made 630 gun-related arrests between 2017 and 2021, and recovered 1,104 firearms.
Read the rest here.