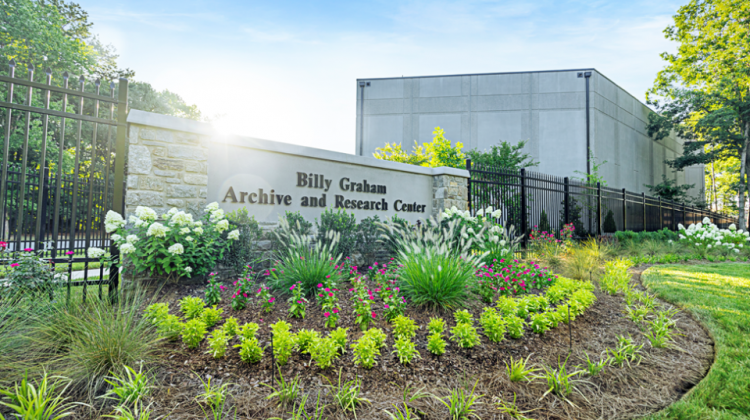 It looks like it will be a professional archive that will gather "the full documentary record" of Graham's life and work. Here is Daniel Silliman at Christianity Today:
When he watched Billy Graham preach, David Bruce couldn't help but think of history.
As executive assistant to the famous evangelist, it wasn't Bruce's job to think about the distant future—Graham's legacy, how he would be remembered after he died, how the evidence of his life's work would be maintained—but he thought about it all the time. Each word and moment seemed so significant that it needed to be preserved.
"When he finished preaching, I would come behind him and gather the pages of his sermon," Bruce recalled this summer, four years after Graham's death. "He was not thinking of that. But I could see the call of God on his life and all the history he touched."
Today, Bruce oversees a state-of-the-art monument to the preservation of that history: a 30,000-square-foot, $12 million archive. It will open on November 7, Graham's birthday.
A well-lit research room sits quietly on the first floor of the building. It was constructed in consultation with archival design specialist Michele Pacifico and now waits for historians to come and ask for boxes and files. Upstairs, in a carefully climate-controlled room, industrial shelves hold thousands of acid-free archival containers, each with hundreds of papers. Another room houses oversized items, from a pair of gifted lederhosen to Graham's traveling pulpit.
The Charlotte, North Carolina, research facility, located across the road from the Billy Graham Library museum, gathers for the first time the full documentary record of Graham's life and work in one place. The archives that were loaned to the Billy Graham Center at Wheaton College will be combined with the hundreds and hundreds of boxes that remained at Graham's home office in Montreat, North Carolina, and additional material from his ministry's former offices in Minneapolis and in storage in Charlotte.
"We're really trying to make everything as accessible as possible," said archivist Lindsay Elliott, who previously worked at Jimmy Carter's presidential museum in Atlanta. "We want to offer the full breadth of his ministry, from the material at Montreat to the productions of World Wide Pictures. We're describing and classifying everything. We want to look at the entirety of it."
Read the rest here.