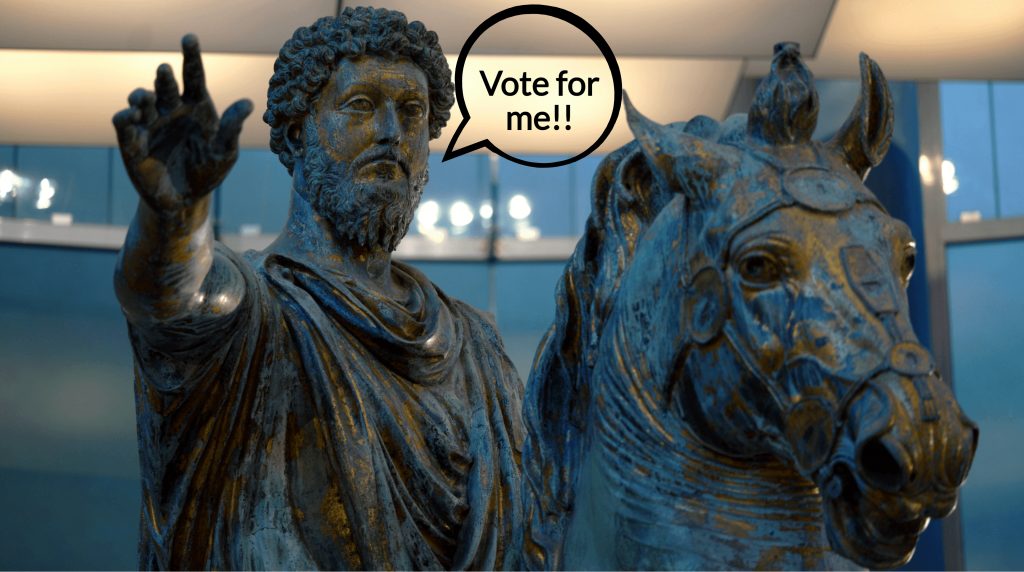 An ancient campaign manual reveals a familiar political foe
Sometime in the first century CE in the city of Pompeii, a graffiti artist endorsed a candidate running for local office with the best recommendation possible: "He makes good bread." The endorsement is relatable. Competent local professionals are treasured by those who know them and use their services. Indeed, when I first moved to my small town in Georgia and was looking for a dentist, a colleague recommended someone who was also serving on the city council. He observed that since the dentist in question kept getting re-elected, this presumably reflected well on his bona fides at his day job. Twelve years later, I can confirm that this was a great way to select a dentist. No one polices competence on the job and in local politics better than inhabitants of a small town.
Vetting quality candidates gets infinitely trickier, however, the farther removed from them we are. And for the candidates themselves, the process of campaigning on a state or national level takes on a commensurately different dimension. Simply relying on one's famed baked goods or dentistry skill no longer cuts it when standing for elections where millions vote. So how to approach campaigning in this environment? As it happens, at its most basic level, the process today bears remarkable similarities to the unstable political landscape of the late Roman Republic.
Quintus Tullius Cicero, the younger brother of the much more famous Roman politician and orator Marcus Tullius Cicero, wrote a short manual on running for office in 64 BCE as his brother was facing a tough political race for the top elected office in the Roman Republic, the consulship. Addressed originally to his brother—and implicitly to future politicians running for office—the manual is a treasure trove of information about what the Romans thought about the process of campaigning and how someone might prevail. But what is striking is that this advice manual spends as much time considering the voters as it does the politicians running for office. Understanding the utterly depraved character of both, while playing up one's own rare virtue, was for them key to winning elections.
"Running for office can be divided into two kinds of activity: securing the support of your friends and winning over the general public," Cicero outlines by way of an overall argument. But who are one's friends? Anyone who can benefit you, so see how you might turn everyone you meet into a friend. Promise everything to everyone, albeit within reason: "The most important part of your campaign is to bring hope to people and a feeling of goodwill toward you. On the other hand, you should not make specific pledges either to the Senate or the people. Stick to vague generalities. Tell the Senate you will maintain its traditional power and privileges. Let the business community and wealthy citizens know that you are for stability and peace."
But promises and flattering one's most important (meaning, wealthiest) supporters cannot be one's only strategy. No less important, a smear campaign against one's competitors in the race is not only appropriate but expected. Attacks not just on the candidate's character but that of his wife or parents or other relatives are perfectly within reason. In fact, you could even attack the opponent's supporters as one Pompeiian political graffito did: "All the late-night drinkers endorse Marcus Cerrinus Vatia." Presumably, this campaign-ad-style notice on a public wall was not meant to be an actual endorsement of the candidate in question.
Thankfully, most of the time, one's competitors are guaranteed to provide plenty of fodder for negative publicity just by living their best lives. But then the voters themselves are not necessarily much better. As Cicero observes with remarkable frankness, "Our city is a cesspool of humanity, a place of deceit, plots, and vice of every imaginable kind. Anywhere you turn you will see arrogance, stubbornness, malevolence, pride, and hatred."
And there we have it. Morally flawed people running for office to be elected by a "cesspool of humanity."
Presenting all of these observations matter-of-factly, at the end Cicero expressed his utmost confidence that his older brother had all the necessary qualifications to overcome his competition. In particular, he observed that Marcus was the rare candidate with no scandal attached to his name. In the end, Marcus Tullius Cicero indeed prevailed and was elected one of two consuls for 63 BCE.
If we conclude the story here, it is one of solid advice prevailing, and the candidate with the squeaky-clean record winning top office in a tough race filled with more nobly-born but certainly more despicable candidates. Such a story would be heartening as it would confirm the power of the democratic process in securing stability even at the end of contentious and scandal-ridden elections. Indeed, that is the kind of story we surely crave right now, in the midst of highly tumultuous midterm elections.
Most of all, we might really like to forget the whole "cesspool of humanity" characterization, which upon closer look groups together not just the general public but the politicians as well. But Roman history, just like the history of our own democracy, does not allow us to forget the deeply flawed nature of all people. If we want a feel-good story, we will not find it in the world of Roman Republican politics—as we can see just one year later during the elections held towards the end of Cicero's consulship.
Running unsuccessfully for the consulship in both 64 BCE and then 63 BCE was Lucius Sergius Catilina. While Catilina seems to have taken his first loss to Cicero in stride, he did not accept a second consecutive loss so well. Deciding to take matters into his own hands, he assembled an ambitious plot and even raised his own army. The plot narrowly failed in a remarkable turn of events that both Marcus Tullius Cicero and Sallust documented in detail and about which I have written here. The Roman Republic, wobblier than ever, survived to stand for just a few decades more.
Ultimately, Quintus Cicero's advice manual only underscores the instability of national campaigns and elections. But the key antagonist is not the politicians or the voters, those "late-night drinkers" who support our least-favorite candidates. Instead, this enemy is lodged safely within: The greatest enemy of the orderly and democratic political process is the deeply flawed and selfish nature that we all possess and bring to every season of elections.
Nadya Williams is Professor of Ancient History at the University of West Georgia. She is a Contributing Editor for Current.