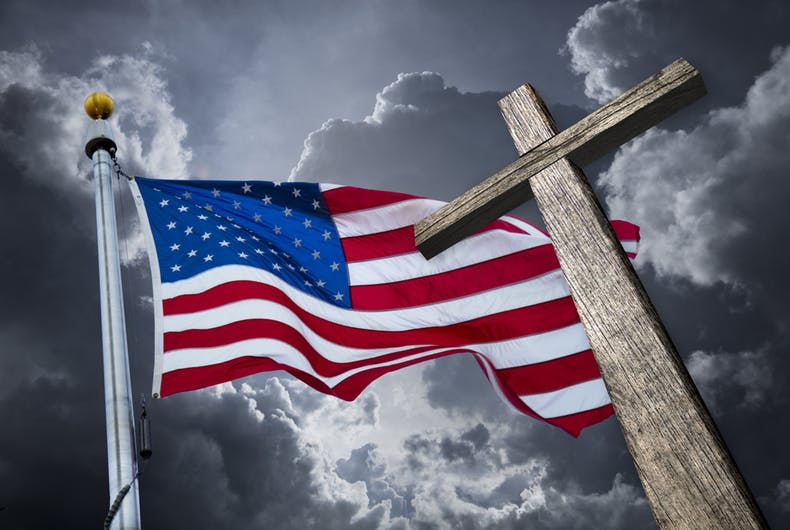 Daniel Silliman has some nice reporting on this at Christianity Today. A taste:
Caleb Campbell didn't know he needed the term Christian nationalism.
He'd heard it, here and there, but it hadn't really registered. It was at the edge of his awareness and his vocabulary as he tried to understand the disputes over racism, the pandemic, and the election rocked his evangelical church in suburban Phoenix throughout 2020.
Then the new year started, a mock gallows was erected at the Capitol, and his social media showed some in the mob carried signs that said, "JESUS SAVES." His mind strained to make sense of the two things together, and he remembered from somewhere that there was a term.
Christian nationalism.
"I needed that phrase to name it," said Campbell, pastor of Desert Springs Bible Church. "This is a heresy. It's a complete distortion of Jesus' doctrine of power. I think Christian nationalism started in the Garden of Gethsemane when Jesus was reaching for the Cross, and Peter, who loves Jesus, thought he should protect him with a sword."
As the political campaigns ahead of the midterm election have heated up, so has debate about the new political phrase. For evangelicals, the 2022 election has become, in part, a contest over what Christian nationalism is—whether just a slur used against conservative Christians voting their values or something new and malevolent.
Some Republican candidates are claiming the name, a best-selling book on Amazon argues that all real Christians are Christian nationalists, and a growing number of professional and amateur political commentators are using it to explain American politics right now. But there's still a dispute about who counts as a Christian nationalist and what the term really means.
"I would say there are nine different definitions, from the people I've talked to," Campbell told CT.
A Pew Research Center poll released last week confirms that the term is slippery. Not everyone is using it the same way.
Pew found that 45 percent of Americans think that that US should be a Christian nation. This includes 81 percent of self-identified white evangelicals, the same percentage that reported they voted for Donald Trump in 2016.
But only about 6 percent of those who want the US to be a Christian nation think that the government should be run exclusively by believers. Less than 1 percent say they want the state to give special privileges to Christians.
It's more common for people to explain they want Americans to be guided by Christian beliefs and values (48%) or generally be moral (21%). One out of every three people who want America to be a Christian nation will clarify, when asked, that that isn't a statement about the government at all. They want Americans—individuals—to have faith in God.
That broader version that Pew calls "Christian nationalism" is embraced by 65 percent of Black Protestants, more than half of white nonevangelical Protestants, and about a third of Hispanic Catholics.
But to some academics researching Christian nationalism, that broader idea is way too broad. Saying aspirationally that America should be a Christian nation is not the same as saying it nostalgically, sociologist Samuel Perry told Sojourners magazine. The term, Perry argues, should only be applied to those calling for a return to a time when "people like us" held cultural and political power.
In the book that Perry cowrote with sociologist Andrew Whitehead, Christian nationalism is defined as "an ideology that idealizes and advocates a fusion of American civic life with a particular type of Christian identity and culture."
And for them, that "particular type" is very particular.
Read the entire piece here.