Back in September we called your attention to a 1972 conversation between Billy Graham and Richard Nixon that was, according to researcher Mike Hertenstein, "quietly posted on the Nixon Library website." The conversation reveals Graham talking about Jews as part of the "Synagogue of Satan." Learn more about that conversation here.
On October 5, 2022, the National Archives released another once-redacted phone conversation between President Nixon and Graham. Hertenstein is once again all over it. Check out his coverage here.
Graham calls Nixon on June 9, 1971. The previous night, Graham's service in Chicago got a bit out of hand. Here is the Chicago Tribune from June 9, 1971.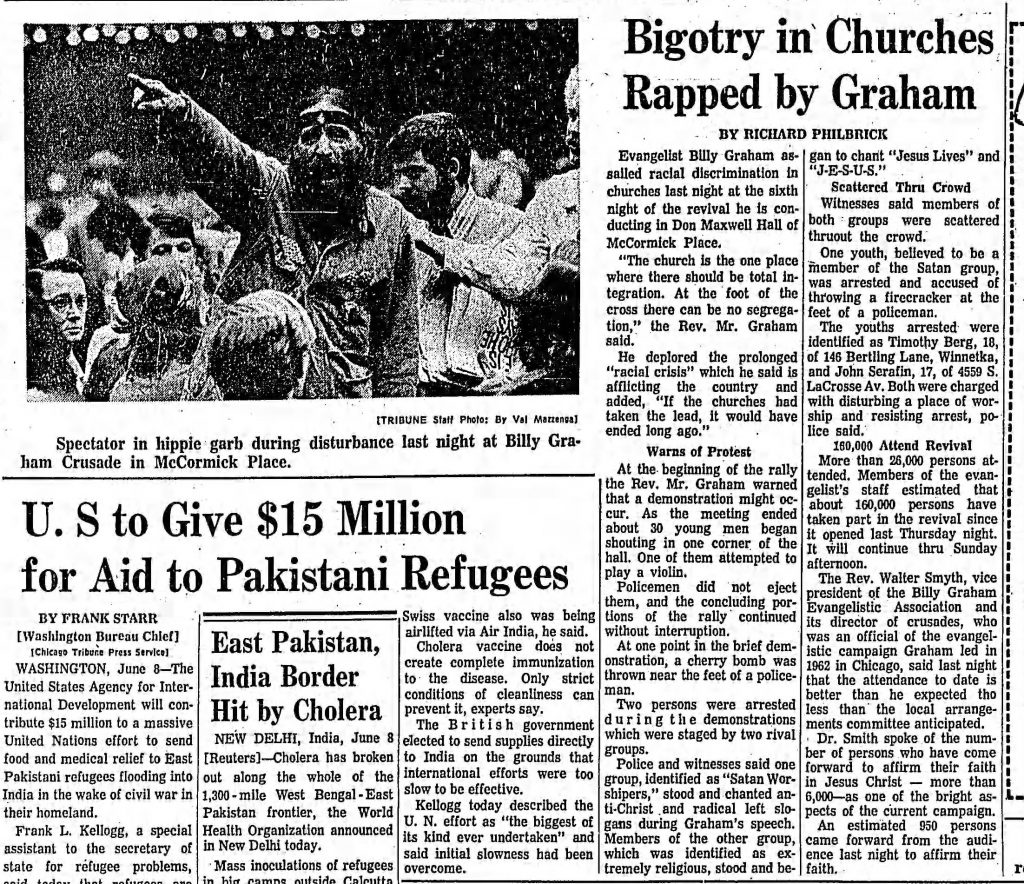 The conversation eventually moves to the Jews who write script for Walter Cronkite and another reference to Jews as a part of the "Synagogue of Satan."
A few quick observations:
Let's not pretend that Billy Graham has always been above politics. This tape reveals that he is clearly in the tank for Nixon. If you have ten minutes to listen to the tape or read the transcript below, notice how many times Graham and Nixon refer to "our people."
A lot of people like to say that when Franklin Graham makes political statements today he is departing from his father's apolitical approach. But this tape seems to suggest that Franklin is actually a chip off the old block. Billy Graham's tirades against liberalism and the liberal media anticipates the Christian Right.
I think evangelicals of a certain age will be shocked to hear Billy Graham use the word "motherfucker."
Notice how Nixon and Graham relish in the fact that conservatives ("big, strong, clean guys") have the ability to physically retaliate against protesters.
I got a kick out Graham telling Nixon that Cronkite appeared to "stumble over his words" out of guilt. (See the context for this below).
The previous night Graham preached in Chicago against segregation, but in this private phone call with Nixon he has no problem with anti-Semitism.
To reiterate what I wrote in my post on the 1972 Nixon-Graham tape, it is clear that Graham is no passive listener here. He is the one initiating the conversation.
Here is my transcription (edited for clarity) of some of the conversation from the June 9, 1971 phone call.
GRAHAM: We're having an interesting time out here.
NIXON: Yeah, were'd I get you?
GRAHAM: "I'm in Chicago…Last night we had the Yippies show up.
NIXON: Oh my goodness!
GRAHAM: They tried to tear the service apart…
NIXON: They're the ones who do the laughing?
GRAHAM: Well, they were shouting, they were calling Jesus "motherfucker" and all that sort of thing.
NIXON: Oh my! Well that's just, isn't that nice.
GRAHAM: They were screaming and I told the people, we had about 30,000, I told the people "you know what to do if they start down here." And boy the people applauded. And then these house people, the so-called Jesus People, they moved around them an started singing to them. And they started shouting back at them that Jesus loves ya and all that. And the newspaper this afternoon has its headline , the Chicago Daily News, said "Jesus People, Outmaneuver the Power People"–they were calling "power to the people."
NIXON: Oh boy, I bet they were horrible looking people.
GRAHAM: They were awful. TW got in a fist fight with one of them.
NIXON: [It sounds} just like that bunch who came here to Washington.
GRAHAM: They're the same crowd.
NIXON: You see, Billy, they ship those all over the country now. You heard them…even at the Johnson Library.
GRAHAM: Of course.
NIXON: There were only three or four hundred. But they ship those people in, a lot of those people–horrible.
GRAHAM: Well I'll tell you the thing I was worried about last night, was just like in Knoxville, I was afraid of what our people would do to them.
NIXON: Yeah!
GRAHAM: Cause our people got stirred-up and I'll tell you they were ready to handle them, to restrain them. We didn't need the police.
NIXON: (Laughing). I know.
GRAHAM: They would have torn them limb from limb.
NIXON: Well I'll tell you, get your folks in good practice cause we may have to use them next year.
GRAHAM: That's right. We'll have 'em.
NIXON: You've got some good strong clean guys. They can handle…these people are cowards too, you know.
GRAHAM: Of course they're cowards. One little fella last night just had all he could take, one of our people, and he's a little tiny fella. And he hit one of these fellas and knocked him down and he was unconscious for twenty minutes.
NIXON (Laughing): Oh boy. He really must've cracked him.
GRAHAM: And the press, all four newspapers, they're just all on our side.
NIXON: Great.
GRAHAM: Because we took a tough line.
NIXON: Well, you know, in Chicago you've got a much better press than you have in New York with The New York Times
GRAHAM: Oh my!
NIXON: Because all the papers there–that's mid-America. Those are good people. And I'm glad you're there. I think it's great.
GRAHAM: Well, we're having really a tremendous crusade. When I give the invitation in the evening we have anywhere from a thousand to two thousand come forward every evening.
NIXON: That's right. That's right…
NIXON: "You still feel that there's a turning do ya on these…
GRAHAM: "I do! Everyone I talk to feels it."
NIXON: You begin to feel that some of the young people are turning the other way?
GRAHAM: They really are.
NIXON: When I was in Tulsa I saw quite a few of those people that, you know, you talked about, what is it, they call themselves…you're people.
GRAHAM: Well, they have all kinds of names.
NIXON: They were there in Alabama. My goodness they were out there. They were tremendous. In Oklahoma and Alabama, of course, I'll tell you, that's still good country.
GRAHAM: Well, you're gonna find a lot of good country next year. Because things are really moving religiously now.
NIXON: That's what we need.
GRAHAM: The devils on the run everywhere now.
NIXON: You think they are?
GRAHAM: You know the Presbyterian Church decided to give ten thousand dollars to Angela Davis's defense.
NIXON: Oh!
GRAHAM: And they rescinded the thing…The General Assembly rescinded the thing overwhelmingly. And they had this Jewish woman speak there. The first Jew that ever spoke. She was the one who just got out of Russia. And she told how Jews and Christians are persecuted in Russia. And they gave here a standing ovation. And then the rest of the conference was conservative.
NIXON: Thank heaven…after my press conferences a couple, two weeks ago, there was a poll taken by opinion research. And they asked…you know the press is always trying to get after whether we should have arrested these demonstrators and I had taken a strong line and they badgered me on it. They said the president supported the police and do you agree with the president or do you agree with [the demonstrators] and seventy-one percent, seventy one percent, and as a matter of fact more of them believe [the president] should have been tougher. It's an amazing thing that people…now understand, they do not want to hurt anybody, but they do not like this kind of, they are getting sick of this…
GRAHAM: People are getting sick. The quotations even in The New York Times today about what people think about New York, you know. They're sick of all this stuff. A lot of people are saying they want to move out of New York.
NIXON: Well, New York, having that…of course Lindsey is a disaster. New York is now, you know, the sewage men are on strike. They're letting the place go, but what a…
GRAHAM: It's a bastion of liberalism. See that's what liberalism has brought us.
NIXON: And what New York's problem is, of course, is that it is not only a bastion of liberalism but it is a problem also that it is the fountainhead too of the media…If the networks, if one of them could move to Chicago, that'll be a help.
GRAHAM: I thought your press conference was tremendous…
NIXON: Well, they were really after me again. I was talking to a group of NBC executives and I sort of stuck it to 'em…We were talking privately and these were all executives…And I said, "do you think , what about this business about the president." I said, "You'll never hear me take 'em on. I'm not going to say anything. I said but let's be quite honest, or course they're biased. I said they don't agree with my position. You heard them." I said "I understand that. I don't complain about it, but on the other hand, you can be very sure that when they raise their question I've got to answer them." You know it really shook 'em.
GRAHAM: (Laughing)
NIXON: It really shook 'em. Because we just cannot, I think it's time for some of our people to start speaking-up again.
GRAHAM: Well you know that ever since Walter Cronkite said what he did about you weeks ago I've noticed in watching him how much he stumbles over his words. I'm sure he must carry some feeling of guilt about it. Because Walter lost his cool and he lost his objectivity and a lot of American people will no longer take what he says.
NIXON: Yeah, well that's too bad. He's a nice man. And he's a kind man.
GRAHAM: I wonder if someone didn't write that for him.
NIXON: What he has is a bunch of real…left wing writers and they put it in him. And that's the way he is.
GRAHAM: And they all come from one group.
NIXON: I know.
GRAHAM: You look at their names
NIXON: I know. Well, it's — the whole thing is a Jewish group.
GRAHAM: Well, you see the Bible teaches that there is the Synagogue of Satan. In other words, there are two groups. There is the group in Israel that are going back — they don't know why they're going back, but they're going back driven by God because I believe we're getting toward the end of things. And then there's the second group that the Bible calls the "Synagogue of Satan," and it's that crowd that puts out all of your literature, pornographic literature. They're the ones that are the left wingers. They're the revolutionary leaders. They're the ones that control the media.
NIXON: Incidentally, do you think I should have been rougher on the press?
Here is some context for Cronkite's critique of the Nixon White House that prompted the Graham and Nixon anti-Semitic rant. It is an Associated Press piece from May 19, 1971: