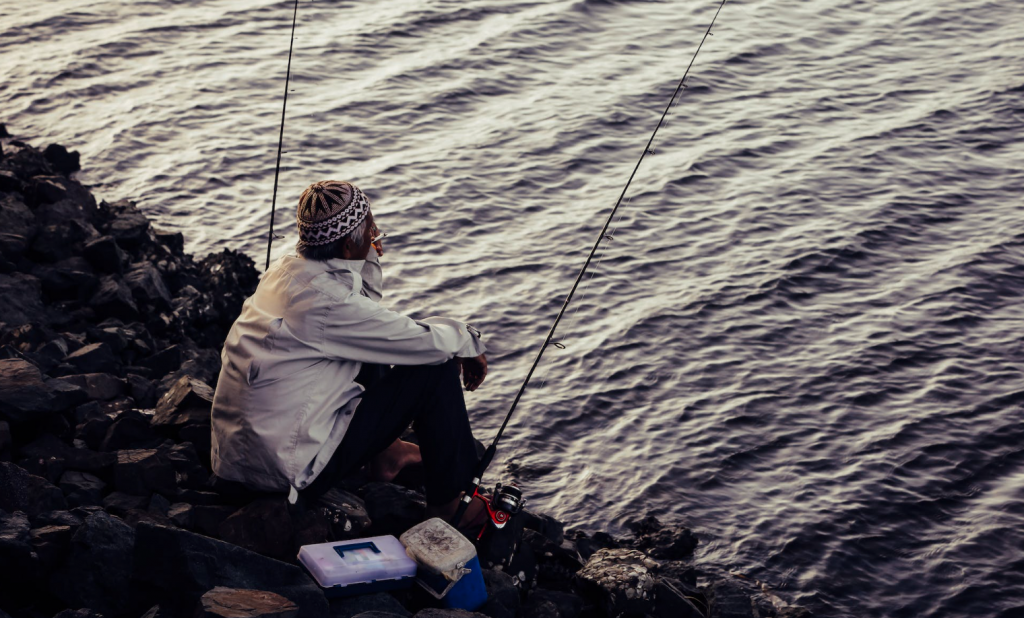 Cold, dark, and lonely places beckon. Why?
Saturdays and Sundays, lately, I get up before sunrise, throw my fishing rod and tackle into my car, and head to a lonesome spot on West Chickamauga Creek, the section that runs through Camp Jordan in East Ridge, Tennessee. Don't try to find it. Don't even Google Map it for reference because I don't want you to. I go there for the fish, I keep telling myself, but more than that, I go there to be alone. Two hours spent on a big flat rock in a creek, casting my line into the burbling rills, and now and then squaring off with a catfish or bass or bluegill: It never before sounded heavenly. It sure does now. I wonder why.
For starters, it appeals to my soul. So far, I've discovered a couple of activities that function for me as "thin places." That's a term I've only recently stumbled upon. I'm still trying to figure out exactly what it means. As I interpret it, thin places are activities or physical locales—or combinations of the two—where heaven, or at least the concept of a transcendent eternity, bends inexplicably toward the mortal clay that is me. Or maybe it's the other way around. In thin places my humanity veers toward eternity as though drawn by some spiritual gravity, something like a black hole siphoning light from its otherwise impregnable conduits. Baseball is another of my thin places and so is the city of Chicago. I may now add fishing to the list. I wonder if I'll happen upon others in my lifetime. Regardless, the only way I know that I've come to thin places—as near to evidence as I suspect I will ever discover—is that they become, for me, wells of curiosity and inspiration that never seem to go dry.
The very act of sitting alone by water for hours at a time has a certain literary provenance too, one that I at least like to imagine myself a part of. Hemingway's magnificent short story "Big, Two-Hearted River" is, really, a portable instruction manual on fly-fishing. Maclean's A River Runs Through It is shot through with a beautiful ache that only natural water can evoke. Even Brautigan's bleak and bonkers Trout Fishing in America, for whatever else it is, is a paean to creeks and streams and rivers. Not to mention Twain's Adventures of Huckleberry Finn, Thoreau's Walden, and Dillard's Pilgrim at Tinker Creek.
But whereas, for example, Dillard made art out of the natural (and horrendous) act of a water bug slurping the guts out of a still-living frog, my artistic observations are, as of yet, much less sophisticated. "Oh look, here comes a creek demon. Nope. Just an otter's eyes sparkling in the beam of my headlamp." If Hemingway's Nick Adams, rod in hand on a river in the Upper Peninsula, is the literary equivalent of driving a Ferrari F40, what I do at my spot on the creek, thus far, is the literary equivalent of degreasing an '83 Chevette.
Maybe it's just pure escapism. There's plenty—more than ever—from which I'd like to escape. A global pandemic and not just that: the attendant realization that, at least in America, we care more for make-believe than we do for our neighbors. A close shave with fascism, American style, in all things Donald Trump. And, to boot, a big-C Church that vociferously (whether tacitly or directly, and in the end it makes no difference) approves of that which divides and harms and belittles and devours.
I suppose I'll keep telling myself it's for the fish. And, to a degree, I actually mean that. Someday I'll catch something worth keeping and cleaning and cooking and eating. My thin-place reasons, as well as my literary and romantic (lit-mantic?) reasons to fish are undeniable. As is my desire to put the entire world squarely in the rearview, at least for a few hours a week. Yet nothing seems to sum it up quite succinctly enough, this compulsion, almost, that I have to go fishing.
Fall is here and it's getting colder and the darkness just before the dawn always feels coldest. On those mornings there's an inevitable moment that occurs when I step out the front door. There I am, fumbling with my keys, locking the door, trying not to drop my tackle box, trying not to snag my fishing line on the door jamb, and trying to do it all oh-so-quietly, when the motion detector on the porch light catches me. Instant light. A silent explosion. All that was soaked in darkness now appears in sudden, stark relief. I swear I can see the individual droplets of moisture that make up my clouded breath. There's a chilled shadow world and the circle of artificial porch light is a kind of DMZ. The message of the universe, in that moment, is something along the lines of, "There's weeping and gnashing of teeth beyond the light, pal. Don't say nobody warned you."
My immediate and instinctive thought response is less than heroic. "What the hell do you think you're doing, Paul? And why the hell do you think you can do it? Get your ass back inside." But it strikes me, even as I write this, that I'd like to pull something worth having out of the cold and dark and lonely places of the world. Something worth having is in there, something golden, and, whatever it is, it can't be found anywhere else or gotten in any other way. So, what the hell do I think I'm doing and why do I think I can do it? I really don't know. But I always get in my car. I never go back inside. 
Paul Luikart is the author of the short story collections Animal Heart (Hyperborea Publishing, 2016), Brief Instructions (Ghostbird Press, 2017), Metropolia (Ghostbird Press, 2021) and The Museum of Heartache (Pski's Porch Publishing, 2021.) He serves as an adjunct professor of fiction writing at Covenant College in Lookout Mountain, Georgia and lives in Chattanooga, Tennessee.