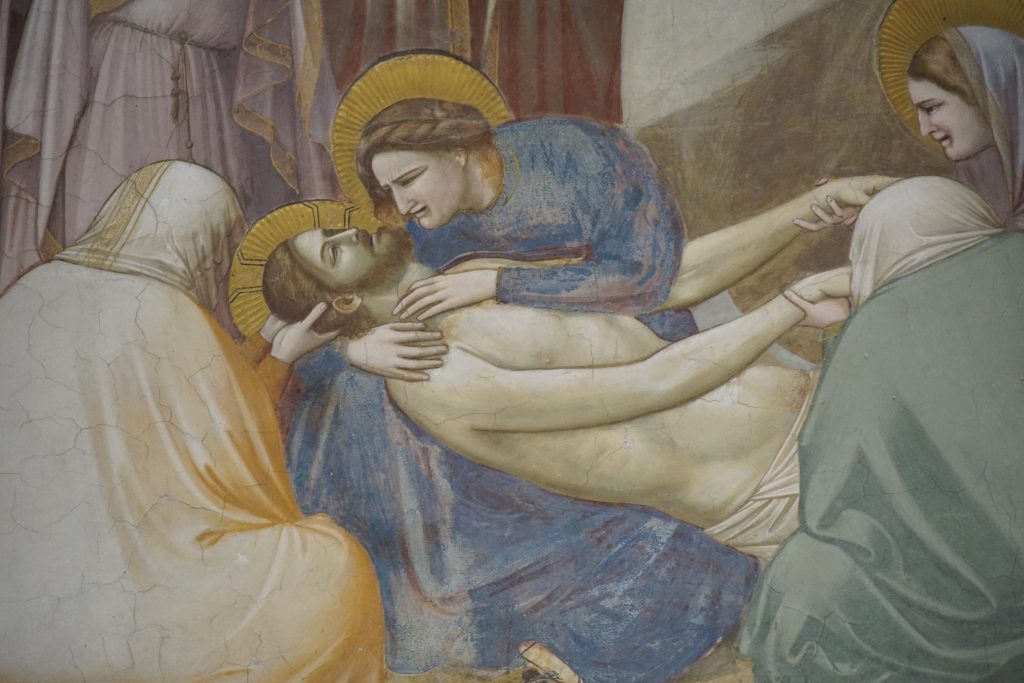 Giggling at art history should be part of the point
I clicked to the next slide, and the snickers began almost immediately. I was still a new professor, teaching an Introduction to Art History class, and laughter was not the response I was aiming for. Shushing the students, I launched into an explanation of Giotto di Bondone's Lamentation fresco (1305-1306) in the Scrovegni Chapel in Padua, Italy. "This is important," I assured them.
My students dutifully took notes. But what they really wanted to talk about was the oddly shaped foot of the man on the far right. I answered their questions quickly, then begged, "I know it looks funny, but I really want you to appreciate this!"
Years later, now in my nineteenth iteration of this introductory course, I've realized that their laughter actually should be part of their appreciation.
Around 1305 a wealthy banker from Padua, Enrico Scrovegni, commissioned a Florentine painter, Giotto, to decorate a new chapel. Working with a theological advisor and a team of assistants, Giotto filled the simple vaulted space with brightly colored frescoes—paintings on damp plaster—that depicted the life of the Virgin Mary, the life of Christ, and the Last Judgment. Organized as a series of panels that wrap around the church's interior, the Scrovegni Chapel frescoes offered a new vision of familiar stories.
At the time, most religious art in Florence reflected the style and iconography developed by the Byzantine church in the east. Figures were flat and stylized, crowned by gilt halos. With weightless, curving limbs and egg-shaped faces, depictions of the Virgin Mary and Christ child seemed to hover on monumental thrones. These otherworldly figures inhabited a spiritual world of gold and light.
In the Scrovegni Chapel, however, Giotto locates biblical narratives in an earthly realm. Each panel resembles a shallow stage, with delicate gothic buildings, a strip of grass, some rocks, or a tree creating a recognizable scene. Figures draped in robes modeled with light and shadow seem to take up actual space. And then there's the sky. Gone is the Byzantine gold. Giotto's sky is an azure blue.
Traditionally, western art history has celebrated Giotto as the harbinger of the Italian Renaissance. Less than ten years after Giotto's death, the poet Giovanni Boccaccio praised the artist for reviving classical art by painting the natural world so convincingly "that they seemed not so much likenesses as the things in themselves." Later historians praised Giotto for his innovation and for rising above the apparent errors of medieval art. While more contemporary scholars have challenged and nuanced this approach, Giotto is still often celebrated as an art historical demigod apparently buoyed above cultural limitations by a golden nugget of genius.
But it is the palpable humanity of Giotto's work, not his supposed transcendence, that arrests me today. In the almost six-and-a-half-foot square panel of the Lamentation, Giotto paints mourners clustered around the pale body of the dead Christ. At the base of a rocky hill, surrounded by apostles and disciples, Mary sits on the ground weeping. She cradles Jesus' head in her arms as Mary Magdalene tenderly holds his feet. Above them, ten small, winged angels zip and swoop across a deep blue sky, gesturing dramatically as their faces contort in grief. The gaze of every figure is directed towards the bottom left corner and Christ's cold body.
Two mourners sit on the ground, flanking Christ's torso. With their backs turned towards us they keep watch like silent, solid stones. But as we step towards the fresco we also step into the gap they create, and our bodies complete the circle of grief. The painting anticipates our presence.
Regardless of a viewer's religious commitments, Giotto's Lamentation invites a visceral, emotional response. This is no coolly sorrowful Madonna. This is a desolate mother clutching at her dead child. Centuries later, we recognize the ache of loss in her quivering lip, swollen eyes, and hunched posture.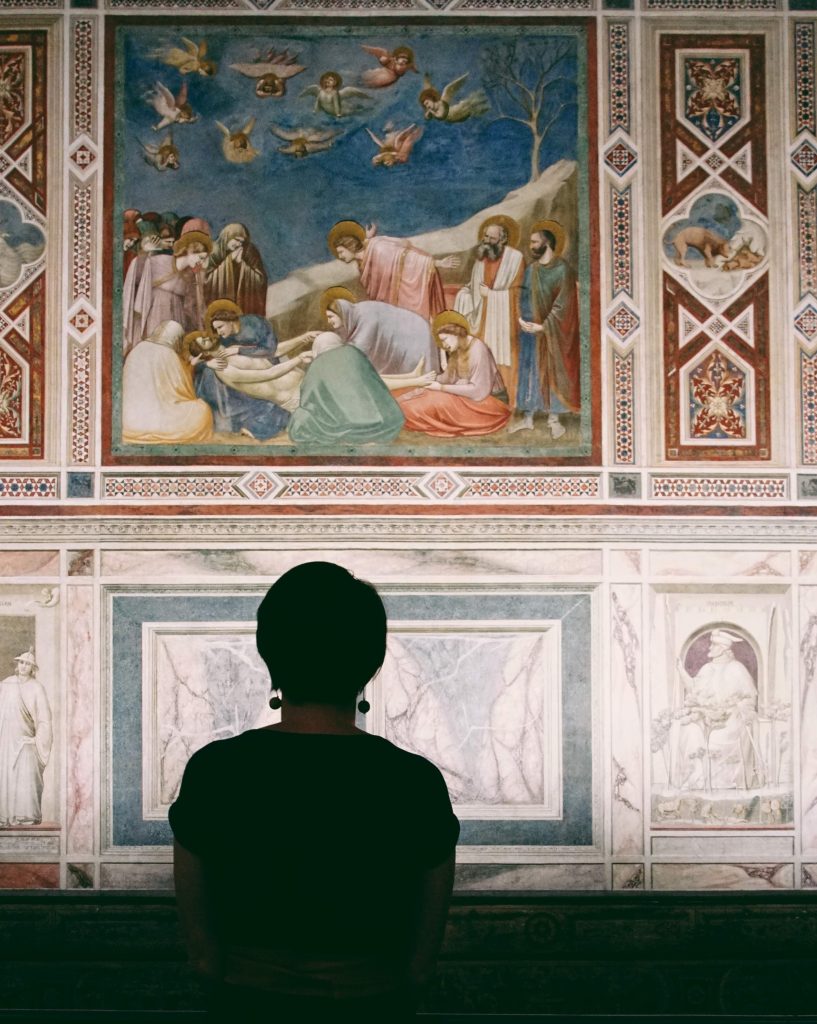 All this is true, and yet, as my students pointed out, it's hard to ignore the weird, crab pincer-shaped foot of Nicodemus, the rightmost standing figure. If we look at any of the angels in isolation, they look like wailing children who could feature in a contemporary meme. And while we might understand that Giotto is using foreshortening to depict the Apostle John flinging his arms wide in anguish, the fact remains that John's spare hand seems to be sprouting from his shoulder.
Such idiosyncrasies seemed not to bother Giotto's early viewers. I wonder if these aspects of the fresco are akin to some of the visual peculiarities of our own digital culture like the distortion of a wide-angle lens or the black notch that cuts into the top of images on our phones. Because these features are familiar, they do not distract us like Giotto's awkwardly rendered shoe. When we look at the Lamentation as modern viewers, separate from the original context of the work, these strange details disrupt our expectations of believability. Our laughter is a response to the perceived incongruence.
But perhaps giggling at the floppy sock is another way the painting affirms our humanity. We are finite, bound in time and anchored in bodies. There are ways this fresco does not fully belong to us as 21st century viewers and humor is a way to acknowledge that.
This year I invited my students to laugh and cry over the Lamentation. Giotto's fresco is not a masterpiece simply because it rises above a cultural moment and human concerns. Rather, its greatness lies in the fact that it reminds us of our humanity by simultaneously evoking our limitations and our mysterious tether to each other.
Elissa Yukiko Weichbrodt is Associate Professor of Art and Art History at Covenant College in Lookout Mountain, GA. She is a Contributing Editor for Current.