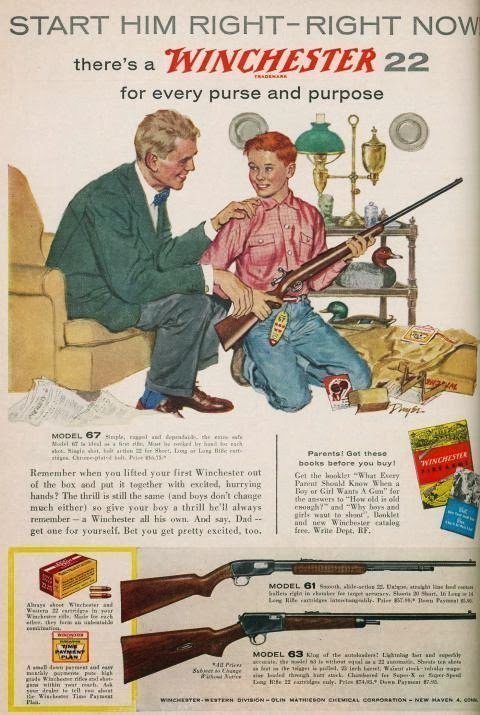 Over at JSTOR Daily, Rachael Kay Albers asks "how marketing made guns a fundamental element of contemporary boyhood." She calls attention to the scholarly work of Charles-Edward Anderson, Anne G. Kimball, Sarah L. Olson, Jay Mechling, Wendy Varney, and Garen J. Wintemute.
Here is a taste:
The 2005 Protection of Lawful Commerce in Arms Act protects gunmakers from responsibility for crimes committed with their weapons. But the law is murky in one respect—marketing. In February, the families of nine of the Sandy Hook shooting victims won a landmark $73 million dollar settlement against Remington Arms for its marketing of the AR-15 to young men. The Uvalde families are mounting a similar lawsuit against Daniel Defense.
This isn't the first time that Remington's marketing to youth has come under legal scrutiny—it's just the first time they were held liable. In 1991, a Texas woman filed a lawsuit arguing that a 16-page advertising supplement in Boys' Life magazine, sponsored by Remington and others, led her 12-year-old son and his friends to experiment with a gun, resulting in the boy's death. The court eventually found that the fatality was not a "reasonably foreseeable consequence" of Remington's advertising.
Courts have historically erred on the side of preserving a gunmaker's right to market to children, write lawyers Anne G. Kimball and Sarah L. Olson, holding that "the unfortunate fact that firearms can be misused, either criminally or carelessly, to cause injury cannot form the basis for liability…because that fact is common knowledge." In other words, courts have long held that marketing guns to children is protected speech under the First Amendment because it's assumed that kids already know guns are deadly.
The 2022 Remington settlement changed that. The Sandy Hook families prevailed on the argument that Remington marketed their weapons to teenage boys by glorifying militaristic killing and death. Concerns over this very gun glorification prompted Newsom to make his announcement about California's gun marketing ban. He released a video; in it Newsom stands in front of two cartoon skull and crossbones with pacifiers in their mouths—ad graphics for the JR-15, an assault-style rifle for children released by WEE1 Tactical earlier this year. Its marketing copy speaks directly to kids; the mini assault rifle "looks, feels, and operates just like Mom and Dad's gun."
Read the entire piece here.