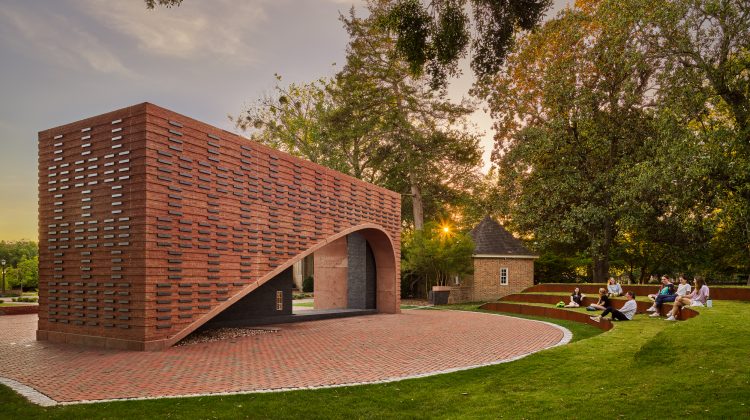 More and more colleges and universities are coming to grips with their connections to slavery. Here is historian Jody Lynn Allen at Perspectives on History:
In the 1930s, William & Mary (W&M) constructed a four-foot brick wall around the oldest section of the campus. Many people in Williamsburg's Black community saw this wall as a reminder that they were not welcome on campus unless they "were pushing a broom." On May 26, 2021, a portion of this wall was knocked down to make way for the memorial to the enslaved.
Fast-forward one year. With over 800 onlookers, W&M dedicated Hearth: Memorial to the Enslaved. More than 15 years in the making, the memorial now stands as the rightful acknowledgment of people enslaved by the university or individuals affiliated with it (including faculty, administrators, and parents of students), and enslaved people hired to labor at W&M. The plaque on a nearby wall reads:
"William & Mary enslaved Africans and African Americans for over 172 years. This memorial seeks to remember and honor those individuals through the symbol of the hearth which evokes at once the harsh, forced labor of chattel slavery as well as a place of gathering, strength, and community. Indeed, enslaved people made a way out of no way."
We often are asked about how Hearth came to be. The memorial is part of a movement loosely referred to as universities studying slavery. It is often difficult to determine the date a movement begins, but the genesis of this one is clear: the 2006 release of the Report of the Brown University Steering Committee on Slavery and Justice. Established by university president Ruth Simmons, the committee was charged with researching Brown's involvement with slavery.
W&M began its own research 400 years after an English colony was founded at what the Native people called Tsenacommacah. In 2007, three students—Tiseme Zegeye, a Student Assembly senator, and Richael Faithful and Justin Reid, president and member, respectively, of the campus NAACP chapter—began a campaign to force the university to look at its role as an enslaver. What developed was a three-part Student Assembly resolution calling on W&M to research its full history, make the findings public, and establish a memorial to the enslaved. The following year, the Faculty Assembly passed a resolution calling on the university to look at its history with regard to race relations.
In response, the administration invited historian Robert Francis Engs to spend a semester on campus teaching a course and working with a faculty committee and graduate students to ascertain the state of the archives regarding slavery. A historian of the post–Civil War American South, Engs attended Princeton with then W&M president Taylor Reveley and provost Geoff Feiss, all three members of the class of 1965. Reveley and Feiss knew Engs's scholarship and, more importantly, his character. At the end of his appointment, Engs submitted a report to the W&M Board of Visitors (BOV), who used it to develop a third resolution acknowledging that the college had been an enslaver and failed to challenge the legacies of slavery. This lack of challenge translated into the university's adherence to segregation laws and the less formal, but just as insidious, rules of white supremacy. In short, W&M had not been a good neighbor to the African American community.
Read the rest here.