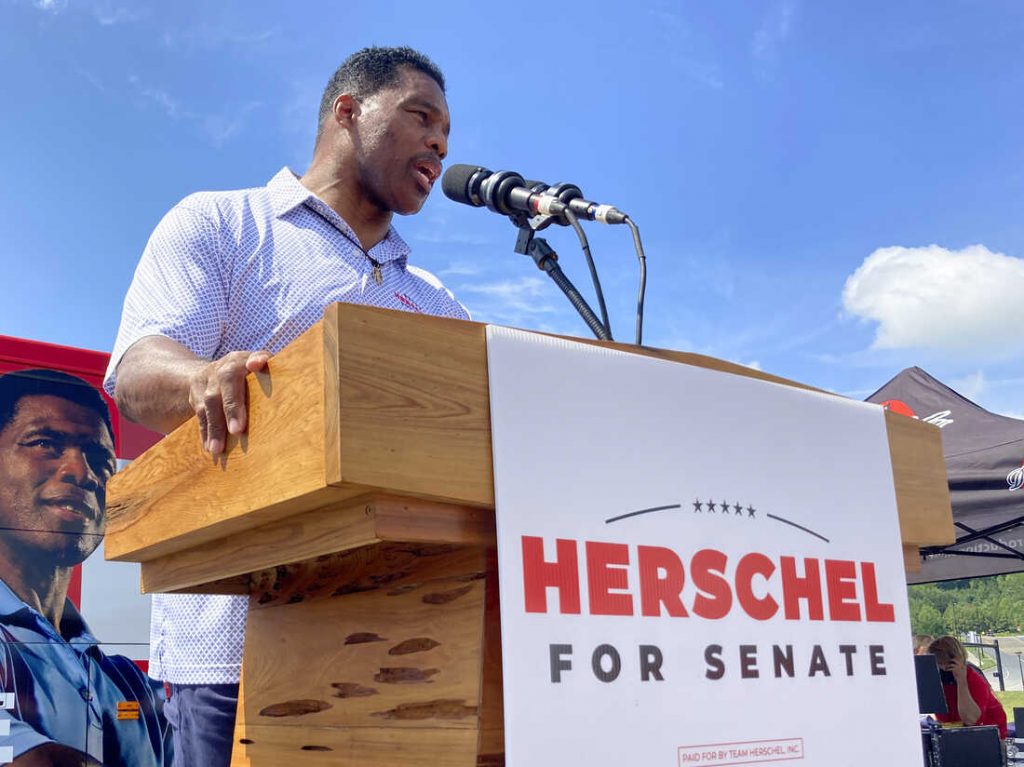 Here is Peter Wehner at The Atlantic on the GOP candidate for the U.S. Senate from Georgia:
There have been plenty of awful candidates in American political history; what sets Herschel Walker apart is that he's a wreck in so many different ways.
Walker, the Republican Senate nominee in Georgia trying to unseat Democrat Raphael Warnock, is a compulsive liar, so much so that he falsely claimed he has not made false claims about graduating from the University of Georgia. Walker's speech is often unintelligible. His argument for why efforts to address climate change are pointless goes this way: "Since we don't control the air, our good air decided to float over to China's bad air so when China gets our good air, their bad air got to move. So it moves over to our good air space. Then now we got to clean that back up, while they're messing ours up."
Walker is an absentee father who has been critical of absentee fathers. His campaign has acknowledged that he has three children by women to whom he was not married, in addition to his son Christian by his former wife, Cindy Grossman, who has alleged that Walker threatened to kill her.
"His eyes would become very evil," she said in an interview in 2008. "I got into a few choking things with him. The first time he held the gun to my head, he held the gun to my temple and said he was gonna blow my brains out." Walker hasn't denied the allegations; instead, he implied it was the result of his struggle with mental illness. (Grossman filed for divorce in 2001, citing "physically abusive and extremely threatening behavior" and secured a protective order against Walker four years later.)
The most recent revelation to roil his campaign is that Walker, who has said he supports abortion bans with no exceptions, allegedly paid for an abortion in 2009 and urged the woman to terminate a second pregnancy in 2011, which she refused to do.
Walker denies that he paid for the abortion, but for him, it hardly seems to matter. He told the right-wing radio host Hugh Hewitt, "If that had happened, I would have said, you know, 'Nothing to be ashamed of there.'" So apparently Walker's "no exception" stance on abortion actually includes one exception: himself.
As expected, Republicans rallied to Walker. "Full speed ahead in Georgia," declared the president of the Senate Leadership Fund, the body's leading Republican super PAC. "Republicans stand with him," said the chair of the National Republican Senatorial Committee, Rick Scott. So does National Right to Life.
Ralph Reed, the founder and chair of the Faith & Freedom Coalition, frames Walker's story as that of a man of past imperfections who has turned his life around. "Herschel's story is one of redemption and hope," according to Reed. He told The New York Times he believes that the new reports could increase Republican turnout by rallying social conservatives to defend Walker. Reed may be right. At a prayer meeting for Walker at First Baptist Church in Atlanta the day after the story was published about Walker paying for the abortion, a large crowd gave him a standing ovation. The church's senior pastor, Anthony George, prayed, "We ask you to rebuke the devil so Satan will not get the victory."
Read the rest here.