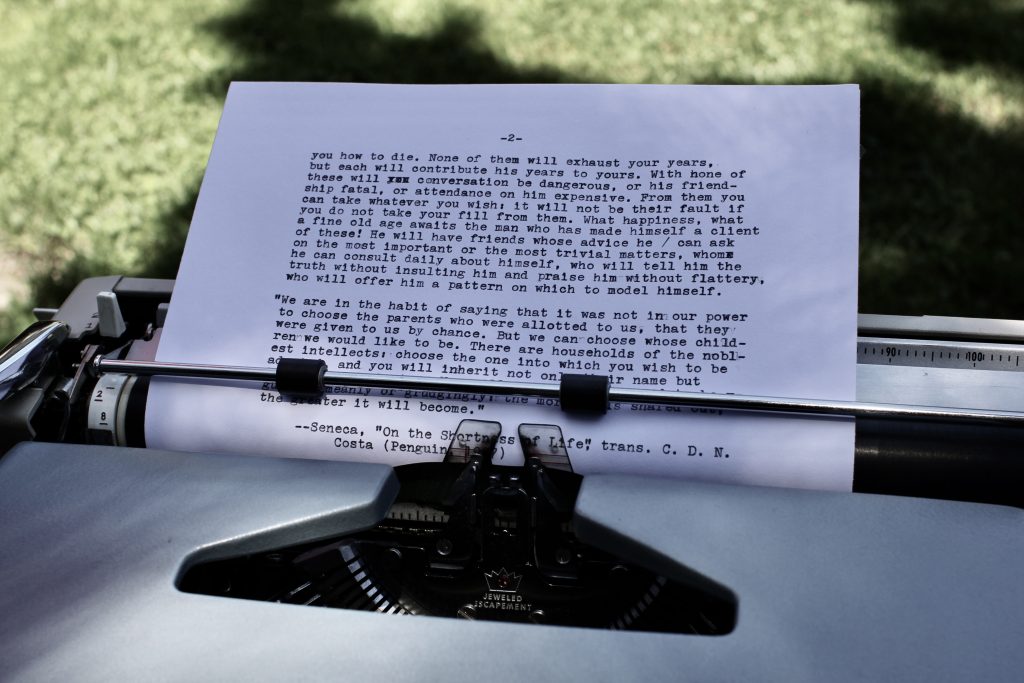 "Why not turn from this brief and transient spell of time and give ourselves wholeheartedly to the past?"
In Book Marks, an occasional feature at Current, we take fresh cuttings from old books (or about old books). They may often be about books, writing, education, communication, and the life of the mind generally, though we reserve the right to snap a sprig of greenery that simply tickles the fancy.
Why look at old books? Because there's a slat loose in the fence they've got us penned up in, and we can jiggle it free to see better what's going on out there.
With each extended quotation we offer an orienting comment, but that's not where the action is. The question is whether the words of a book may speak to you.
*
It matters who you hang out with. That's an axiom of personal formation. It's true that we need the physical resources for flourishing and good education—but if your social circle doesn't support the fruits of the spirit, you'll have a steep uphill climb. So get yourself some good friends (and colleagues and neighbors, the works), if you possibly can. And here's a divine gift: Some of your friends can be dead, long laid to rest in the literary past but quick and near to whoever will sit down with them.
Lucius Annaeus Seneca (ca. 4 BC–65 AD) said you can not only pick your friends, you can pick your parents.
Hear what he has to say:
Of all people only those are at leisure who make time for philosophy, only those are really alive. For they not only keep a good watch over their own lifetimes, but they annex every age to theirs. All the years that have passed before them are added to their own. Unless we are very ungrateful, all those distinguished founders of holy creeds were born for us and prepared for us a way of life. By the toil of others we are led into the presence of things which have been brought from darkness into light. We are excluded from no age, but we have access to them all; and if we are prepared in loftiness of mind to pass beyond the narrow confines of human weakness, there is a long period of time through which we can roam. We can argue with Socrates, express doubt with Carneades, cultivate retirement with Epicurus, overcome human nature with the Stoics, and exceed its limits with the Cynics. Since nature allows us to enter into a partnership with every age, why not turn from this brief and transient spell of time and give ourselves wholeheartedly to the past, which is limitless and eternal and can be shared with better men than we?
Those who rush about on social duties, disturbing both themselves and others, when they have duly finished their crazy round and have daily crossed everyone's threshold and passed by no open door, when they have carried around their self-interested greetings to houses that are miles apart, how few will they be able to see in a city so enormous and so distracted by varied desires? How many will there be who through sleepiness or self-indulgence or ungraciousness will exclude them? How many, after keeping them in an agony of waiting, will pretend to be in a hurry and rush past them? How many will avoid going out through a hall crowded with dependants [sic], and escape through a secret door—as if it were not even more discourteous to deceive callers than to exclude them? How many, half asleep and sluggish after yesterday's drinking, will yawn insolently and have to be prompted a thousand times in a whisper before, scarcely moving their lips, they can greet by name the poor wretches who have broken their own slumbers in order to wait on another's?
You should rather suppose that those are involved in worthwhile duties who wish to have daily as their closest friends Zeno, Pythagoras, Democritus and all the other high priests of liberal studies, and Aristotle and Theophrastus. None of these will be too busy to see you, none of these will not send his visitor away happier and more devoted to himself, none of these will allow anyone to depart empty-handed. They are at home to all mortals by night and day.
None of these will force you to die, but all will teach you how to die. None of them will exhaust your years, but each will contribute his years to yours. With none of these will conversation be dangerous, or his friendship fatal, or attendance on him expensive. From them you can take whatever you wish: it will not be their fault if you do not take your fill from them. What happiness, what a fine old age awaits the man who has made himself a client of these! He will have friends whose advice he can ask on the most important or the most trivial matters, whom he can consult daily about himself, who will tell him the truth without insulting him and praise him without flattery, who will offer him a pattern on which to model himself.
We are in the habit of saying that it was not in our power to choose the parents who were allotted to us, that they were given to us by chance. But we can choose whose children we would like to be. There are households of the noblest intellects: choose the one into which you wish to be adopted, and you will inherit not only their name but their property too. Nor will this property need to be guarded meanly or grudgingly: the more it is shared out, the greater it will become.
— Seneca, "On the Shortness of Life," trans. C. D. N. Costa (Penguin, 1997)
*
Jon Boyd is keeper of Book Marks at Current. He is associate publisher and academic editorial director at InterVarsity Press, the saxophonist in an improvisational rock band, a user of postage stamps and mechanical typewriters, and (with his wife and daughters) a resident of the City of Chicago.