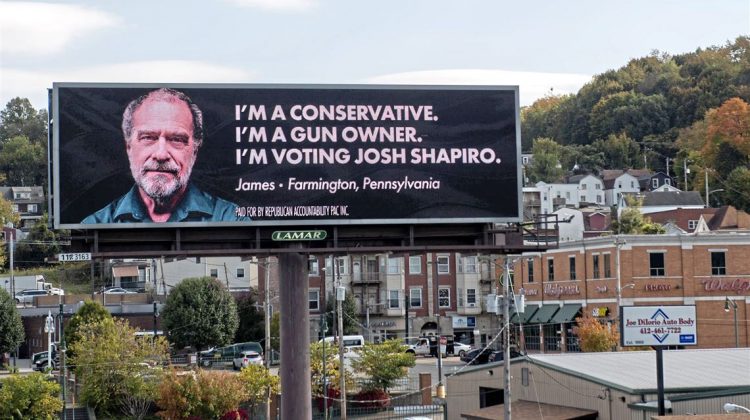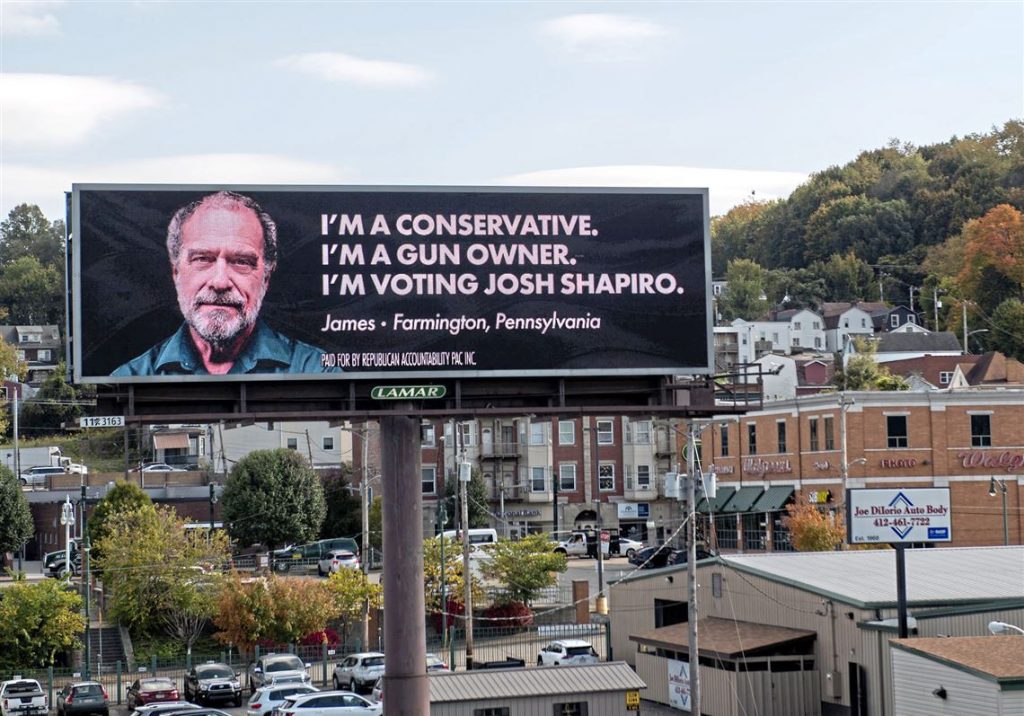 GOP gubernatorial candidate Douglas Mastriano is just too extreme for many Pennsylvania Republicans. Many of them are supporting Democrat Josh Shapiro for governor. Here is the Pittsburgh Post-Gazette:
With billboards across Pennsylvania, a big-spending national committee that is connected to the Never Trump movement and high-profile neoconservatives is hoping to convince Republicans that it's OK to cross party lines to support Democrat Josh Shapiro in the gubernatorial race.
The Republican Accountability PAC — a group that exists in a network of messengers and activist organizations that sprouted after Donald Trump's victory in 2016 — is putting up more than 30 billboards on Tuesday as part of its overall $2 million spend in Pennsylvania hitting Republican Doug Mastriano.
The billboards feature the headshots of Republican voters, past and present, who say they'll vote for Mr. Shapiro. There are six in the Pittsburgh area and numerous others in Philadelphia and Harrisburg. The PAC is spending $10 million in total to combat candidates it deems "anti-democratic" in several crucial swing states.
It's indicative of a larger trend. With just weeks to go until the Nov. 8 election, national organizations continue to see the midterms in Pennsylvania as a litmus test for how popular Mr. Trump remains, given that Mr. Mastriano is backed by the former president and played a key role in efforts to audit the 2020 election.
One of the PAC's billboards reads, "I'm a conservative. I'm a gun owner. I'm voting Josh Shapiro," and shows a picture of a man named James, of Farmington, Fayette County.
The subject of the billboard, James Carmine, told the Post-Gazette on Monday that he feels betrayed by his party and doesn't believe the GOP represents his values anymore. Pittsburghers might remember Mr. Carmine's name: He was a Republican candidate for mayor in 2001, losing to Tom Murphy.
Mr. Carmine is a self-described neoconservative and a registered Democrat, changing his registration after the rise of Mr. Trump in the GOP. He said the Jan. 6 Capitol riot was unforgivable, and though he is "embarrassed" that he's a registered Democrat after all these years, he sees it as a moral duty.
Read the rest here.