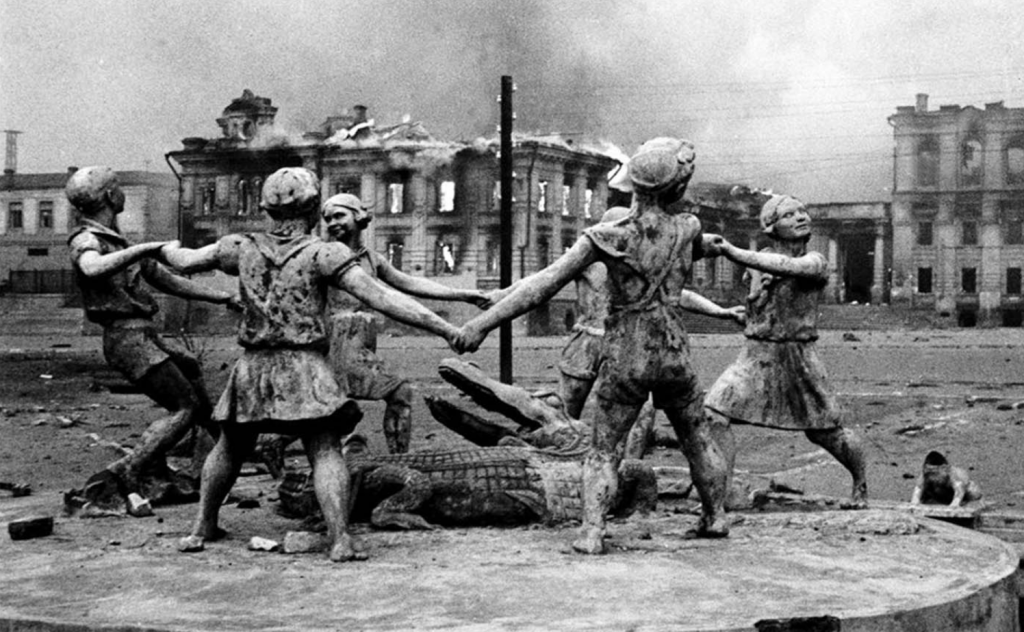 Eighty years later, childhood is again a casualty of war
The children danced in a circle, clutching each other's hands. Around them towered the city. Its majestic buildings dwarfed them, reducing them to mere dots in the urban landscape. Meanwhile, the fountain in the middle of their dance idyllically sprayed them with water. A surprisingly docile crocodile frolicked at their feet, an accessory more than a threat to their fairy tale-like game. But as the months went on, something unexpected happened. The children did not grow taller but the city buildings around them kept shrinking, until finally the children were the taller ones. Miraculously unscathed by the ruthless bombing, they remained unshaken in that same spot, still and frozen mid-dance.
This statue of a fountain with its six dancing children in the midst of destruction, with gaping skeletons of bombed-out buildings in the background (all that was left of the once vibrant city) is the subject of an iconic photograph from the Battle of Stalingrad. One of the deadliest battles not only of World War II but in all of human history, it lasted for over five months, from August 1942 to February 1943.
Perhaps what made this battle so horrifically destructive was the combination of air attacks, which destroyed over eighty percent of the city's residential areas, and the ground invasion by German tanks and infantry. This meant that whenever the residents could catch a break from the bombing from above, they were still not safe, as the fighting in the city went on street-by-street, building-by-building, hill-by-hill. Even those who managed to survive the attacks on air and land still died in droves, for another merciless enemy was fighting against them no less viciously than the more directly hostile forces: famine. Needless to say, in this context of urban warfare no distinction between civilians and military personnel could exist.
In the cruel context of this battle, the photograph of the fountain, whose scene was modeled on a popular Russian children's book, is a poignant reminder of all that war savagely and uncaringly destroys—lives, dreams, hopes, and what we might refer to as trappings of civilization. One powerful symbol of such trappings is cities. The earliest human civilizations built cities from the ground up, but the latest advances in twentieth and twenty-first century warfare have focused on leveling them as though they never existed. Sometimes, though, we forget the chief casualty of all: War destroys childhood.
In a powerful song first performed in 1966, the legendary French bard Charles Aznavour, whose own parents escaped the Armenian genocide, poignantly observed, "Les enfants de la guerre ne sont pas des enfants." As Aznavour explained so mournfully, living through cruelty, famine, and the loss of loved ones, these children will be haunted by wartime trauma for a lifetime. In writing this song, perhaps he was thinking, among other examples, of the Jewish families, including children, whom his family worked to rescue and hide in France during World War II, risking their own lives in the process.
As Russia's war against Ukraine has now outlasted the length of the Battle of Stalingrad, atrocities against civilians have only escalated. The prevalence of deliberate attacks on civilians has been, in fact, one of the defining features of this war, as Russia has very clearly targeted residential buildings, maternity hospitals, playgrounds, schools, and shopping centers. In this light, Amnesty's recent accusation that Ukraine is placing civilians in harm's way by stationing military troops in civilian areas is tone-deaf. There is no "safe" area for civilians anywhere in Ukraine right now. And reports of death tolls from attacks regularly include children.
Given the haphazard nature of Russian bombing all over the country, the only certainty one could have at any given moment is that some area is under attack. One can never know where or when the missiles will strike next, only that they will. And Stalingrad reminds us that in the past, it was Russia, not Ukraine, that deliberately placed its own civilians in harm's way.
Stalin famously forbade civilians to leave Stalingrad, requiring even children to contribute to the war effort in the city. There are, of course, always trenches to be dug, for instance, or barricades to build in an urban battle. With such callous policies, civilian casualties are estimated to have exceeded 40,000 though I wonder if even this number has been deliberately underestimated by Soviet sources. At any rate, the total casualties in the battle, including both Soviet and German soldiers, added up to an unimaginable 1.9 million. My Ukrainian Jewish grandfather and my Russian grandfather both served as medics in the Red Army at Stalingrad. Defying the odds, both survived, amazingly.
Since the beginning of the present war, Ukrainians, including children, have been living in conditions not too different from those experienced by the residents of Stalingrad in late 1942. And as a result of months of air strikes and other horrors, we are now getting the earliest studies of Ukrainian children and trauma. In some ways, the prevalence of PTSD in Ukrainian children should not surprise us. How could these children not be traumatized by the bombings, by separation from loved ones, by hearing or seeing the deaths of family members? And for the "lucky" ones who managed to escape the war zone, there is still so much trauma from being removed from one's childhood home and family. Physical injuries are not the only kind of wounds that leave scars.
This is especially the case for the approximately 200,000 children Russia has forcibly removed from Ukraine. While some are war orphans, many were simply taken from their families and are unlikely ever to be reunited with their parents. Russia has been placing these children with Russian families, fast-tracking adoption in a manner that has led the UN to denounce this policy as genocide. Ultimately, this course of action adds up to the deliberate erasing of a culture and its language through the absorption of its children into a different society.
In the wake of Uvalde, scholars of communication and child psychology have had useful advice for parents in talking to children about scary news such as school shootings and the COVID19 pandemic. But how do you talk to your children when you are living through even worse horrors for months on end? This is the world of fear that Putin and Russia have created in a land that less than a year ago was a flourishing country in its own right. By contrast, at this time last year the main concern for these children was, like so many children in the U.S. right now, nothing worse than navigating the new school year.
After the Battle of Stalingrad, Russia set up a monument to the fallen civilians of the city. Proudly standing on the Mamayev Kurgan, the towering hill where the fighting had been particularly bloody during the battle, is a magnificent statue of a woman beckoning the beholder to follow her in defending the city. This statue's beauty and its name, "A Motherland Calls," belie her hollow interior. But at least this aspect of the statue accurately reflects the even more hollow promises that Russia has made to its citizens—whether in World War II or the present.
Nadya Williams is Professor of Ancient History at the University of West Georgia. She is a Contributing Editor for Current.