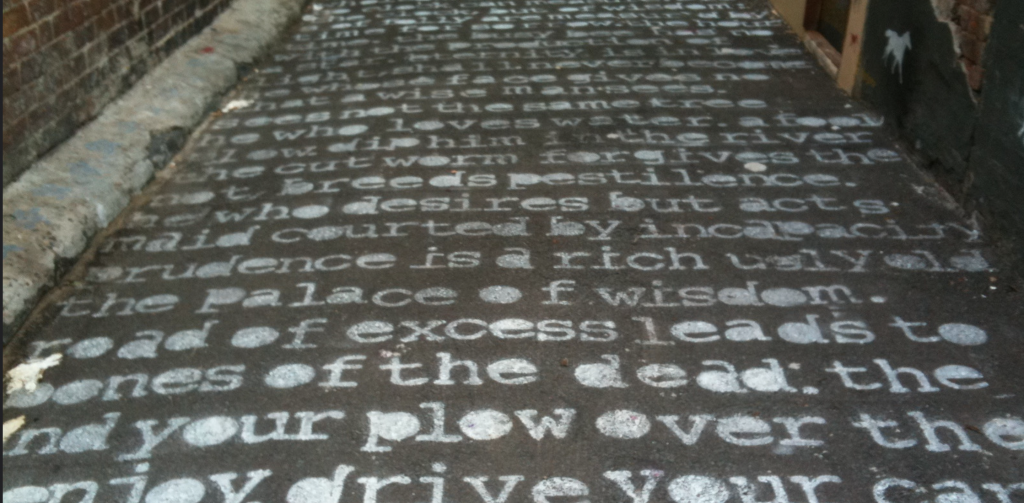 A writer reflects on the art—and wonder—of meaningful exchange
Long Form features spill out a little more slowly, making possible a deeper encounter with the essay's central themes—and with the author, too. Pour a cup of coffee, settle in, and enjoy. It will be worth your while.
*
The sun has already climbed above the row of brick buildings, promising a hot day on the main street of New Brighton, Pennsylvania. I ease my old Chevy past barricades and thread my way among moving people to park temporarily at an access point. Working swiftly, I unload my card table, bag of supplies, tablecloth, and three manual, portable typewriters in their cases.
Today I am a street poet at the community's Vintage Car Cruise. It's not my first experience with poetry-on-demand. I've honed my skills at BookFests, using instant writing as a way to draw visitors to the table where I'm signing and selling my fiction books. On this September day, I'm poeting at the front corner of my church's tent, where volunteers are giving away children's books.
It's the second year I've brought typewriters here; it went over well the first time. I set up my ample signage: "FREE POEM—Typed for You on a Vintage Typewriter—You Name the Topic." I place my 1941 Remington Streamliner on the black tablecloth. It's a glossy machine with rounded corners, glinting silver brightwork. Remingtons of the twenties, thirties, and forties are great "show typers," their typebars exposed, fully visible as they rise and arc over to strike the inked ribbon against the paper, infusing its fibers with ink, leaving a bold, black letter, then a word, then a poem where only blankness was before. With the flip of a switch, like shifting a hot rod on the open road, I can type on the ribbon's upper black half or its lower red half for dramatic effect. Beside the typewriter rests a stack of small paper sheets, each a little larger than an index card and colored in pale, pastel tints with leftover Easter-egg dye. When finished, each poem is handed over with its own matching envelope, the back flap rubber-stamped with a typewriter design.
In the first half-hour, passersby are tentative, glancing our way and supposing, perhaps, that I'm the tent's cashier. One of the church members gets me started by requesting a poem about bagpiping—she used to play. I muse for a moment, remembering my own trip to the Highlands, the heather shining on green land folded straight up to the sky, mists over lochs, trees rooted in what seems bare rock itself, embodying the spirit of brave warriors. Then my fingers begin to move over the keys.
Once I'm writing, the crowds grow bolder. Volunteers have greeted them warmly, invited them to look at books. Heads turn toward me, ears catching a sound perhaps familiar once, but unheard for a long time—the sound of a parent or grandparent at work, of a high-school typing class, a newsroom of the past, an office . . . For younger people, it is a new sound, not quite the frisson of exploding popcorn, but just as inviting.
And now they come, intrigued. The first recipient is already passing around her bagpipe poem, receiving murmurs of admiration. Folks begin to ask me for poems. I am delightfully, crazily busy for the rest of the day, except for a couple quick restroom breaks and a pause to scarf down lunch. Frankly I don't want to be away from my table: I don't want to miss someone who needs a poem.
I love doing street poetry because it's the perfect intersection of writing, typewriter nerdery, and performance art. For this mad improv, I keep in mind that poetry is metaphor: The topic I receive must be treated as itself, represented clearly in the poem, but often it's also a lens that shows us something else—maybe about ourselves, about the experience of being human. It requires intense focus to craft a worthwhile poem in a couple minutes, and focus is the most difficult thing for my "customers" to allow me. The uniqueness of the experience makes them want to talk, to ask questions. And of course I encourage that interaction. This isn't just about getting some urgent task done; it's not a necessary task at all. The connection between human beings is what's important. I've gotten better at listening and talking with one part of my brain while I write with another. It's a relief when there's not a line, no one waiting, and chatting can be done before and after the composition. It certainly helps when there's an amiable group on hand, like my friends from church today, ready to visit with the poem's recipient, too.
People request poems about softball, hockey, favorite colors, seasons, vintage cars, motorcycles. We're at a Car Cruise, after all, with beautiful old vehicles gliding slowly down the street, parked along both sides of Third Avenue, each as lovingly tended and functional as my typewriters. My writing machines are a good fit here.
A lady suggests a poem about Bermuda, where she's from. I can't exactly "write what I know," having never been there. But I've been to the Bahamas, and many aspects must be the same, right? She tells me that there was pink sand. I know what it is to live far from home. I make do, and she seems quite happy with the result.
People give me abstract concepts: Love. Hope. Life. Death. Some want a poem on a care dog, on cheerleading, on a dog named Taco, a cat, a puppy named Gryff. They show me photos and videos on their phones of the pet being written about: "This might help you!" It usually does help to see how the subject looks and moves. Two young brides exclaim over what a great idea this is, how it would be a perfect idea for wedding receptions.
I ask a question or two so that I have some starting point, some detail that will anchor my imaginary concoction into the actual subject. It's a delicate dance between what I can learn and what I can bring from my own mind and memory. I rely on the fact that so much of human experience is shared.
One man brings me the curious prompt "You." He doesn't mean me, the poet. He means "you," whatever I might make of that. The most unexpected requests usually uncover the best poems.
Not that I have delusions here: I know the poems I'm writing are creations of the moment, like haiku done properly, when a revelatory image comes in a flash, to be captured badly or with brilliance. This is like Chinese brush-writing: one shot at it, no erasing, none of the revision that is crucial in all the other writing I do.
But something about that spontaneity is the truest value of this. Recipients can do with the poems what they will: toss them, file them away, forget about them, put them on the fridge, into a scrapbook . . . Today, I am greeted by two different people who requested poems last year. One has my poem in a frame above her desk. One has it hung beside a bookshelf. It's wonderful to hear. I hardly ever know the fate of these poems that I send out into the world, nor does it matter: The moment has occurred. They were requested, written, and received.
People express approval that can range from a thumbs-up or "Cool! I like it" to "You've really got talent" to gasps of delight, solemn words of thanks, tears and hugs. Some, receiving a poem, reappear with companions, pushing them forward: "You've got to get a poem!"
After a while, for variety, I switch machines. Today, I go next to my 1932 Remington Noiseless Portable Model Seven, an even older typewriter in which I have a good, dark, cotton ribbon that leaves bold print with just a hint of smudginess—the very essence of first drafts, the very essence of creation. I finish out the day with an Olivetti-Underwood Lettera 22 from the early 1950s. For each of the three models some people remember having had one "like that, but a little different." Watching me work, the onlookers talk to one another. Those in the know explain to others what they're seeing, how the machine works. Sometimes their explanations are accurate, sometimes not, but everyone is enjoying the moment.
Children lean in, fascinated by the typewriter, wanting to understand it. I answer their questions, pointing out the ribbon, the spools that turn, the metal letters on the type slugs. "What does it do?" a little girl asks. "Only this," I tell her. "It writes my words on paper." Young and old are captivated by the instantaneous production of something concrete: idea, tappity-tap, bam!—not an invisible file to be saved but words inked onto paper, paper in the hand, its surface dinted with the blows of the type—a unique and personal poem, written for them.
The first time I did this, at a BookFest, I had a sign saying, "Pay whatever you like." Most people, as I recall, put five-dollar bills into my jar. There was a heady thrill to making immediate cash for my art, so unlike the "long long after, if at all" of traditional fiction writing. Most street poets receive some form of compensation, and I applaud the practice: Artists should be paid for their work. But for my purposes, it works best when I do this for free. It removes pressure—no matter what I produce, the receiver hasn't paid for it. More importantly, fewer will hesitate to try something that's free. This way, everyone who wants a poem can get one. For me, the activity itself is far more important than earning some dollars in a jar—and this attitude is, mostly likely, why I have yet to earn a dependable income as a writer.
I just can't help it. What's happening here is a bit miraculous. In the heaviest exchanges, people ask for poems about life's biggest things—a parent remembered, deceased children, departed spouses and the activities those spouses loved. I do my best to tread lightly, but one can't really avoid risk when stepping right into another person's memory or grief. This is a kind of emotional open-heart surgery, requested of a stranger at a drive-through. I reassure myself that they have asked. It means they are ready to have me see and handle these topics.
Therein lies the wonder of it: People I do not know entrust me with something of themselves—those photos and videos, a description, a story about a loved one. A memory of a cherished place or moment. A hobby. A simple pleasure. I take what they've shared and make something tangible from it, something they can carry away. We have connected, reflected together. In a sense, I have administered an affirmation, a validation: I, an impartial stranger, have set their jewel in a ring or a necklace. I have handed it back to them and agreed that yes, this is beautiful; this is worth keeping. This is real.
Meaningful communication has occurred, beyond "Hi. How are you? Fine? I'm fine, too." This is more. On a lovely day of fresh air under the open sky, two strangers have met as if by chance. Over a graceful and timeless writing machine, for a moment, they are not strangers at all.
For over twenty years, Frederic S. Durbin has been professionally writing fiction for adults and children. His most recent novel, A Green and Ancient Light, was named a Reading List Honor Book by the American Library Association.