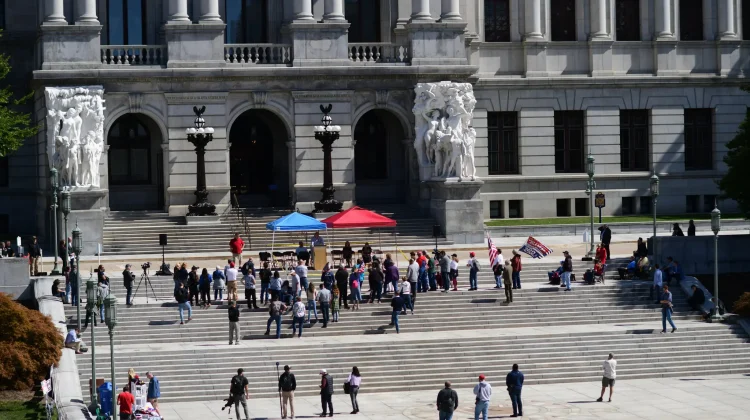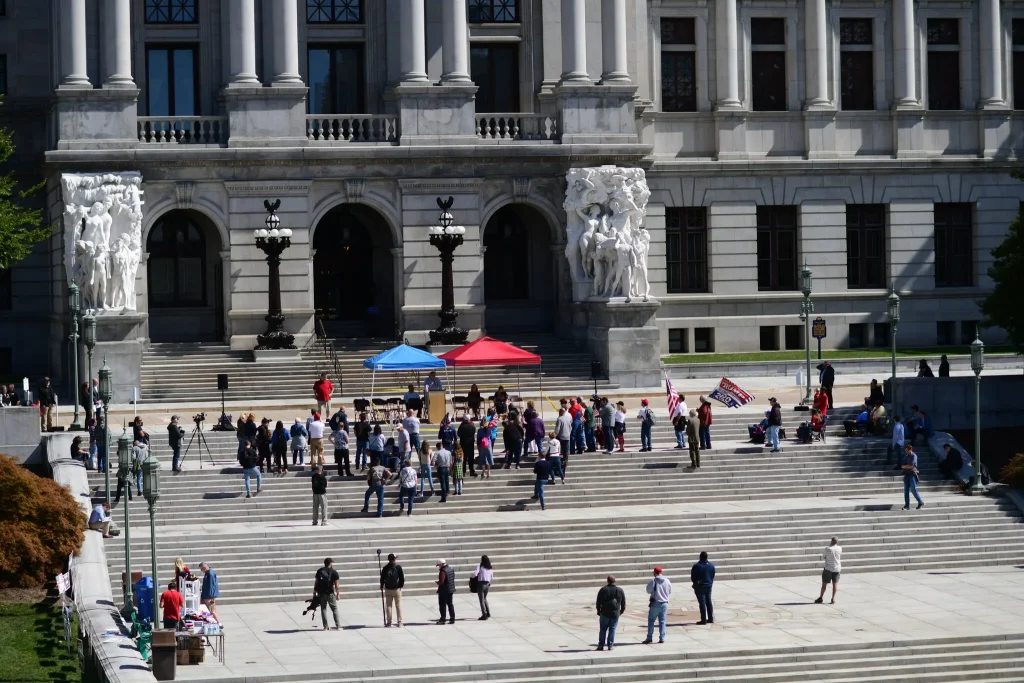 What happens when you plan a big rally on the steps of the state capitol and less than 100 people show up? Perhaps it is a sign that people are not very excited about your campaign for governor.
Here is Penn Live:
Pennsylvania's Republican candidate for governor Doug Mastriano is ever-encouraging his supporters to "walk as free people."
Saturday, it appears most of them exercised their personal freedoms to watch a football game, attend a community festival, enjoy a beautiful early fall day in central Pennsylvania, and otherwise do anything besides standing through three hours of political speeches on the state Capitol steps.
Because an "Assemble for Freedom" rally in Harrisburg – which organizers intended as sort of a reunion celebration for those politicians who'd led the grassroots pushback against the Gov. Tom Wolf's COVID mitigation rules – struggled to gain a fraction of the crowds or energy that were a hallmark of the original spring 2020 meet-ups.
Saturday's event brought only about 100 people to the Capitol steps – including reporters and organizers – even though the event was headlined by Mastriano, one of the original heroes and biggest political success stories of the pandemic pushback movement. Mastriano and his running mate, Lt. Gov. nominee Carrie Lewis DelRosso, might have touched more people if they'd spent the time going door to door.
Undeterred, however, Mastriano – a retired U.S. Army colonel currently representing Franklin and Adams counties in the state Senate – gave his full 30-minute stump speech to "we happy few, we band of brother and sisters."
Read the rest here.
The Huffington Post reports that only 50 people were in attendance.
Here is The New York Times:
In the same spot where he spoke to thousands of people at a raucous State Capitol rally demanding an end to pandemic restrictions in April 2020, Doug Mastriano appeared on Saturday before a crowd of just a few dozen — about half of whom were volunteers for his ragtag campaign for governor of Pennsylvania.
Mr. Mastriano, an insurgent state senator who in the spring cruised to the Republican nomination, is learning this fall that while it is one thing to win a crowded G.O.P. primary on the back of online fame and Donald J. Trump's endorsement, it is quite another to prevail in a general election in a battleground state of nearly 13 million people.
He is being heavily outspent by his Democratic rival, has had no television ads on the air since May, has chosen not to interact with the state's news media in ways that would push his agenda, and trails by double digits in reputable public polling and most private surveys.
There's no sign of cavalry coming to his aid, either: The Republican Governors Association, which is helping the party's nominees in Arizona, Michigan and six other states, has no current plans to assist Mr. Mastriano, according to people with knowledge of its deliberations.
The Pennsylvania governor's race is perhaps the most consequential in the country. Mr. Mastriano, a retired Army colonel who chartered buses to the Jan. 6, 2021, rally that led to the attack on the Capitol, has vowed to ban abortion without exceptions and pledged to enact sweeping new voting restrictions. He would be likely to accomplish those measures given the Republican advantage in the state legislature.
But the stakes aren't apparent based on Mr. Mastriano's limited resources. There is little indication that he has built a campaign infrastructure beyond the Facebook videos that propelled him to stardom in right-wing circles and to the vanguard of Christian nationalist politics.
"I can't even assess things because I don't see a campaign," said Matt Brouillette, the president of Commonwealth Partners Chamber of Entrepreneurs, an advocacy group that is a major player in Pennsylvania Republican politics. "I've not seen anything that is even a semblance of a campaign."
Mr. Brouillette, who backed one of Mr. Mastriano's rivals in the G.O.P. primary, added: "Now, maybe he knows something we don't on how you can win in the fifth-largest state without doing TV or mail. But I guess we're going to have to wait until Nov. 8 to see whether you can pull something like that off."
Read the rest here.
Penn State beat Central Michigan on Saturday by a score of 33-14.