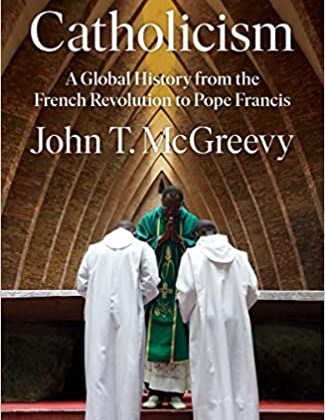 Notre Dame historian John McGreevy:
Quick: Name the countries with the most baptized Catholics. You might guess Brazil (172.2 million) or the United States (72.3 million). You might miss Mexico (110.9 million) and the Philippines (83.6 million). You might be surprised by the Democratic Republic of the Congo (43.2 million). Only Church demographers know that Nigeria (29 million) will soon pass Spain and may eventually catch Italy.
Catholicism has become the most multicultural and multilingual institution in the world. In 1900 two-thirds of Catholics lived in Europe. Now two-thirds of the 1.2 billion baptized Catholics live in the Global South.
Astute observers have long anticipated this shift. In the fall of 1961, Joseph Ratzinger, the future Pope Benedict XVI, only thirty-four but already a celebrated theology professor at the University of Bonn, met with Cologne's Cardinal Josef Frings. The two men discussed an address Ratzinger was drafting for Frings—who was nearly blind and would memorize the speech—on the topic of the upcoming Second Vatican Council.
In his draft, Ratzinger contrasted preparation for the First Vatican Council in the 1860s with preparation for the Second Vatican Council, scheduled to open in 1962. Then, liberalism in politics, economics, and theology seemed the most important challenge. Now, globalization was. Radio and television brought the world into almost every home and trains and airplanes allowed ordinary people to journey vast distances. More than anything else, the Church needed to "become in a fuller sense than heretofore a world Church."
To Ratzinger, Europe's plunge into the abyss of two world wars between 1914 and 1945 had discredited ideas of Western superiority. Catholics must "recognize the relativity of all human cultural forms" and cultivate "a modesty which sets no human and historical heritage as absolute."
To read Joseph Ratzinger acknowledging "the relativity of all human cultural forms" is disconcerting. Forty years later he would blast the "dictatorship of relativism" that he associated with modernity. (Comparing young Ratzinger with old Ratzinger has become a scholarly growth industry.) But his analysis in 1961 was shrewd. He did not use the term "decolonization." Still, neither the Second Vatican Council nor the current Catholic moment can be understood without it.
Catholicism became significantly more global in the nineteenth and early twentieth centuries as millions of migrants and tens of thousands of missionary priests and nuns left Europe. It did not become more multicultural. When clergy trained in Europe or North America landed in China or Cameroon they lugged with them statues of the Sacred Heart, rosaries, blueprints for neo-Gothic churches, and Latin textbooks. Their theological project was uniformity. In the words of another German theologian, Karl Rahner, Ratzinger's collaborator during the Second Vatican Council and his rival in its messy aftermath, these missionaries "exported a European religion as a commodity [they] did not really want to change."
This Catholic globalization of the nineteenth and early twentieth centuries often became entangled with imperialism. Missionaries frequently worked with government officials from Catholic colonial powers such as France, Belgium, and Portugal, and even Protestant empires such as Great Britain. (British leaders admired the way Irish Catholic bishops kept order among Irish Catholic soldiers and settlers.) The Protestant imperial German government, not the Catholic Church, funded the first scholarly chair in Catholic mission studies at the University of Münster in the early twentieth century. When its first occupant published an account of German Catholic missions in Africa, he dedicated it to Kaiser Wilhelm II. The same scholar volunteered that missionaries could lift Africans from "their state of rudeness to a life worthy of a human being."
Read the rest here.