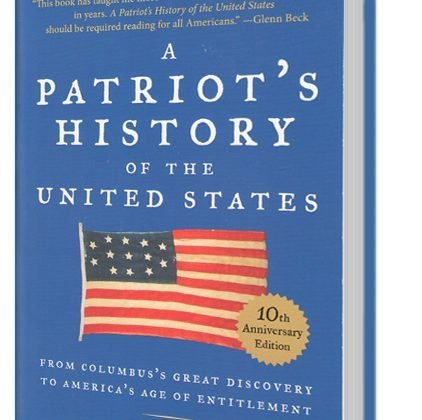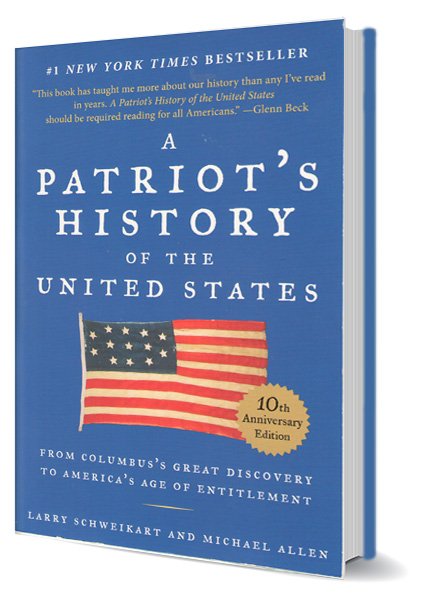 Back in 2002 I met Larry Schweikart. He was a professor of history at the University of Dayton. I was interviewing for a job in the history department at the University of Dayton. He may have even been on the search committee. During my teaching presentation he questioned my interpretation of the Stamp Act. Though my memory of the event is vague, he argued that the resistance to the Stamp Act in 1765 was all about the colonist's perceived threats to religious liberty because colonists feared that the stamps might eventually be required for Bibles. I remember his question was proposed in a confrontational way. (I ended-up getting the job offer, but decided to go to Messiah College instead. My decision had nothing to do with this encounter).
About two years after my visit to Dayton, Schweikart and Michael Allen published A Patriot's History of the United States. The book rewrote American history from a "patriot" point of view. It was meant to counter more left-leaning activist histories of the United States such as Howard Zinn's People's History of the United States. But Schweikart also took aim at the more traditional American history textbooks, such as The American Pageant. In an interview with Front Page magazine (republished at History News Network), Schwiekart said that he wrote the book for conservatives and homeschoolers as a counter to the "uber-leftists" who dominate American university history departments. During the interview he praised Rush Limbaugh, Adam Smith, and historians who "loathe the notion that America has a special role in the world–a GOOD role." He railed on liberals who "hate God-talk" and live in "rebellion against God," adding "liberals hate that little voice that keeps telling them, 'There is a God, and you're not him.' It makes them angry people." He compared the "Left" to the Nazis and criticized Muslim countries. For Schweikart, writing in the wake of September 11, 2001, America was a "shining city on a hill" and George W. Bush was "absolutely" correct in invading Iraq. You can read the interview here.
Since A Patriot's History of the United States appeared in 2002, Schweikart has published the following books:
Dragonslayers: Six Presidents and Their War with the Swamp
48 Liberal Lies About American History
What Would the Founders Say?: A Patriot's Answers to America's Most Pressing Problems
The Politically Incorrect Guide to the Presidents
Seven Events That Made America: And Proved That the Founding Fathers Were Right All Along
Reagan: The American President
America's Victories: Why America Wins Wars and Why They Will Win the War on Terror
How Trump Won: The Inside Story of a Revolution
Clearly Schweikart is in the business of using the past to promote his patriotic conservative agenda. He is an activist historian. Those activist historians who recently criticized AHA president James Sweet may not like Schweikart or his work, but let's not pretend that they are not doing the same thing.
After we published a piece at Current by former World editor Marvin Olasky about how Christian nationalists took over the once respectable conservative Christian magazine, I learned that Larry Schweikart is the author of World"s September 15, 2022 cover story. It is a piece about Ronald Reagan titled, "God, the Gipper, and Gorbachev: How Ronald Reagan's spiritual diplomacy helped bring down the Soviet Union."
Here is former World reporter (now with Christianity Today) Emily Belz:
Belz is referring to this piece, published on January 6, 2021 at Schweikart's Substack page under the title "The Real Message of Patriot's Day, January 6, 2021." Here is a taste:
Hoax News today is having nothing less than an orgy, with sexual paroxysms apparent with each breath about what those hideous protesters did on January 6.
This date is Patriot Day. Never forget.
America's massive 1 million-strong protest against election fraud and the steal performed in the middle of the night when counting in six states mysteriously stopped, only to resume with, miraculously, millions of votes coming in for the Rutabaga.
Not a single Hoax Newser has to this date asked, "Who ordered the counting to stop?"
A few on our side, most notably the Arizona State Senate, a few investigators in the Wisconsin and Georgia legislatures, have sought to obtain answers only to be stonewalled, blocked, and obstructed every step of the way.

Think we've had an "Arizona Audit?" Not yet. So far, there has been no report made public on the results of the agreed-to computer key tests; no proof that the system wasn't hacked; and worst of all, no movement from the Attorney General of Arizona, Mark Byrnovich, on charging anyone with anything related to the 57,000 fraudulent ballots that were discovered and identified. He and Governor Doug Ducey are now hiding behind their "aggressive" stance against masks in school, against shutting down schools, and against the Biteme vax mandate.
Don't get me wrong—-these are all great steps . . . that should have been undertaken months ago in the case of the schools shutting down and the masks.
Georgia, meanwhile, is a drip, drip, drip of one illegal and fraudulent activity after anothing—-the latest being an informant caught on video who dumped thousands of ballots in boxes in the middle of the night and said there were 242 others like him! Not only does that mean Trump won Georgia, but that at least one—-and maybe both—-of the Georgia Republican US Senators who had to go through a runoff were likely also elected that night.
In other words, there were, and remain, serious and unadderssed election integrity issues that was what the patriots in D.C. were attempting to point out. The only "coup" going on was the one orchestrated by the phenomenally evil DemoKKKrat Party and its techies minions.
So what happened at the Capitol? Certainly the January 6 House Committee won't know, and doesn't want to know. The DemoKKKrats and their two stooge Republican lackeys on the committee have an agenda with a false story to present to the public. So far, thank God, the public isn't buying it. A poll today said 46% of Americans think the FBI now is Biteme's "private gestapo." They ain't wrong.
We do know several things about what happened at the Capitol: 1) There were a million people who gathered peacefully and heard Trump tell them to peacefully let their voices be heard; 2) There were Capitol Hill cops—-working in conjunction with Botoxic and a DemoKKKrat plan to ensure violence? we don't know—-who let in hundreds of protesters peacefully. We have seen videos of protesters walking through the Rotunda like visitors at Winchester Cathedral, pointing, taking selfies, without a weapon among them; 3) We have seen some violence—-but with what provocation, we do not know. Some witnesses say the police began shooting rubber bullets at them first.
Some broke a couple of windows. One took a picture of himself in Botoxic's chair. Another took a dump on SpewMore's desk. One unarmed grandmother, Ashli Babbitt, was murdered by a Trump-hating freaked-out cop who had a DOOR between him and her. At any other time, in any other place, he would be in jail now for at least second degree murder. But he walks free, courtesy of ridiculously biased D.C. judges and, no doubt, considerable pressure from Botoxic and SpewMore.
Another woman, video shows, was apparently beaten to death by cops in a tunnel. And not a single cop or politician was killed by any protester. The only people who died on Patriot Day were . . . patriots. And to my knowledge, with only one exception, every protester charged/plea-bargained so far has been saddled with a charge of "trespassing" or "parading." This is the equivalent of jaywalking.
So what is this slimeball committee and the grotesquely media-driven hyperbolic "memorials" today all about?
Easy. First, the DemoKKKrats and many Republicans fled like frightened little children, pushing each other out of the way to get to elevators, hiding under desks.
These profiles in courage staged the "Flight of the Squidpickles" as I called it last January, a craven and cowardly Titanic-like display of paranoia. Not a single one attempted to engage the people just walking through the Capitol. Certainly no one distinguished himself by "standing up to the mob." They were too busy running in fear.
THIS folks is one reason this garbage is still going on. WE CAUGHT THEM. WE EXPOSED THEM as spineless weaklings who, away from their gubment/state-military-backed positions of power, are the most disgusting creatures on the planet. Cincinnatus at the bridge? None of these dicknipples could even be Cincinnatus at a bridge party.
The Patriot Day memorials and activities, though, are also about the fact that the collapsing, useless, tone-deaf, spooge-ridden excuse for an administration is failing at record levels. In one year, the DemoKKKrats and the Biteme administration has set records for numbers of illegals let in; numbers of illegals not deported or prosecuted; number of China Virus deaths; for 40-year highs in inflation; for utter and complete ineptitude at passing a single piece of legislation (which of course is a good thing—-thank you Enema and Manchin-on-a-Hill); and for foreign policy ineptitude. Biteme's approval waffles between 36% and 42%—-more than likely the former, and even that may be high.
DemoKKKrats know this. Ask the 25 (so far) DemoKKKrat Reps who have chosen to resign at the end of this term . . . cuz they know they will lose in a landslide and none want to be in the minority. Other polls show Biteme down double digits in his handling of every single issue except the China Virus, where he is only down high single-digits.
Read the rest here.
If you are a historian who wants to use the discipline to advance your own view of politics, culture, Christianity, or whatever else you think the past can serve, be careful what you wish for.
But perhaps I am drawing too many boundaries here by suggesting Schweikart is doing a disservice to the discipline of history. 😉