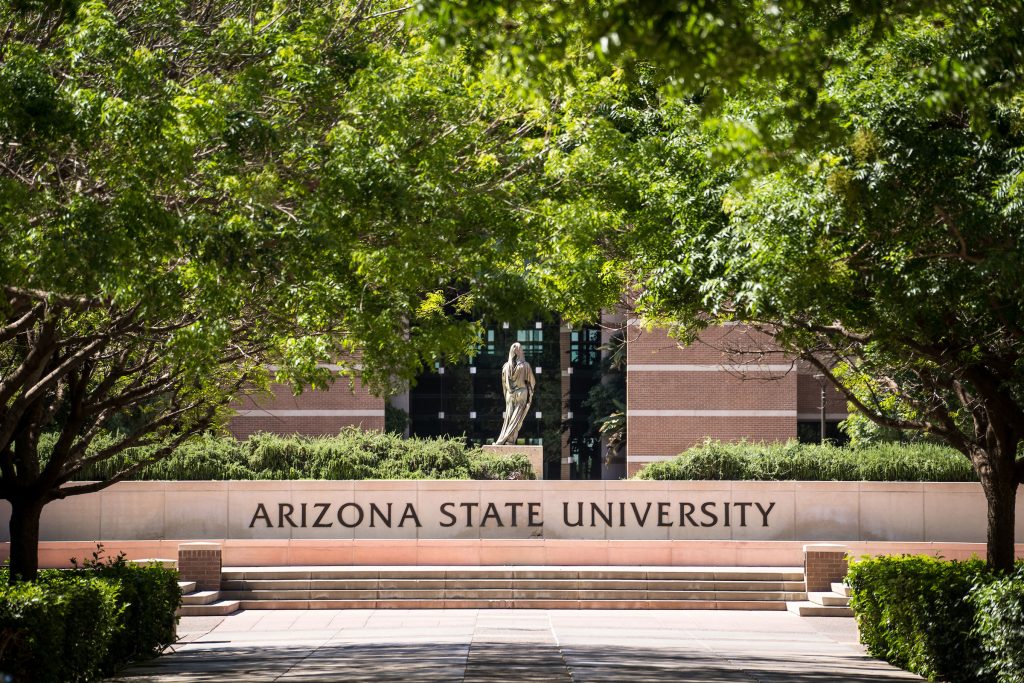 I love this! We do something similar at Messiah University, but not to this extent. Here is the ASU press release:
This fall, The College of Liberal Arts and Sciences at Arizona State University will host a collection of inspiring and high-impact events to highlight the breadth of offerings in the humanities division.
Running Oct. 17–21, Humanities Week events will be both virtual and in person and will cover a wide range of subjects and interests. Students, staff, faculty and community members are invited to explore the offerings in subjects as diverse as history, culture, literature, social justice, climate change and much more.
Every day during the week there will be department open houses, classes, hands-on activities and public lectures. 
"We're excited to host the second annual Humanities Week and look forward to sharing with students a taste of what the humanities division has to offer," said Jeffrey Cohen, dean of humanities in The College. "We have even more compelling, inclusive and creative events and activities this year and hope that students will become curious about our division and compelled to become involved, whether by taking a class or becoming more aware of the world around us."
The College's Marshall Distinguished Lecture will be a signature event of the week, featuring Rita Dove, Pulitzer Prize winning American poet and essayist.
Other events include:
• An open house: The open house will feature tables from The College's three humanities academic units: the Department of English; the School of Historical, Philosophical and Religious Studies; and the School of International Letters and Cultures. Several humanities research centers will also be in attendance.
• 21st Century Voices: Graduate Student Creative Writers: Join the ASU Creative Writing program for a live reading of fiction and poetry that engages the issues of our time.
• Anime, Manga and Japanese Popular Culture: This panel is an interactive discussion of the global reception and history of two of Japan's most famous cultural exports: manga and anime.
• Vital Voices: Beyond Books: In this interactive outdoor exhibition, Project Humanities Founding Director Neal Lester explains how and why artifacts are important tools of social justice.
• The Dope: The Real History of the Mexican Drug Trade: Benjamin T. Smith, professor of Latin American history at the University of Warwick, will be speaking about his book and examining the importance of studying the drug trade and what it can tell us about society, politics and the future of Latin America.
• Why and How Religion Matters in the fight for Environmental Justice: At this virtual lecture, Hava Tirosh-Samuelson, director of Jewish studies, will show how the Bible harbors deep ecological wisdom that teaches ethics of care and responsibility for the well-being of the Earth and future generations.
• Humanities Hacks: Get advice on surviving the first semester at ASU and living The College lifestyle.
• Social Cohesion Dialogue with Anna Qu and Alaina Roberts: Join the Center for the Study of Race and Democracy as they put acclaimed authors and their inspiring books in conversation with ASU and audiences across and beyond Arizona.
• Humanities alumni panel: Join a panel of alumni from the humanities division at The College to hear stories of where their humanities degrees took them and how their studies have positively influenced their careers. Boxed lunch included for in-person attendees.
• "Chasing Coral" — Ecomedia Screening and Discussion: Film and media studies in the Department of English at ASU presents a screening of the hit Netflix documentary "Chasing Coral" (2017). In the wake of our current climate crisis, ecological filmmaking and mediamaking is a growing space for transformative storytelling and critical inquiry.
More events will be added soon. To stay up to date, visit the Humanities Week website.