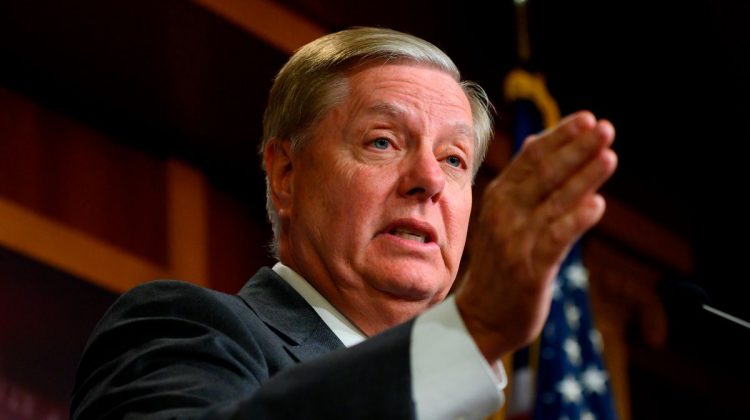 Wait, I thought conservatives wanted the people in the states to decide abortion law. Eugene Daniels and Ryan Lizza of Politico explain:
After the Supreme Court overturned Roe v. Wade in June, most Republicans stuck to a simple message: The decision merely sent the issue back to the states; it was not a prelude to any national ban on abortion.
Sen. LINDSEY GRAHAM (R-S.C.) tossed all that out the window Tuesday, dropping a bill that would implement a nationwide ban on abortion after 15 weeks of pregnancy while allowing states to pass more restrictive laws. The immediate effect was to put fellow Republicans, who had already been on their heels over Roe's reversal, straight onto their butts.
At a Capitol Hill news conference Tuesday, Graham promoted his bill as good policy and good politics, noting that it would align U.S. abortion law with the rest of the industrialized world while giving GOP officeholders and candidates a proposal to rally around.
Instead, the opposite happened. The GOP scattered in response, while Democrats all over the country began salivating. One told Playbook last night: "Graham's stunt is a godsend and helps us remind voters Republicans want to ban abortion everywhere."
This — on a day when President JOE BIDEN should have been on the defensive after the monthly inflation report came in hotter than expected — gave Biden "an unexpected soft landing," our colleagues Chris Cadelago and Jonathan Lemire write.
Graham's legislation surprised top Republican operatives, the pair write, who "likened [the bill] to a slow, telegraphed pitch down the middle of the plate. Several confessed to first learning about the legislation Monday evening through SEAN HANNITY's Fox News program, where the latest iteration was initially teased."
It was hard to find Republican officials and operatives who would defend the proposal. NBC News's Jonathan Allen, Marc Caputo and Scott Wong write that Republicans across the country dismissed Graham's bill as "a distraction that divides the GOP and reminds voters that most of them see the party as too extreme on abortion."
Read the rest here.