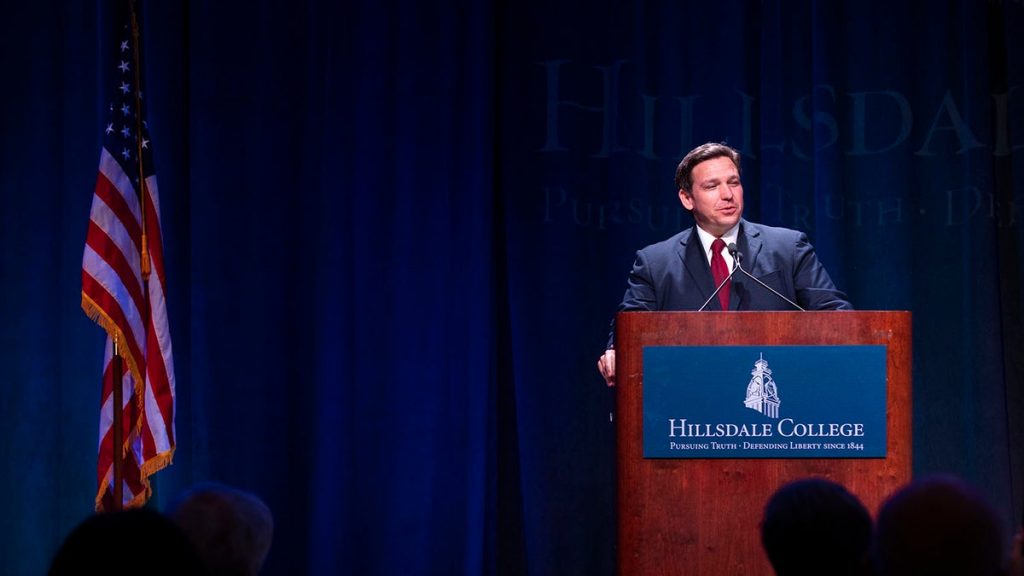 It used to be just evangelical ministers and preachers who invoked spiritual warfare against "the Left." Now politicians do it as well. Here is the Miami Herald 's Ana Ceballos on DeSantis's recent visit to Hillsdale College, a liberal arts college in Michigan:
While visiting a private Christian college in southern Michigan that wields influence in national politics, Gov. Ron DeSantis rephrased a biblical passage to deliver a message to conservatives.
"Put on the full armor of God. Stand firm against the left's schemes. You will face flaming arrows, but if you have the shield of faith, you will overcome them, and in Florida we walk the line here," DeSantis told the audience at Hillsdale College in February. "And I can tell you this, I have only begun to fight."
The Republican governor, a strategic politician who is up for reelection in November, is increasingly using biblical references in speeches that cater to those who see policy fights through a morality lens and flirting with those who embrace nationalist ideas that see the true identity of the nation as Christian.
He and other Republicans on the campaign trail are blending elements of Christianity with being American and portraying their battle against their political opponents as one between good and evil. Those dynamics have some political observers and religious leaders worrying that such rhetoric could become dangerous, as it could mobilize fringe groups who could be prone to violence in an attempt to have the government recognize their beliefs.
"I think, at best, DeSantis is playing with fire," said Brian Kaylor, a Baptist minister in Missouri who has studied the interaction between religion and politics for over two decades. "If asked, I'm sure he would tell you he is not telling people to literally go and fight. But this rhetoric in this political environment is dangerous."
Christian nationalism for many conservatives has become a political identity, and unlike conservative politicians in the past who used their faith to inform their arguments, DeSantis is more aggressive, using war imagery to describe the political debates as a battle over who will be the better American. The biblical reference DeSantis is using is from Ephesians 6, and calls on Christians to spiritually arm themselves against the "devil's schemes." In DeSantis' speeches, he has replaced the "devil" with "the left," as he tries to mobilize supporters ahead of his reelection bid in November and possibly a run for the White House in 2024. "The full armor of God passage is a favorite amongst certain types of Pentecostals who really do see the world in terms of spiritual warfare," said Philip Gorski, a comparative-history sociologist at Yale University who co-wrote the book "The Flag and the Cross: White Nationalism and the Threat to American Democracy."
Read the rest here.
Hillsdale and DeSantis are trying to bring Hillsdale's "1776 Curriculum" to Florida schools.