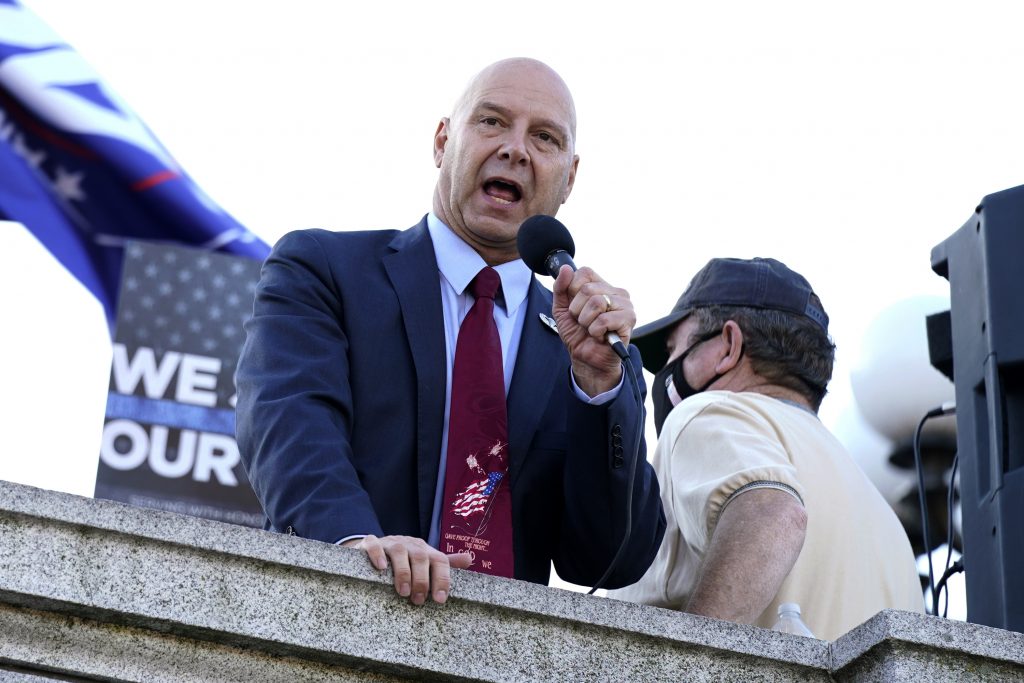 Here is Mastriano on December 30, 2020:
Watch:
Some comments:
This is what we mean by "Christian nationalism." Providential history is one of the defining marks of Christian nationalism. Notice how Mastriano prays as if he understands God's purposes in history. He believes that William Penn's reference to the "seed of a nation" was somehow a prophecy of the coming of the American Revolution. This "seed" was then reborn in the Gettysburg Address and was evident on September 2001 when Todd Beamer and others helped take down the hijacked plane that eventually crashed in Shanksville, Pennsylvania. (This is a common Mastriano narrative). It was all providentially orchestrated. Mastriano sounds like a 17th-century Puritan. The only difference is that the seed of the nation runs through Pennsylvania instead of Massachusetts Bay. The fact that he says all of this in a prayer is also revealing. It sounds more like political speech fused with a providential history lesson.
Mastriano says, "Who shall I send, send me." This is a reference to Isaiah 6, a passage in which God calls Isaiah to his prophetic ministry. Mastriano appropriates these words to describe his role in helping to overturn the 2020 presidential election. He is using the Bible to advance the "fight for freedom." Again, this is what we mean by Christian nationalism. Using the Bible to advance political agendas. It is also a form of blasphemy.
Mastriano uses his prayer to cast judgement on the "weak and feckless" members of the Pennsylvania legislature and Governor Wolf who refuse to overturn the election. He wants to "seize power" from these lawmakers and asks God to help him do it. Mastriano is on a righteous crusade.
Mastriano prays Congress will "stand firm" on January 6th and he actually holds up letters he sent, on Trump's request, to Mitch McConnell and Kevin McCarthy. Yes, this all happens in a prayer. Mastriano prays it all in "Jesus's name."
Tim Dickinson has covered this story at Rolling Stone, but it is behind the paywall and I am unable to read it. Here is a summary at Insider:
In a December 2020 meeting with Christian nationalists, State Sen. Doug Mastriano prayed Congress would "rise up" on January 6 and "disregard" Pennsylvania's election results, according to a video published by Rolling Stone on Friday.
Mastriano — the Republican candidate for governor in Pennsylvania — participated in a Zoom meeting held by Jim Garlow, a former megachurch pastor associated with the New Apostolic Reformation, a far-right Christian movement. According to Rolling Stone, Garlow believes the Bible should dictate how the US government works, a Christian nationalist principle.
During the "Global Prayer for Election Integrity" call, Mastriano led a prayer over the 2020 election results in which he made many biblical and historical references tying together Christianity and the US.
"We remember 1776, our Declaration of Independence, speaking God's truth and word over what would become the United States of America," he said. Mastriano also mentioned Abraham Lincoln's 1863 Gettysburg Address and the September 11, 2001, terrorist attacks in which a "strong Christian man" confronted the hijackers and said, "let's roll" — an apparent reference to Todd Beamer, who was on United Airlines flight 93 that crashed in Pennsylvania.
Read the rest here.
I don't know too much about Kevin Jessup, the guy hosting this prayer meeting, but perhaps Dickinson covers him in his Rolling Stone piece.