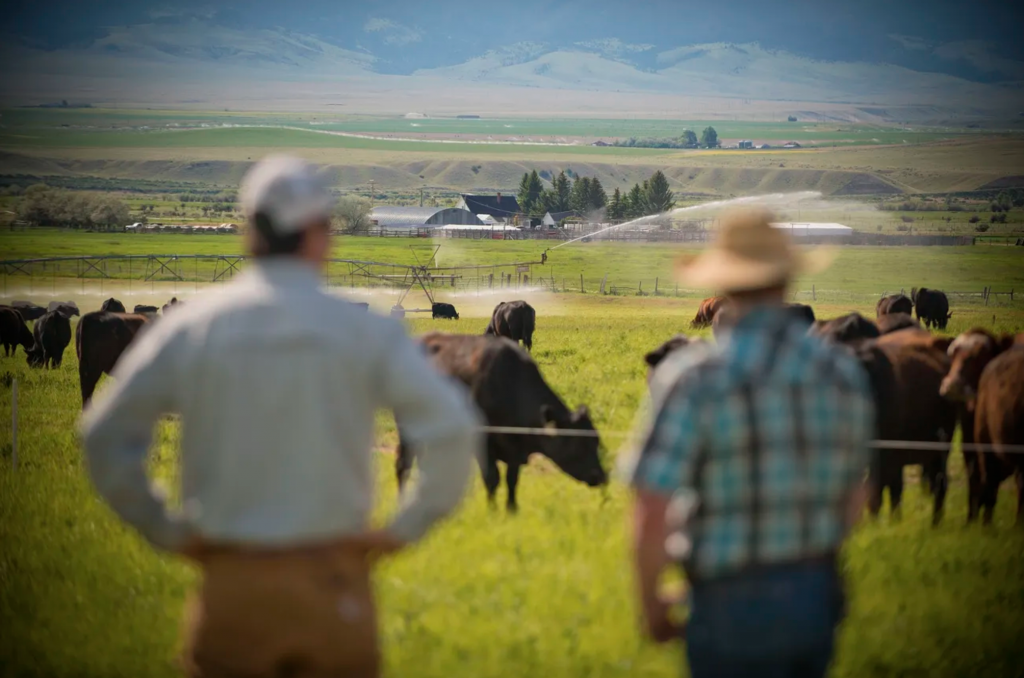 Lest we forget: The care of neighbors matters
Word was Pam had met her love on the internet when they parked an RV at the foot of Little Brushy Mountain and became my parents' first neighbors in over twenty years. Mom knew Pam's sister, who owned the diner where the waitress worked, but neither couple knew each other when Pam noticed my father on a walker and volunteered their help.
Had the offer come a few weeks earlier, maybe Dad wouldn't have gotten trampled when he and my mother, both in their seventies, tried to load the cattle trailer alone. My cousin Mike had assisted them in prior years, but he had since sold his nearby farm.
Farm labor, always hard to find, had been complicated by the pandemic, which also dropped beef prices and temporarily shut down the livestock market. While Dad waited through spring and summer, the adolescent heifers and steers doubled in bulk. In addition to being harder to manage, weight cut their value. A good time never came to sell.
After the livestock market reopened Mom and Dad sorted the overdue yearlings. "We'll just take tomorrow slow and not rush the animals," Mom assured me over the phone.
All the steers were loaded when Number Fifteen backed off the trailer and jolted the metal door from my father's hand. Dad remembers only how the animal turned, tucked his head, and snorted, ready to charge. Horrified, Mom watched my father bolt towards a barn gate and go down, as six steers—weighing 600-800 pounds each—barreled off the trailer, through the narrow chute, and over his body.
Having prayed ceaselessly since they began that morning, my mother said, "Oh, God, you let him get hurt," disappointment breaking her voice in the retelling.
Thankfully, Dad's organs were spared, but his left femur shattered where one hoof landed, near his hip. At the hospital a surgeon installed a rod and screws in his remaining bone, saying it would take a year to relearn how to walk. A week later we brought him, bruised black beneath his pants and shirt, home to heal.
Family and friends helped us farm. I drove in from out of state and joined my cousin Chad, his mother Terry, their neighbor Mouse, and Mom in moving and consolidating the herd. A local livestock buyer hauled the steers and heifers to auction. The fresh pasture would feed the remaining cows, calves, and bull for a month if it stayed warm enough for the grass to continue to grow.
Then their neighbor Tom synchronized his heifers to artificially inseminate in the next field over, and my parents' young bull lost his mind. Crazed at the sudden influx of twenty-three females in heat, Waldo buckled a gate and stepped out on his kine to follow the scent. He was pacing the road, looking for a way into the prostaglandin party, when the couple next door drove over to let us know. Pam seemed like she thought it might be exciting to run a bull back to his lot, but that single-minded force of nature was no pet.
Dad had named Waldo because the day after he brought the Black Angus bull to the farm, he lost him. He searched the field where he had left him with the herd and nearby pastures, to no avail. At last, starting to panic that his heavyweight had escaped, he spotted him behind an ancient white oak tree, its massive breadth wide enough to match Waldo's girth. Waldo hid behind it until he got the lay of the land and grew comfortable with his new home. Dad's story made the behemoth seem sweet, even timid, but in the years since Waldo's brass had hardened with his neck, which could flip a Volkswagen if he chose.
"Always respect cattle," my mother said, having grown up on a dairy farm. "They may not know their strength, but never forget they have it."
We had to get this bull behind the fence. Walking the road, he was a danger to himself as well as any driver who might chance on him.
Pam's partner looked willing to do whatever was necessary. He had likely never worked on a farm, but anyone would have wanted him on their side. We were too preoccupied with the crisis to exchange names, but he carried himself like a man who could take out the Philistine army with the jawbone of an ass. So I thought of him as Samson.
With Dad in the passenger seat I drove gingerly to the barn to fetch cattle prods. Weighing our options on the way back, we wished we had a tranquilizer dart like vets carry.
When we arrived, Samson was escorting Waldo up the road with Pam just behind in her Chevy Blazer. We opened a gate expecting the bull would not go back without a fight. Sure enough, when they neared the entrance Waldo broke away and charged up the twenty-foot bank toward the unaccompanied virgins. He tried to get his neck over the fence to bow it but couldn't find purchase in the loose shale.
Samson climbed the bank after him, empty-handed. The bull outweighed him by at least eighteen hundred pounds, but the stranger stood his ground, arms by his sides. His face—covered in dark tattoos, some with Mohave iconography—flushed with determination. The bull read it, too. Whether from naivety or will, Samson was not going to back down. After a long decision and longer reckoning with his wildest desires, Waldo let Samson lead him through the gate like a shepherd without a crook.
Later, I heard it rumored that the ministering stranger was a felon. The origin of the word felon is unknown, but its most likely root is Latin for gall. Was it gall that emboldened him at that formidable juncture to stand down a bull aflame with lust and subdue him with something like an equal well of water? And, if so, can it be taught?
Amy Wright's book-length essay, Paper Concert: A Conversation in the Round, debuted in 2021 with Sarabande Books. Prior to it, she authored three poetry books and six chapbooks.