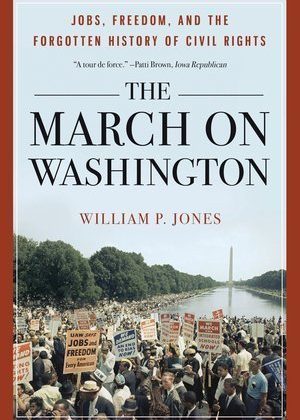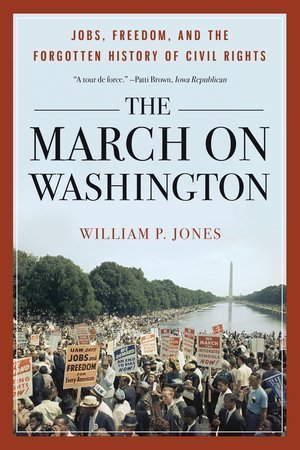 The March on Washington for Jobs and Freedom took place 59 years ago this week (August 28, 1963). Shawn Gude ofJacobin interviews historian William P. Jones about A. Philip Randolph, the Black socialist who spoke at the 1963 event and who had organized a similar march in 1941. (It never took place. Learn more here). As Gude notes, "Here was a man who saw the struggle against racial oppression and economic exploitation as intimately linked; who located the locus of change in the organized masses rather than the upper crust; who regarded unions as a grand instrument to bludgeon racial injustice." Jones is the author of The March on Washington: Jobs, Freedom, and the Forgotten History of Civil Rights (2013).
Here is a taste of the interview:
Gude: What was A. Philip Randolph trying to accomplish with the first March on Washington?
Jones: There were two main demands. One was the integration of the armed forces, and the other was a prohibition on employment discrimination, both for federal contractors and the military.
When they initiate the march, the US is not yet in the war. Franklin D. Roosevelt is saying that we have to be the "arsenal of democracy," and there's a huge flood of federal money into contractors. The auto companies are retooling to make weapons and airplanes, the shipbuilding industry is gearing up, etc. But black people are being shut out of these jobs.
A student activist movement gears up in protest against the draft: people are saying, I'm not going to sign up and get drafted into a Jim Crow army. And that gives Randolph the sense that there could be this mass mobilization along the lines of the anti-colonial movement in India. He's saying, We can bring a hundred thousand people to Washington in the midst of the preparation for the war, and that will force the hand of the government.
Gude: It's really striking, looking back, how threatening that was perceived. Thousands of people demonstrating in Washington is kind of old hat at this point, but it certainly was not back then.
Jones: It was a big deal. In '63, it was seen as a real threat, but especially in '41, people freaked out. The NAACP's Roy Wilkins was like, No way, we can't do that — it's going to backfire, it's going to create rioting.
There had been rioting during the war. There was a streetcar protest in Washington, DC, where Southern elected officials had encouraged soldiers to beat up protestors. There was the memory of the Bonus March, which ended in troops being called out and beating everybody up and burning down the Bonus Army village. People pointed to the fascist March on Rome.
So there was a combination of paranoia and hyperbole, and then a real threat of violence.
FDR tried ignoring the movement — he said, If I meet with you, it would show that this mob politics works. He sent Eleanor Roosevelt and New York City mayor Fiorello La Guardia to try to talk people out of the march. Then he finally caved and met half their demand: he prohibited employment discrimination by contractors and created the Fair Employment Practices Committee.
This definitely raised Randolph's stature and gave him something to point to and say, Look, this works. We didn't even have to march and we got this, so it's effective….
Gude: By [1941] there's an ascendant strain of black politics — exemplified by Randolph — that sees the black working class as the primary driver of change. That's a real shift from earlier, more elite-driven brands of black politics — Booker T. Washington–style conservatism being the most famous, but even W. E. B. Du Bois's idea of the "Talented Tenth." Could you talk about the mass, working-class, black politics embodied by Randolph's 1941 March on Washington? And how did the March on Washington Movement's relative success affect people's sense of mass politics as a possible strategy going forward?
Jones: As I said, a lot of people in the leadership of the NAACP and the Urban League remained very committed to the idea that the way to fight for racial equality was through a kind of respectability politics —demonstrating that black people could be just as educated and behave like white people supposedly did.
The NAACP was committed to working through the courts and through access to elected officials, and Roy Wilkins was very suspicious of the idea that you could win anything through demonstrations and the like. Disruptive mass movements, the idea that working people were going to be at the forefront of change — he saw that as naive.
So it's important to recognize that what Randolph was saying was still controversial. He was a radical. Randolph's position was that mass politics is the way the vast majority of black people can get involved in the movement. He saw it as a way of building a biracial working-class movement.
Read the entire interview here.