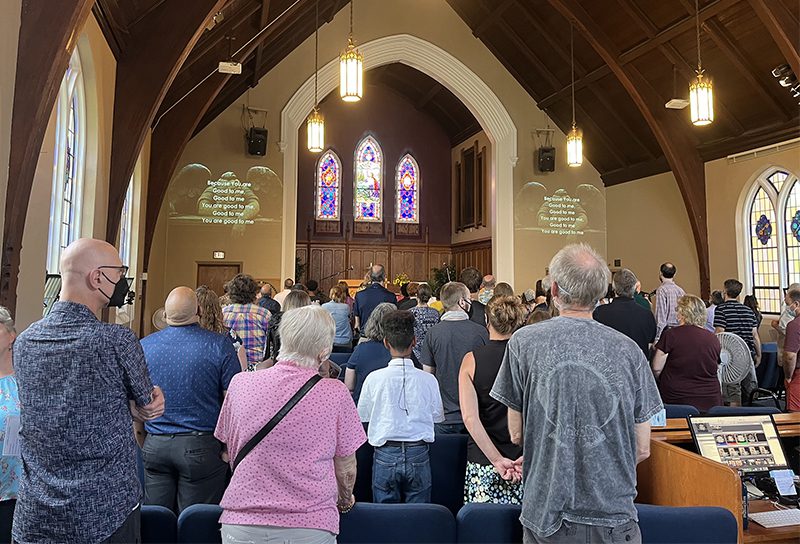 A nice piece of reporting and stortytelling here from Bob Smietana of Religion News Service:
Like so many pastors around the United States, the Rev. Amanda Olson has kept one eye on the Bible and another on the evolving religious landscape.
She knew change was coming to the church in America.
Yet she hoped her congregation might be spared the worst of it.
"Everyone thinks that churches are going to close," said Olson, the longtime pastor of Grace Evangelical Covenant Church on Chicago's North Side. "But nobody thinks it is going to be their church."
For more than a century, the small congregation at Monticello and Berteau avenues in Chicago had proved resilient, ready to adapt to the many changes that came their way. In the early 1900s, the church switched from Swedish and began worshipping in English, in order to make a younger generation feel more welcome. When the church building burned down on the morning of Jan. 28, 1940, members met the next day in the parsonage across the street and made the decision to rebuild.
They reopened 10 months later.
In the 1960s, when the congregation, then known as Irving Park Covenant Church, had shrunk to only a handful of people, it merged with another small church and relaunched as Grace. Another revival followed in the late 1990s, when the then-aging congregation, afraid the church might close, welcomed a young pastor and a group of young families who helped it find new life.
The church during those years was always a place of welcome. When a small Hispanic church, led by a former political prisoner from Chile and his wife, needed a place to worship, Grace welcomed the group in. When young men from Sudan arrived in Chicago from a refugee camp and needed help resettling, the church welcomed them as well.
More than a decade ago, the church launched Fed by Grace, a food pantry that became a lifeline to the community, staffed by church members and neighborhood volunteers working side by side. And for years, the church was home to students from a nearby seminary, a place where they could find community while getting a taste of real-life ministry.
The church never became huge — at its peak it was close to 175 people. It was never perfect, but it was a place filled with life and love and grace.
Yet all good things come to an end. This past Sunday, Aug. 28, was the church's final service.
In early August, church leaders sent out a letter with news that was hard to receive but not unexpected. "It is with sadness that we inform you that our congregation has voted to close the church," they wrote.
Read the rest here.
This is what happens in a market-driven, survival of the fittest, religious culture. Only the strong survive. This is like the big box store on the edge of town driving out the small "mom and pop" store on main street.