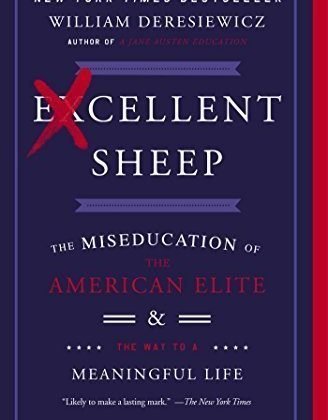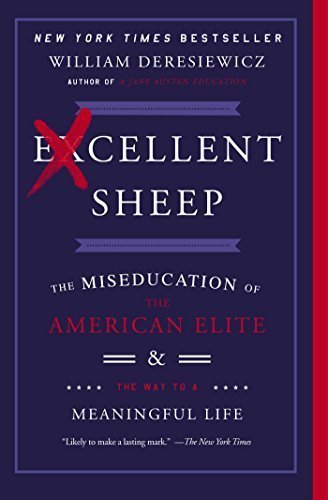 The author of Excellent Sheep: The Miseducation of the American Elite could not find another job after Yale denied him tenure. In this piece at Quillette he talks about intellectual corruption, careerism, and academic theory. A taste:
For me, graduate school, which I didn't begin until four years after finishing college, was a way of finally doing that English major that I'd always wished I'd done. I went, in other words, because I wanted to read books: because I loved books; because I lived my deepest life in books; because art, particularly literary art, meant everything to me; because I wanted to put myself under the guidance of teachers who would inspire me and mentor me; because I hoped someday to be such a teacher myself.
Anyone in the academic humanities—anyone who's gotten within smelling distance of the academic humanities these last 40 years—will see the problem. Loving books is not why people are supposed to become English professors, and it hasn't been for a long time. Loving books is scoffed at (or would be, if anybody ever copped to it). The whole concept of literature—still more, of art—has been discredited. Novels, poems, stories, plays: these are "texts," no different in kind from other texts. The purpose of studying them is not to appreciate or understand them; it is to "interrogate" them for their ideological investments (in patriarchy, in white supremacy, in Western imperialism and ethnocentrism), and then to unmask and debunk them, to drain them of their poisonous persuasive power. The passions that are meant to draw people to the profession of literary study, these last many years, are not aesthetic; they are political.
I was dimly aware, when I got to graduate school, that the experience would be different from the few college English classes I had taken—I knew that "theory" was big, though I didn't much know what it was—but I had no idea what I'd be up against. Fortunately (or not), it didn't take long to find out. The first week of my first seminar—it was a "proseminar," designed specifically for entering students—the professor said this: "The most important thing for a first-year graduate student to do is to figure out where they stand ideologically."
"I know where I stand ideologically!" the young man next to me burst out. "I am a marxist with a small m." He was pounced upon by two or three of the women. "But Marxism has nothing to say about feminist issues!" one of them said. "That is why I am a marxist with a small m!" he replied. The professor smiled benignly; her pupils were apt. I cowered beneath the table (metaphorically), understanding immediately that, like a dissenter in a marxist (small m or large) regime, I would need to speak my true beliefs behind closed doors, and only to those I could trust.
Gradually, over the next few years, I got the lay of the professional terrain I'd entered into. It was marked not only by a relentless animus against the works of the past (and the "dead white men" who wrote them), but by a constant effort to enlist them in contemporary battles; by an enthrallment with jargon, a commitment to verbal opacity, and a suspicion of clear, conversational prose; by intellectual dishonesty and flabbiness and sloppiness, all implicitly excused by the alleged rightness of the cause; by an adolescent sense of moral superiority; by a pervasive atmosphere of ideological surveillance.
But what disgusted me the most was not the intellectual corruption. It was the careerism. It was the sense that all of this—all the posturing, all the position-taking—was nothing more than a professional game. The goal was advancement, not truth. The worst mistake was to think for yourself. People said things that they obviously didn't believe, or wouldn't have believed if they had bothered to subject them to the test of their own experience—that language is incapable of making meaning, that the self is a construct—but that the climate forced them to avow. Students stuck their fingers in the air to see which way the theoretical winds were blowing, designing their dissertations to catch the swell of the latest trend. Names of departmental stars—"Franco," "Gayatri"—were dropped in the graduate lounge like aces in a round of poker. The whole enterprise seemed completely self-enclosed. People claimed to aim to change the world, to exert some influence outside of the academy, when it was perfectly clear that their highest ambition was tenure. One of the students I started with, among the smartest and most well-read in the class, was a strong feminist who really did want to change the world. She left after a year to go to law school, where she felt that she actually could.
Read the entire piece here.