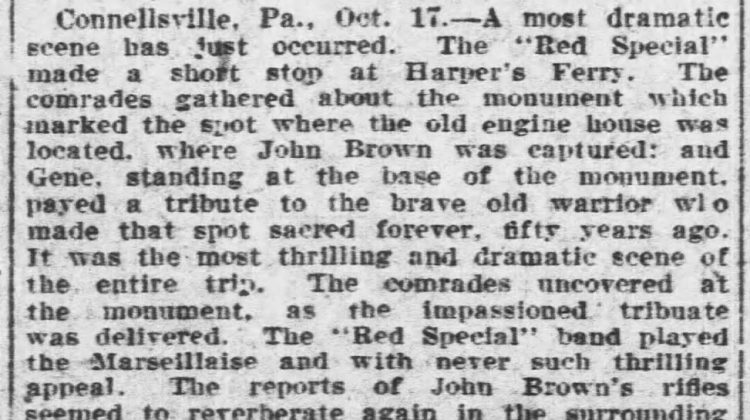 While he was campaigning for president in 1908, the candidate of the Socialist Party of America stopped in Harper's Ferry and eulogized John Brown. Jacobin has published Debs's remarks. Here is a taste:
As I stand here on this spot where he stood, I can see him as he stood here with a rifle in his hand, and his sons on the ground, one dead and the other dying. What a heroic figure he is as I see him.
Even today he is not appreciated. But as time goes on the fog that obscures the acts of great heroic men will be swept away, and he will stand as one of the most heroic figures in the world. Emerson has said: "The time will come when John Brown will have made the gallows as glorious as Jesus Christ made the cross." The Socialist Party is carrying on the work begun by John Brown.
Read the entire document here.
Debs finished third in the 1908 election with 2.83% of the vote, well behind William Jennings Bryan (43.04%) and William Howard Taft (51.57%).